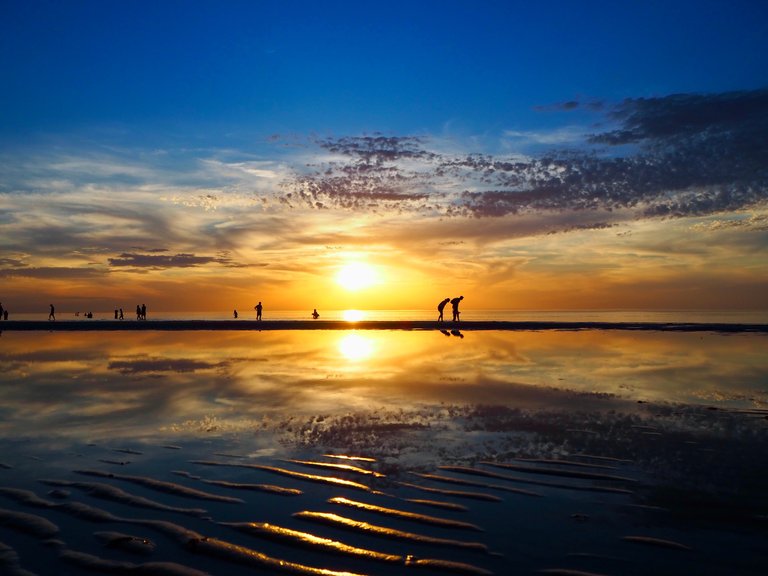 This image depicts exactly how my weekend finished last night...I took the photo at Semaphore, the beach near where I live, and we'd been there walking and swimming. It was very hot day yesterday, a sign of things to come I guess, although hot days give way to warm nights and what better place to be then on the beach with my lovely wife. It was relaxing and we felt engaged, with each other and life.
Monday has an annoying habit of coming around every seven days or so and, like every week before, this week is no different. It's almost 7am Monday morning and after a 5am wake-up, walk and some breakfast I'm just about to head into the office for an early start. I'm pausing long enough to tap out this quick post.
I don't have much to say this morning however had a phone call from a friend last night who gave me some bad news and it made me want to share something.
My friend lost his mother yesterday, she was 82. He has been estranged from his mother for almost 30 years, over a financial matter, and hasn't spoken a word to her in that time. His sister called him with the news and all of a sudden he felt a sudden desire to talk to his mum, to erase the ill-will he held for her and to make up for 30 years of silence. Of course, it's too late for that and he is quite cut-up about it.
Regret makes a poor companion I think, although it is loyal in that once it comes calling it's very difficult to get rid of. Living with regret is a terrible thing, as my friend will find out I think.
Now is not the time to raise this with my friend of course, however it was a great reminder to seek a better day today than yesterday, a better version of myself. To show kindness, humility, courtesy, gratitude, forgiveness in my friend's case...
When I leave my house today, I'm giving my wife a hug, not just the kiss on the cheek I normally would. I will tell her that I'll miss her that I'll call to let her know when I'm on my way home. I'll say, "I love you," just like every day when I leave...The thing is, we never really know if we will come home, if we will have another chance to say those things, to make amends for a stupid argument or the simple failure to say anything at all. Sometimes life takes that opportunity away.
Life is full of surprises, and not all of them are good - I value mine, and seek to live the best version possible...My friend's phone call, his predicament, was a small reminder of that. It's not for everyone though and nothing I say, or suggest, could make people unwilling to live their best life, actually do it. It's simply a choice we must all make for ourselves.
Have a great day y'all...Friday isn't far off.
---
Design and create your ideal life, don't live it by default
Discord: @galenkp#9209 🇦🇺