There will always be poor people in the land. Therefore I command you to be openhanded toward your fellow Israelites who are poor and needy in your land. - Deuteronomy 15:11 (NIV)
Sometimes who do say that since God created everything well then there should not be poverty or any kind of suffering in the land but yes, it is true that God is perfect and wants the best for us but we have sinned against his will for our lives and this started from the first generation where God placed a curse on mankind and satan is now working with the curse to make things more difficult for those that did not know their right and to those he wants to afflict to derail them form the way of God.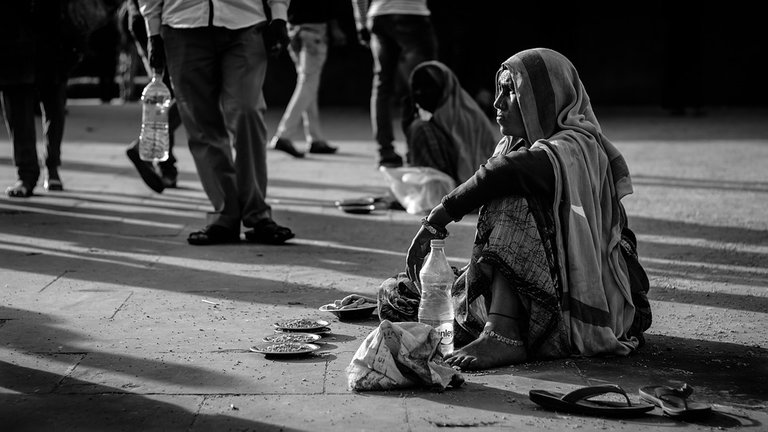 image by aamiraimer
"He saves the needy from the sword in their mouth; he saves them from the clutches of the powerful. So the poor have hope, and injustice shuts its mouth." - Job 5:15-16 (NIV)
When Jesus came to the world, He broke the curse with His blood but satan is a cunning being that will continue to deceive people and deprive them of their rights.
...He was a murderer from the beginning, not holding to the truth, for there is no truth in him. When he lies, he speaks his native language, for he is a liar and the father of lies. John 8:44 (NIV)
That is one of the reasons why there will still be poor people on the earth and with the help of the blessed, backed with the Word of God, they will be able to get back their inheritance by God's side.
There are some poor people that are existing not because satan is afflicting them but because they have a mission, a purpose. They are there so that you can be able to do the right thing so that you can be able to do the will of God, an instrument for your progress. They are satisfied with whatever God provided for them.
"Listen, my dear brothers and sisters: Has not God chosen those who are poor in the eyes of the world to be rich in faith and to inherit the kingdom he promised those who love him?" - James 2:5 (NIV)
There are more to this but I just want to make this little point so that we can learn to build a good relationship with the poor and help them out when we can.
Whoever is generous to the poor lends to the Lord, and he will repay him for his deed. - Proverbs 19:17 (ESV)
Never look down on a poor person but rather thank God through them
Stay blessed.
Shalom!