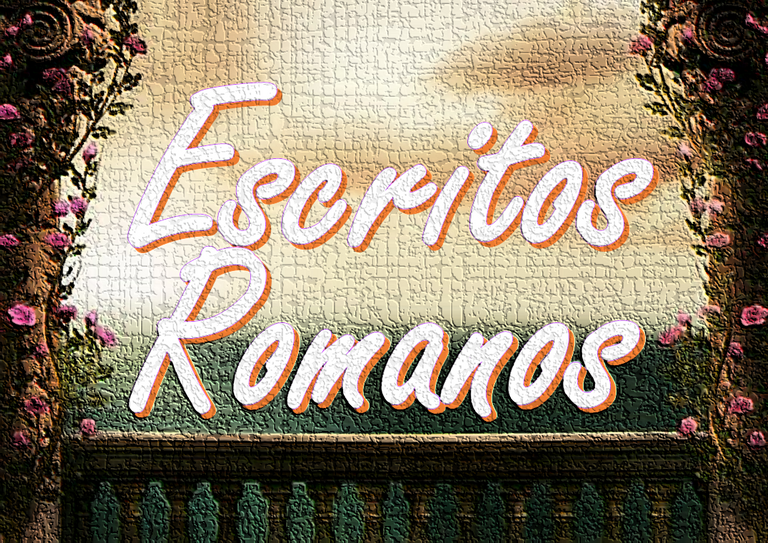 Por @latino.romano
Los paseos en bicicleta le eran un placer. Los campos de dorados pastizales adornaban el sendero que llevaba a las montañas. El cielo azul salpicado, de blancas nubes, creaban la sensación de seguridad y belleza que todos admiraban de aquel lugar.
La tranquilidad de una vida sencilla y de suaves brisas que acariciaban la hierba, tendría pronto su final. Los mismos ciclos vitales que mantenían a cada ser vivo de aquel paraje hermoso, tornarían el idilio y los suspiros de aprecio por lamentos y temores.
Nubarrones de tormenta reclamaban en el horizonte la hegemonía del cielo. Un largo verano había borrado del recuerdo los estragos de la lluvia y el agua.
Poderosos truenos retumbaban, seguidos por destellos feroces que ponían la piel de gallina. Nadie imaginaba que un caudaloso torrente inundaría todo, arrasando con aquella belleza de ensueño, cambiando risas por llanto.
Pero los ciclos naturales deben continuar su trabajo. Todo tiene un propósito. Con el tiempo el pasto volverá a tomar el terreno que dominaron las aguas. El cielo retomará su color azul, y el sendero será un lugar seguro por donde pasear en bicicleta.

Descargo de responsabilidad: Las opiniones que se traslucen en este texto obedecen a la óptica personal del autor quien, como toda persona, tiene derecho a expresarlas respetuosamente.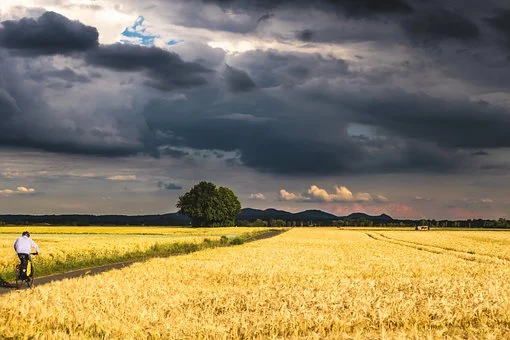 Gheyzer J. Villegas (@latino.romano) es un escritor hispano de relatos y poemas, miembro del mundialmente reconocido grupo The Alliance para quien escribe estos textos inéditos…
English version
The bike rides were a pleasure for him. Fields of golden grass adorned the path that led to the mountains. The blue sky sprinkled with white clouds created the feeling of safety and beauty that everyone admired about that place.
The quietness of a simple life and the gentle breezes that caressed the grass would soon come to an end. The same life cycles that kept every living being in that beautiful place would turn the idyll and the sighs of appreciation into laments and fears.
Storm clouds claimed the hegemony of the sky on the horizon. A long summer had erased from memory the ravages of rain and water.
Powerful thunder rumbled, followed by fierce flashes that gave goose bumps. No one imagined that a mighty torrent would flood everything, sweeping away that dreamy beauty, exchanging laughter for tears.
But the natural cycles must continue their work. Everything has a purpose. In time, the grass will take over the land that the waters once dominated. The sky will take on its blue colour, and the path will be a safe place to cycle.
Disclaimer: The views expressed in this text are those of the author, who, like everyone else, is entitled to express them respectfully.
Versão em português
Por @latino.romano
Os passeios de bicicleta foram um prazer para ele. Campos de erva dourada enfeitavam o caminho que conduzia às montanhas. O céu azul salpicado de nuvens brancas criou a sensação de segurança e beleza que todos admiravam naquele lugar.
A tranquilidade de uma vida simples e a brisa suave que acariciava a relva não tardaria a chegar ao fim. Os mesmos ciclos de vida que mantinham todos os seres vivos naquele belo lugar transformariam o idílio e os suspiros de apreço em lamentos e medos.
As nuvens de tempestade reivindicavam a hegemonia do céu no horizonte. Um longo Verão tinha apagado da memória a devastação da chuva e da água.
Trovões poderosos, seguidos de fortes flashes que causaram arrepios. Ninguém imaginava que uma poderosa torrente inundaria tudo, varrendo essa beleza sonhadora, trocando risos por lágrimas.
Mas os ciclos naturais devem continuar o seu trabalho. Tudo tem um objectivo. Com o tempo, a erva irá ocupar a terra que as águas outrora dominavam. O céu assumirá a sua cor azul, e o caminho será um lugar seguro para pedalar.
Aviso: Os pontos de vista expressos neste texto são os do autor, que, como todos os outros, tem o direito de expressá-los respeitosamente.
---
Posted from @thealliance's website with SteemPress : https://www.thealliance.io/alliance/y-llegara-la-tormenta-and-the-storm-will-come-e-a-tempestade-vira/
---