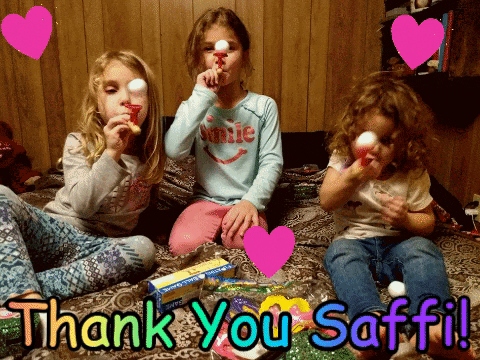 Christmas Came Again!
And the little princesses? Totally thrilled as they got to open more presents! My P.I.M.P. has a beautiful way of showing appreciation and love to those around her, near and far. The little ones here, know these come all the way around the world to them, so they love them all the more. Let's see what the Queen of the Castle sent us, shall we?
| Ninja wind-break scarf for El! | Cozy gloves for Angie! |
| --- | --- |
| I believe you already seen the sexy porn! | Den den den doo den den doo den den. |
| --- | --- |
Interesting Picks
My boy has been wanting one of those for awhile now. I love them and they are actually on 3 of my sweaters plus, I have 3 or 4 others. He frign loves it, says it his new favorite anything. The gloves, great pick. She actually lost the ones I got her in Krakow, so you must be reading my mind. No way I could replace something that I got half way across the world, but you did Sara. AMAZING. Funny thing is, I never mentioned either of these as sure winners for gifts. You're one of a kind. That cocoa mug, El laughed so hard he peed a little, LOVE IT!
| All kinds of trans-atlantic goodies! | Snugly wrapped, ready to open :) |
| --- | --- |
| Games too? Those look fun, eh? | Cute little sparkly backpacks! |
| --- | --- |
You are appreciated and loved by many, especially around this house. It's humbling having you as a friend, your generosity is a virtue I could only hope to have half of. May all you touch turn to gold (and of course, silver) in everything you choose it to. We love you because you - REMEMBER TO BE YOU! Just like I always am, even while drooling on sexy silverporn.

Some Posts of Interest:

Heard of our Spread Love, Not War campaign?
Want to support the fam too? You can -
Come visit with us in The Castle!
Join #thealliance curation trail!
Delegate to the family curation account - @thealliance!
50SP - 100SP - 500SP - 1000SP - 5000SP - 10,000SP - 50,000SP




Is Voting WITNESSES difficult?
Let me do it for you!
Set me as your PROXY VOTER!




@snook made this badass gif