This is my entry for street at night photo contest hosted by @thaiteam in #thaiphotocontest71. I still have not recovered all my photos from my iPhone crashed the other week. So, I had to take new photos today for my contest participation. The streets were quite empty as people were still on long holiday weekend. We finally had our two days' holiday compensation as the lockdown had stolen our usual Songkran holidays. Most people went to seaside towns for their four days' holidays. There were several reports of traffic jams along many roads leading to the sea and islands. I had to rush to town to get a new extension cutter for tree branches. The old one went out of action last month while my gardener was trying to cut a very thick mango branch.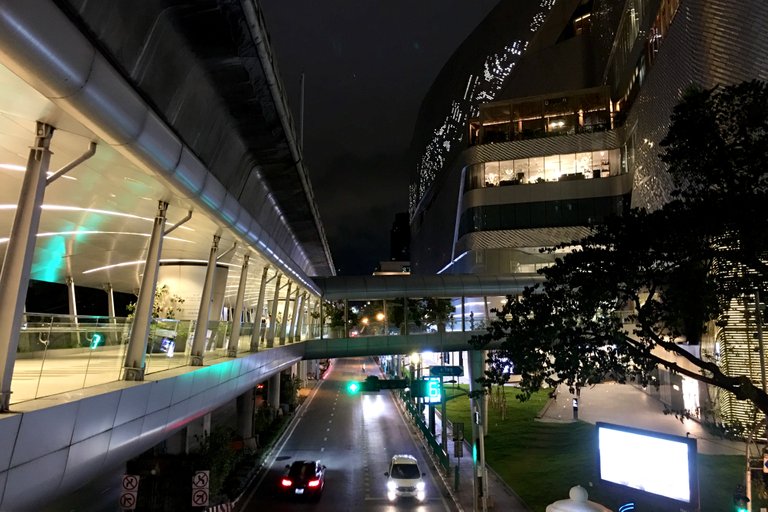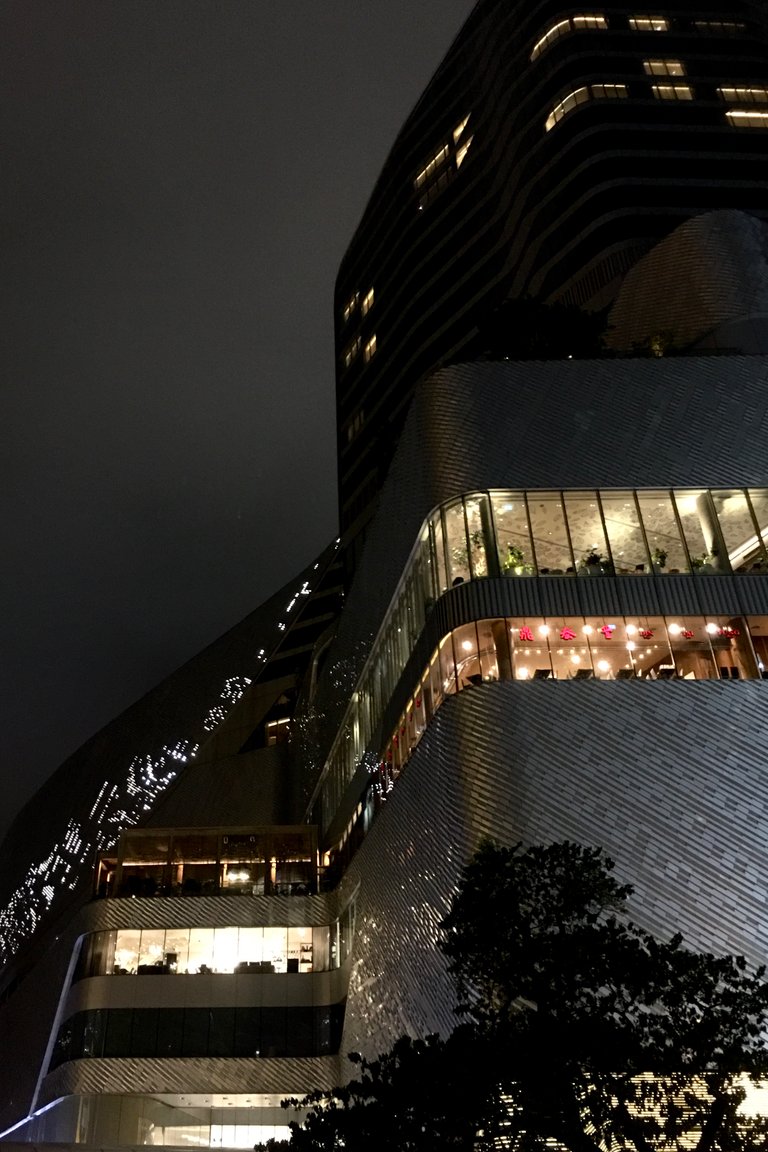 I felt so weird driving along empty streets in the evening. The journey took less than ten minutes to reach the shopping mall's car park. I needed the walking exercise so I parked my car at a mall then walked to catch a skytrain to the big hardware store nearby.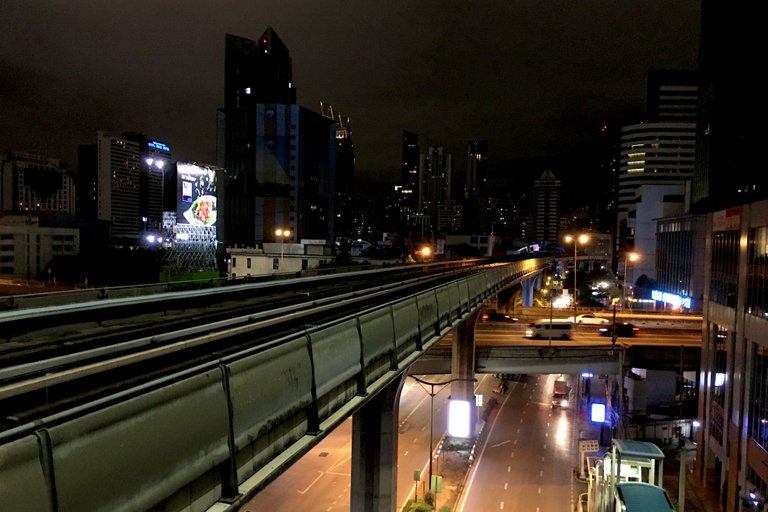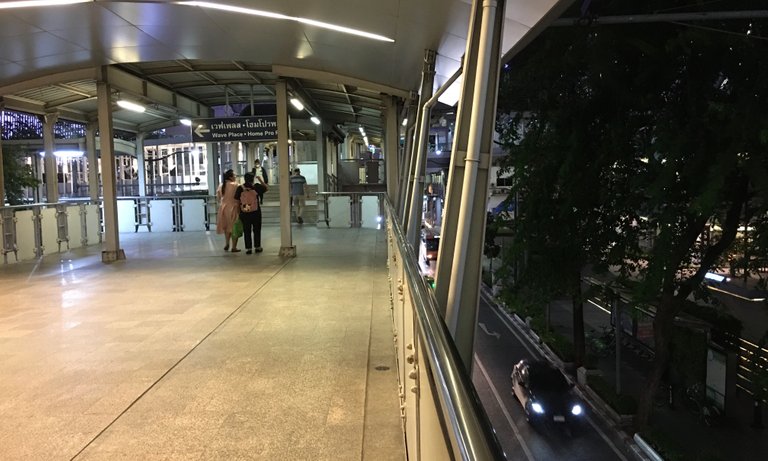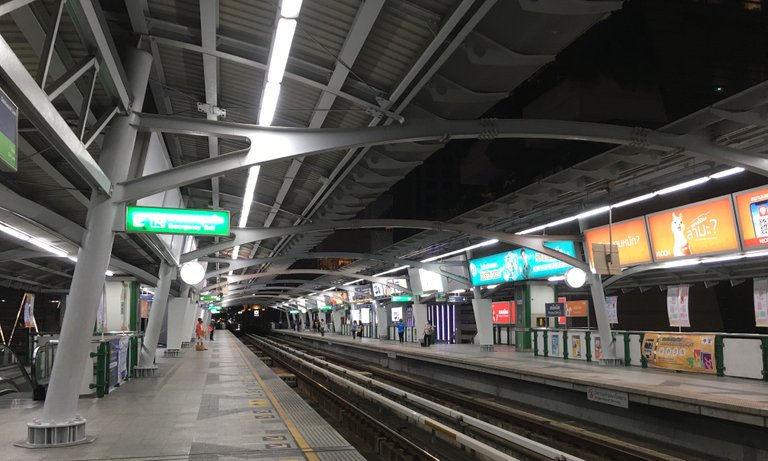 The skywalk was also very eerie with very few people walking around. The mall where I parked my car was very quiet with all my favourite coffee shops closed before the normal closing time. Most shops had no customers as if all people had been sapped to another dimension. I was rather on edge walking around in very strange atmosphere. I thought I might be in a strange sci-fi film; the sense of time and place had become distorted. Walking quickly helped to stabilise my sense.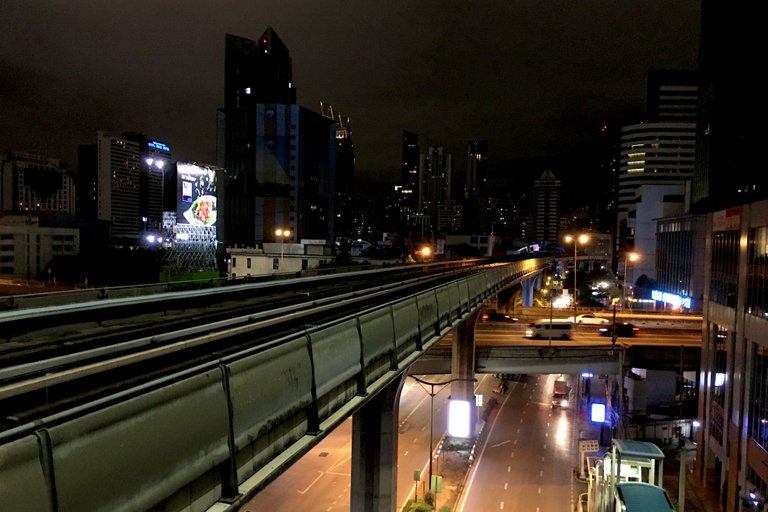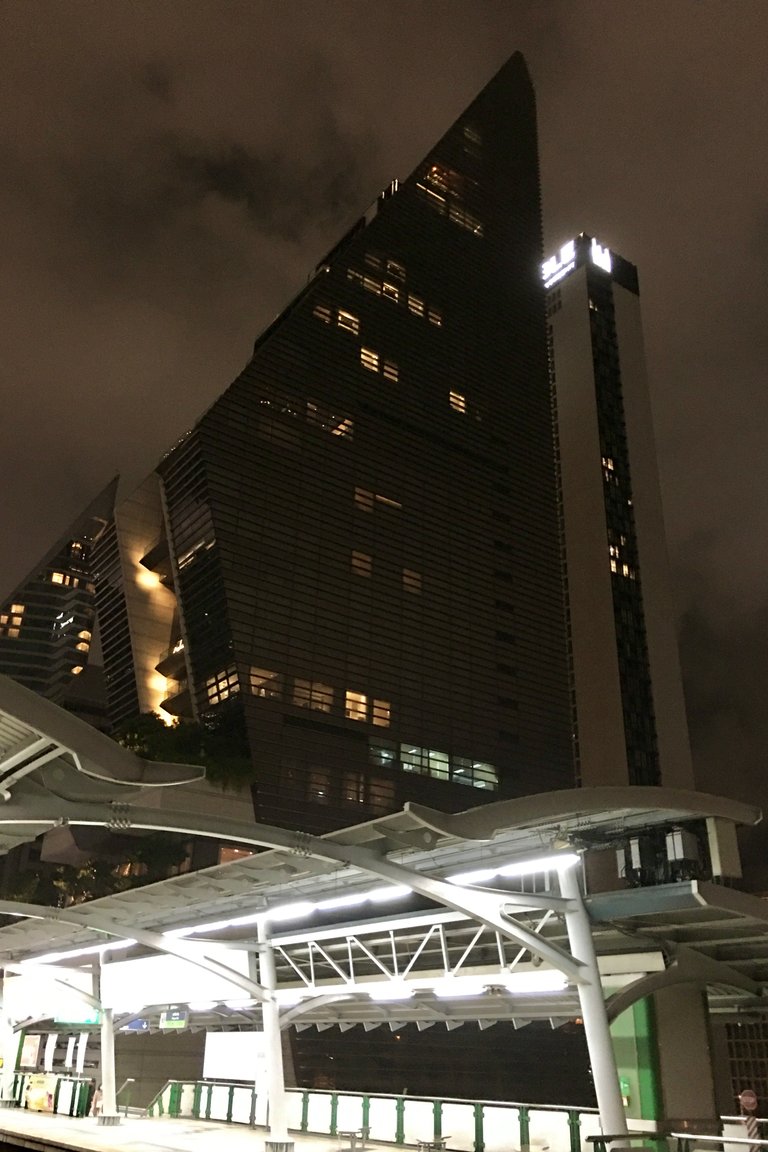 เราต้องออกไปหาซื้อเครื่องมือทำสวนที่ห้างในเมือง เดือนก่อนคนสวนใช้ที่ตัดกิ่งไม้แบบใช้เชือกดึง ไปตัดกิ่งไม้ที่มีขนาดให้เกินไป สปริงจึงหลุดกระจายทำให้ใช้งานไม่ได้แล้ว เราพยายามฝากเพื่อนไปหาซื้อให้ในท้องที่ แต่ของหมดเป็นเพราะว่าเป็นของที่ทำในจีน พเเกิดโรคโควิทจึงไม่มีการส่งออกสินค้ามาเมืองไทยเลย เราคิดว่าต่อไปนี้เราจะต้องตุนของใช้จำเป็นที่มาจากจีน เพราะว่าต่อไปอาจจะมีความขัดแย้งระหว่างประเทศมหาอำนาจ ทำให้เราต้องอยู่ในภาวะสงครามในอนาคต เราจอดรถที่ห้างอัมรินทร์แล้วเดินไปขึ้นรถไฟฟ้า เราต้องการเดินออกกำลังกาย และหามุมถ่ายรูปตอนกลางคืนไว้ลงโพสต์ด้วย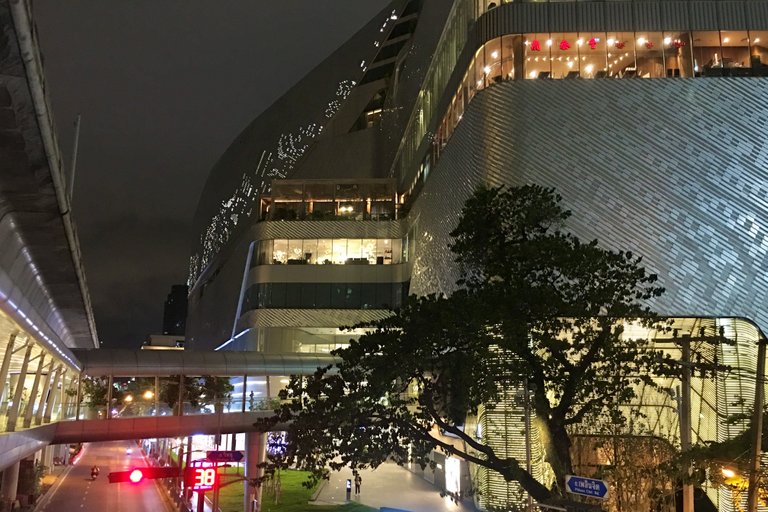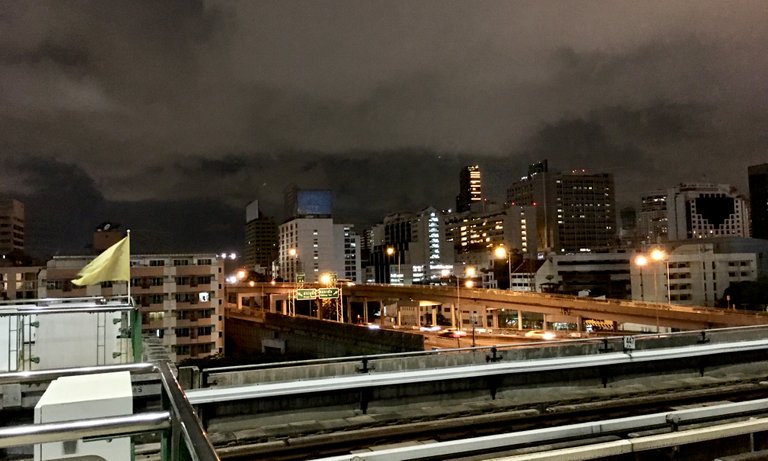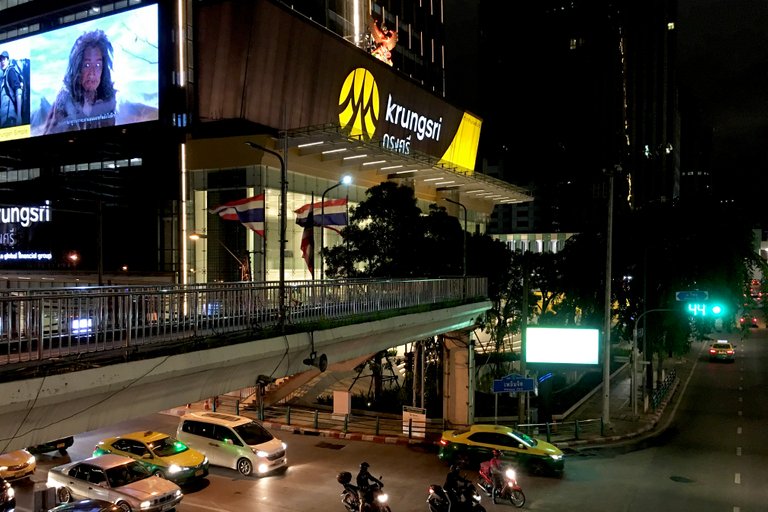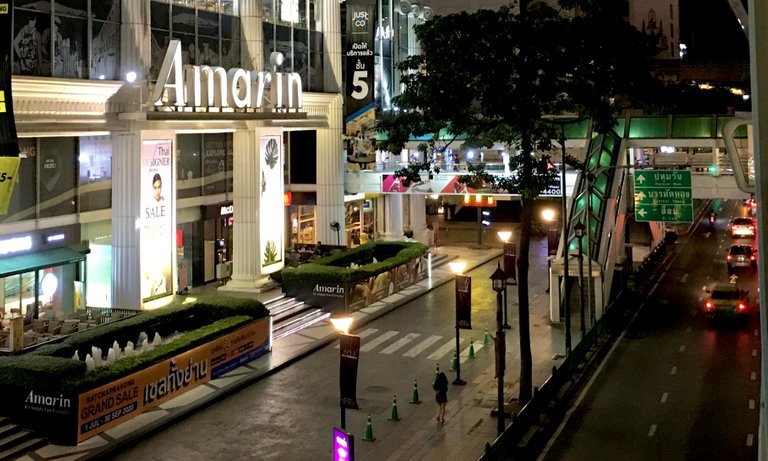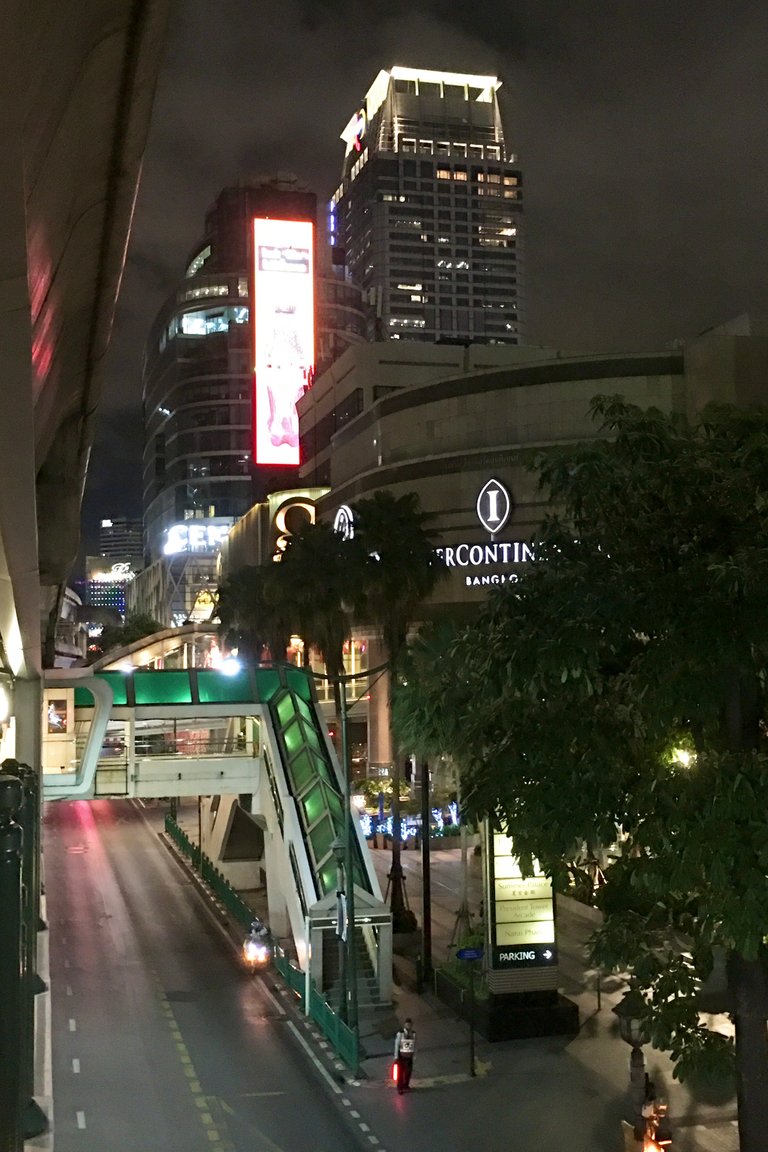 การเดินทางรวดเร็วมาก ถนนว่างมากจนเรารู้สึกแปลกใจ และในห้างสรรพสินค้าก็เงียบมาก ไม่มีคนเลย ที่จอดรถก็ว่างจนหลอน เราเดินไปตามสกายวอคแบบรูสึกว่าเหมือนเดินอยู่ในภาพยนตร์ไซไฟ ที่มนุษย์ถูกดูดไปอยู่ในมิติอื่นกันหมด ในร้านโฮมโปรก็มีคนเดินอยู่สามสี่คน เราไม่ได้เครื่องมือที่อยากได้ เพราะหมดรุ่น มีแต่ของที่มาแบบใหม่มี่มีด้ามมาด้วย เราคิดว่ามันมีน้ำหนักมากไปหน่อย เราจะต้องลองไปหาที่อื่นดู แต่ก็ได้ผ้าม่านใช้ในห้องอาบน้ำลดราคาถูกลงมากมาลิ่นหนึ่ง เราสังเกตเห็นว่าสินค้านั้น ไม่มีการเพิ่มสต๊อกเลย ต่อไปเราจะไม่มีของใช้ราคาถูกจากจีนแน่นอน ข้างนอกที่ตามถนนหนทางแลดูเงียบเหงา และเศร้าพิกล เราก็เดินไปถ่ายรูปที่ศาลพระพรหมด้วย เห็นแล้วค่อนข้างหดหู่ใจพอสมควร ที่หน้าห้างเซ็นทรัลก็แทบไม่มีการจราจร เราเริ่มสงสัยแล้วว่าห้างสรรพสินค้าใหญ่ๆจะอยู่รอดในระยะยาวได้อย่างไร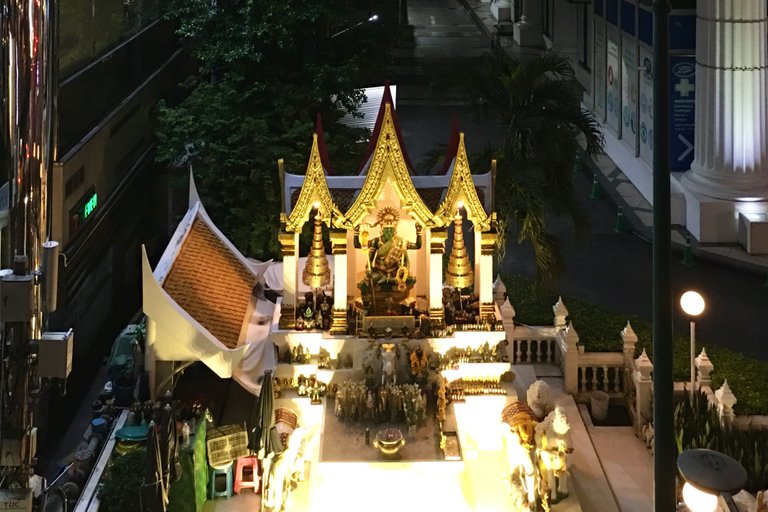 I paid a respect to the Hindu shrine of Indra in front of Amarin Plaza and the Brahma shrine at Rachaprasong cross road. I never saw these two shrines so quiet like this before. We really needed tourism to start badly.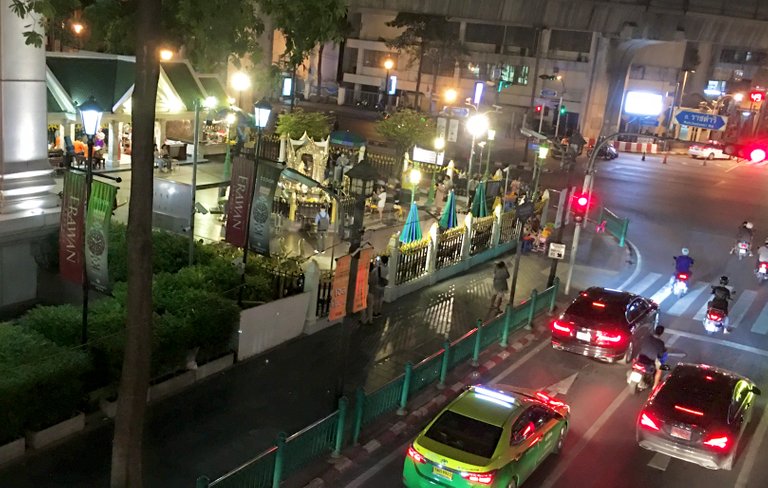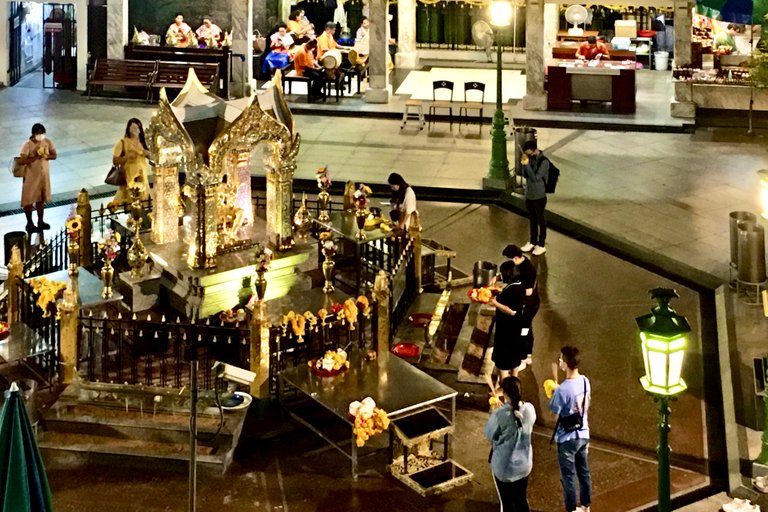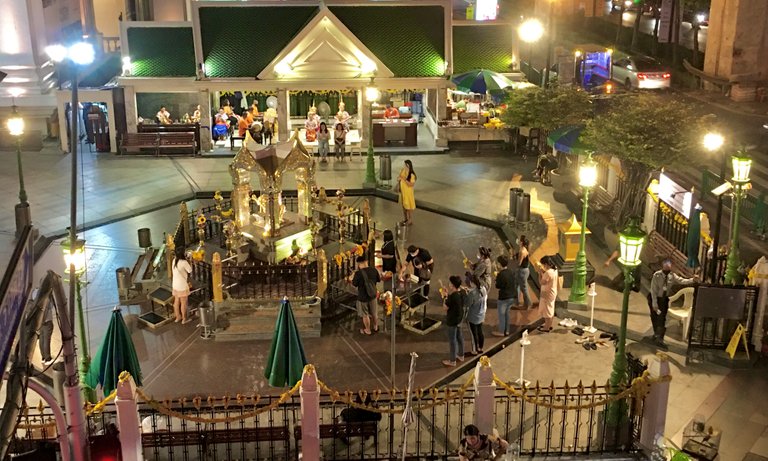 Even the road in front of the World Trade Center and Central World was very quiet. The display of lightings made the area less scary. I never liked the funny vibes around that place despite the fact that famous Hindu shrines had been installed with several religious ceremonies in the past.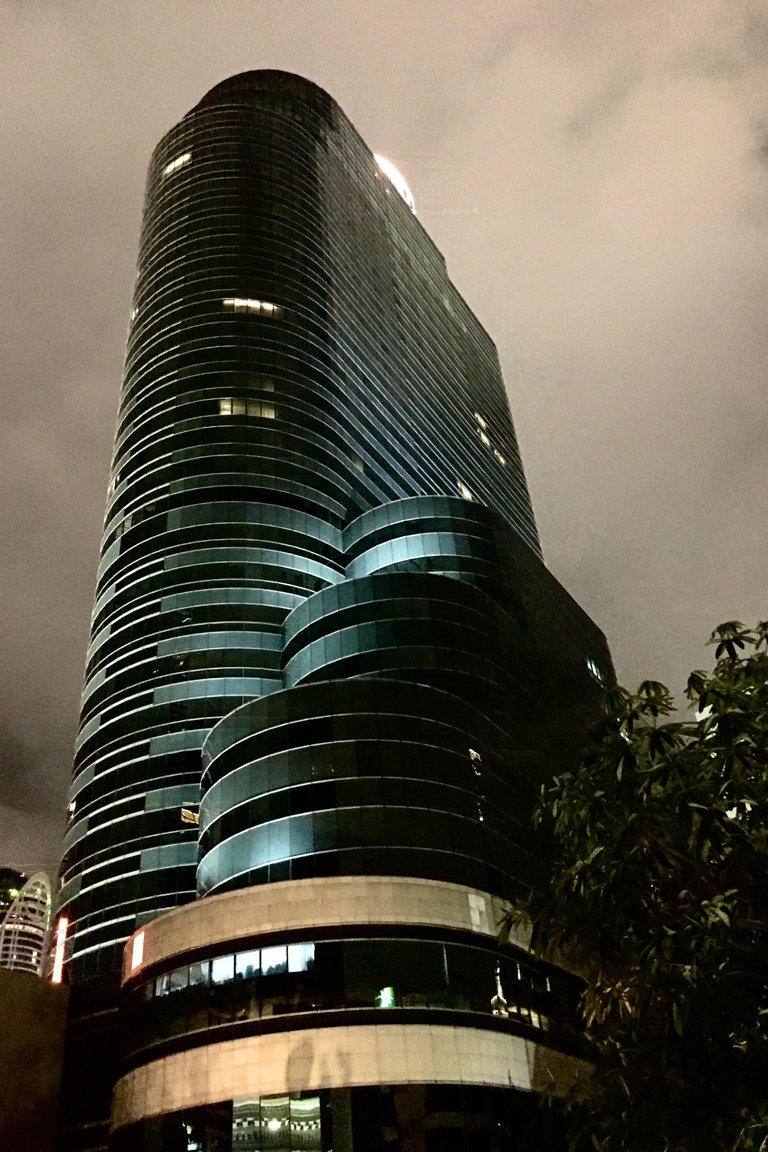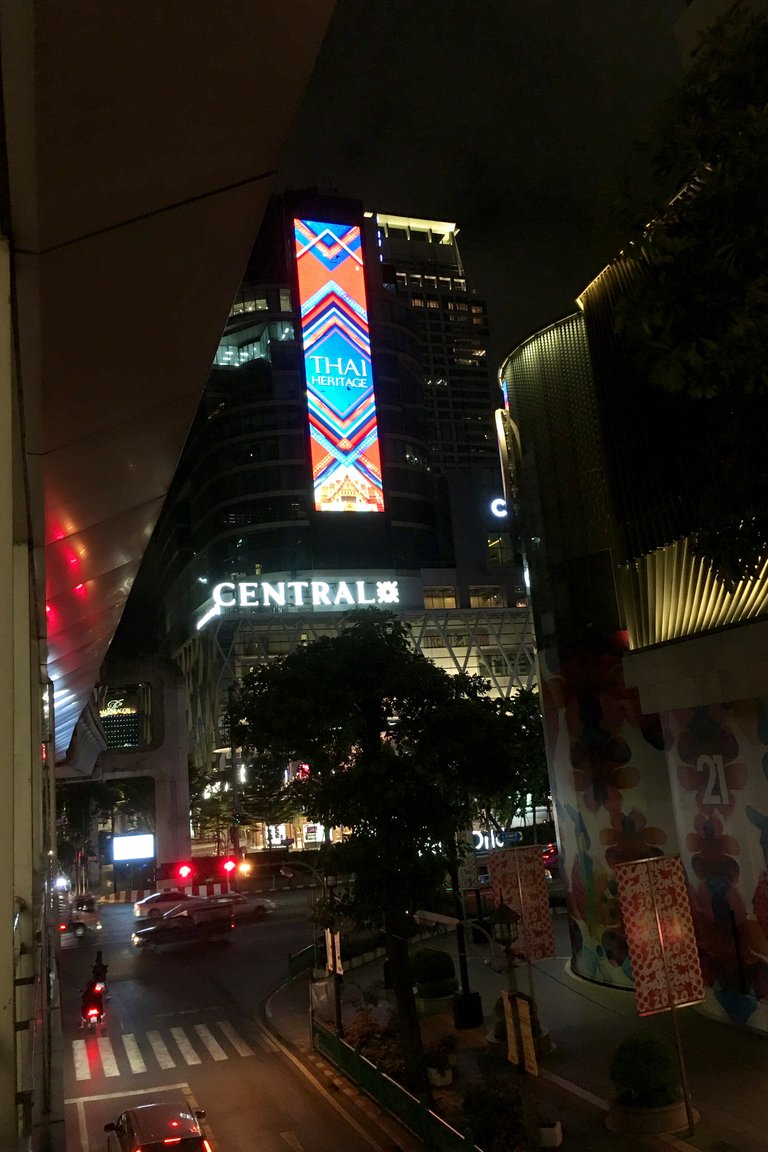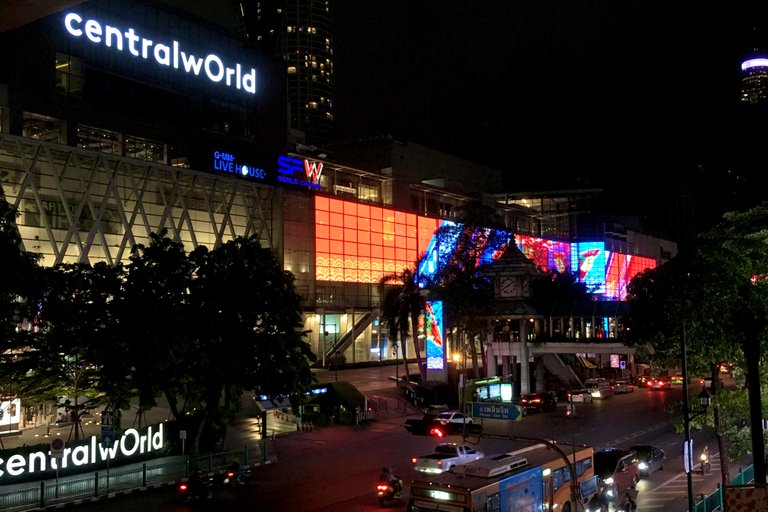 I could feel much better vibes around the Brahma shrine and around Amarin or Indra shrine. I rarely went window shopping at Central World; once every three years!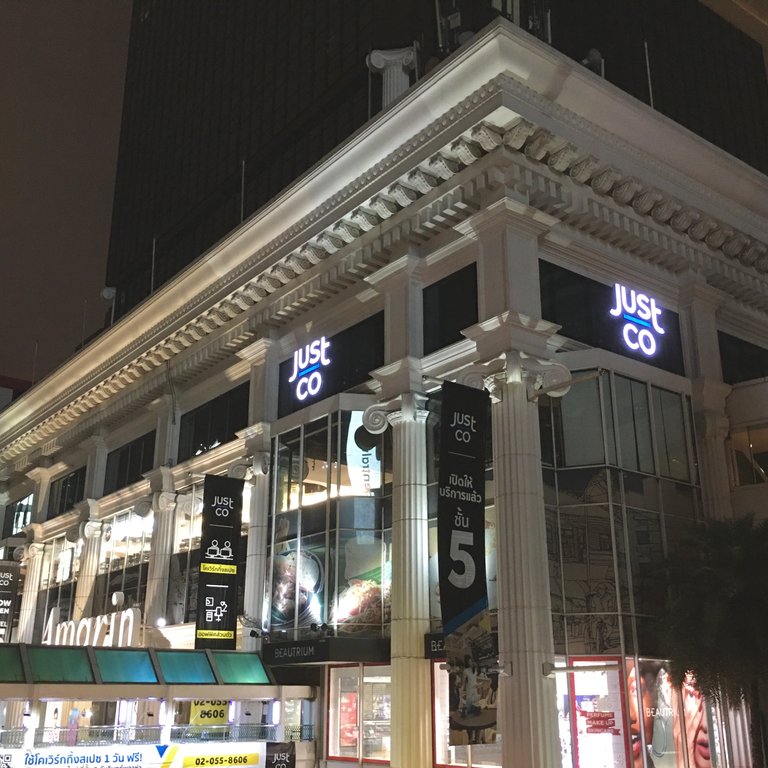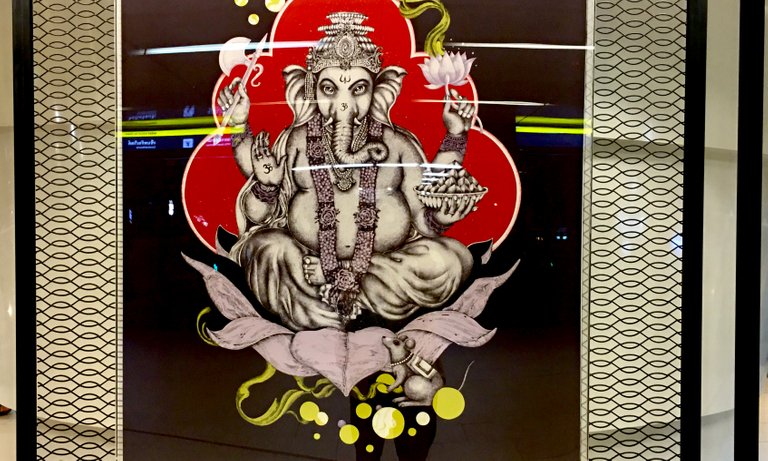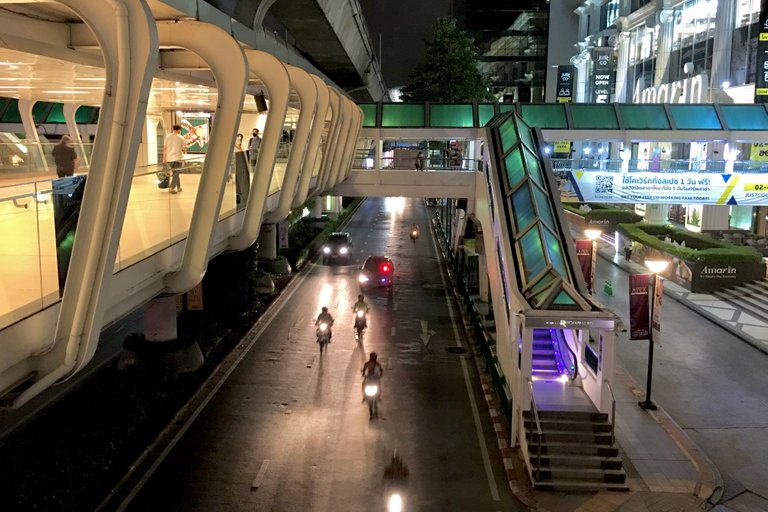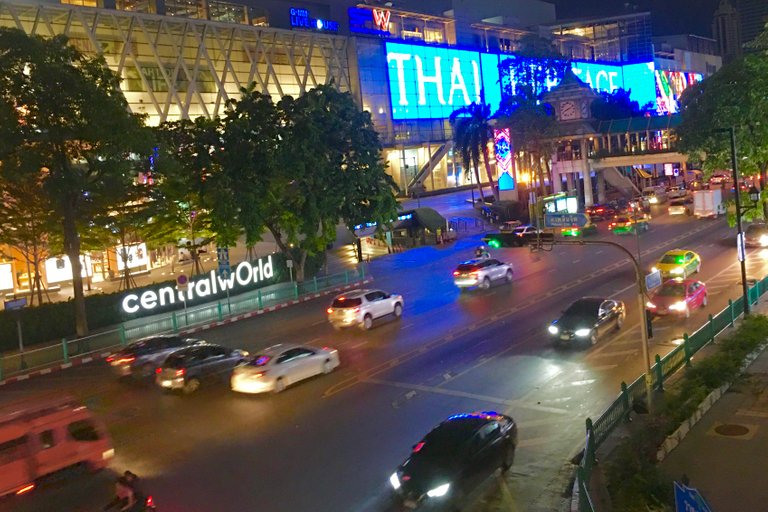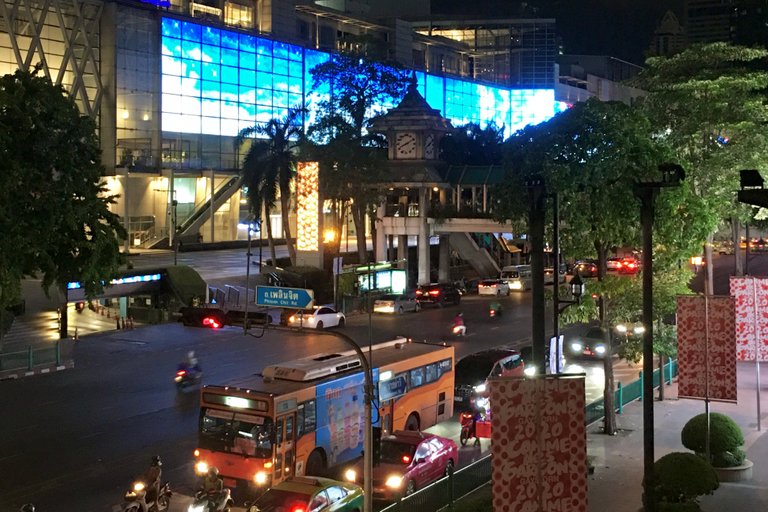 These two places in Amarin Plaza were also waiting for some Chinese tourists and customers. I do hope and pray for much better days to be arriving as soon as possible.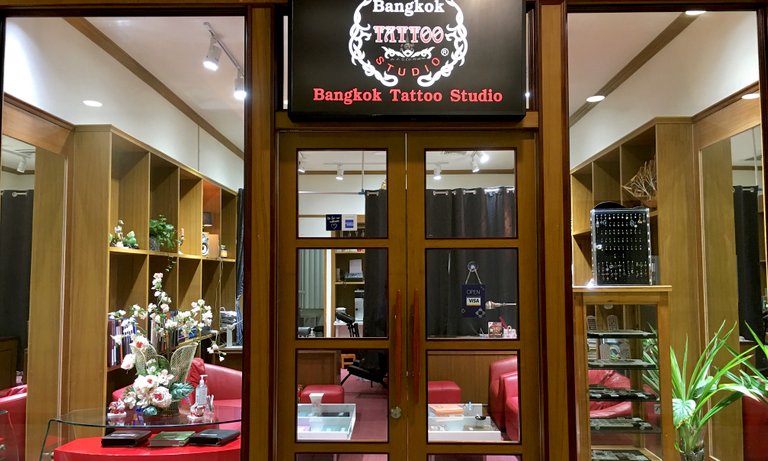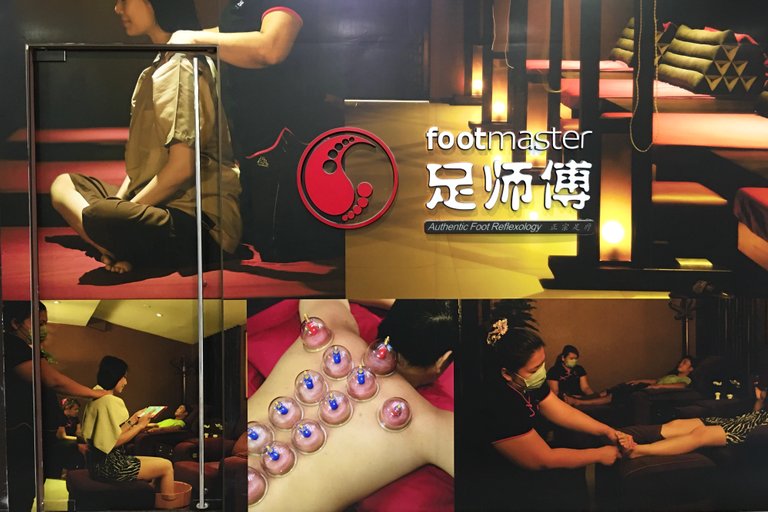 Wishing that all will be well, free from sufferings and sorrow.