Though AI is a cool thing, great innovation and maybe quicker than humans sometimes in accomplishing tasks, I think there are lots of things that human can do that AI's or robots can't do. Another thing is that there are bugs that occurs from time to time. Another problem that may occur is unemployment.

---
Read more: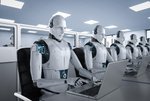 Microsoft Is Replacing Employees With AI…And Other Small Business Tech News
Here are five things in technology that happened this past week and how they affect your business. Did you miss them?
Source:
https://www.forbes.com
---
Share this post:







---