There's a new superhero in town, meet @telokanda, the token that will revolutionize Hive!

In case you missed out, telokanda is taking not only Hive but the whole Twitter by storm and here's why!
What is telokanda?
First and foremost, Telokanda is a Telos Smart Contract + EOSIO + Steem/Hive based social advertising platform where users can buy & sell ads and get rewarded for taking actions on other user's ads using Discord Telegram Twitter and other social media blockchain bots and tools.
Read their full details here:
Happy new month Telokandians!
We trust the new year is going well already wit... https://peakd.com/telokanda/@telokanda/the-future-of-telokanda-the-advertising-platform-built-on-the-telos-blockchain
What makes telokanda special?
Telokanda which backed by advertisement is gonna open a new perspective of people towards Hive. This will be really interesting on the blockchain as advertisement plays a really big role in the digital industries including social media and blockchain. Personally, I strongly believe that this token will add value that will attract different sets of people into Hive. Aside from that, telokanda is also listed in other exchanges besides Hive-Engine. This will be a game-changer!
And as a person that also involved with ads (especially Google Adsense and Admob), I find telokanda token will make a huge impact on Hive looking at how giant companies pouring money in ads!
More telokanda fun facts!
Interestingly, though being a newer token, telokanda has been listed number 3 on Hive-Engine. This shows that telokanda communities especially the founders are working really hard to achieve the goal of telokanda in the long run.
Here is the post where they have been listed number 3:
KANDA hive engine token is #3 on Hive-Engine.com! We expect to create more d... https://peakd.com/hive-182425/@ackza/kanda-on-the-3-spot-on-hive-engine-kanda-is-also-a-telos-eosio-smart-contract-and-has-a-tipit-and-tip-cc-listing-its-also-listed
Speaking of the founder, telokanda comprised of group of remarkable people working together to achieve the same goal, bringing telokanda and Hive into greater heights. I proudly present the group @empato365, @ackza and @citimillz. The communities also comprised of amazing people together supporting towards achieving the success of telokanda. (chatted with all of them and they are really cool people!)
Remarkably, telokanda also gained interest by notable Hivers such as @taskmaster4450 which he made a wonderful post about telokanda and its future impact. (it was my first time chatted with him and he was really cool!)
Here is the post by taskmaster4450:
We often wonder what the future of Hive holds or what direction it will head ... https://peakd.com/hive-167922/@taskmaster4450/the-future-of-hive-financial-epicenter
Bought and Stacked my telokanda token!
That said, I personally bought more telokanda and stacked too. I do feel we need more token that can make an impact on Hive and telokanda is a good start.
I personally find it really convenient using @peakd to access the Hive-Engine. It makes things simple and direct.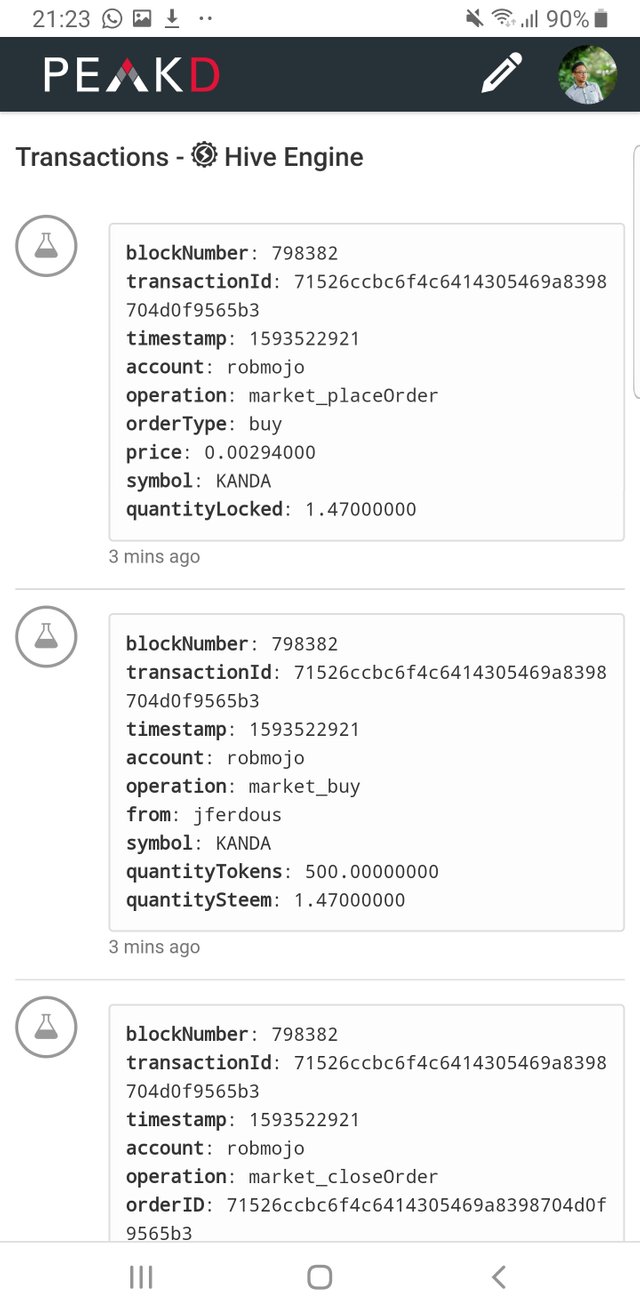 Aside from that, if you keen on learning more of this token or you wish to earn free telokanda, there will be a party on the telokanda Discord. Make sure to type fast because everything moves really fast! Here is the link:
https://discord.telokanda.com/
Telokanda Forever!