I'm taking you along with me as I create a new card deck for myself. I will create it with an American Indian theme as I did once before. What is Lenormand? - check out my previous article.
Card 32 - Moon
First of all, those of you familiar with traditional tarot will know the moon as a symbol of illusion. It's a very different card in Lenormand. Although not exactly the same as the Native American Indian tribal symbol, it's much more in harmony with that (and Celtic mythology) than the tarot symbol.
When we think of the CARD, we tend to think of:
The divine feminine, maternal protection, unconditional love
Peace, serenity, relaxation, a time for closeness and bonding
Deep feeling, dream messages, and thinking introspectively
Romance, love, eroticism, passionate energy
Restlessness, sleeplessness, the light in the darkness, revelation
Obscurity, insecurity, looking for answers hidden in the darkness...
So, there are some positive and some negative aspects. Compare with the other cards in your spread and to the particular situation the questioner finds themselves in.
For more information on what this card means, check out Lenormand1's interpretation - for combining the Moon with any other card, check out the site: Learn Lenormand
For my new card, For my new card, I hit Google Images search, looking for something with CC0 (Creative Commons 0) licensing meaning that I don't always have to remember to credit someone - essential if I were to start doing paid readings with these cards.
I also had to find out which traditional playing card is associated with this card. So, here is my result: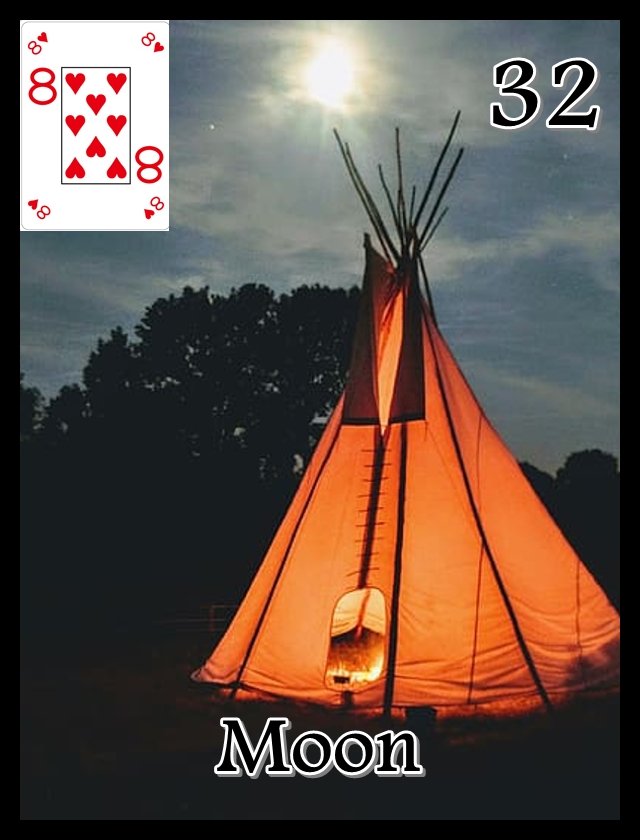 (Base image source: Piqsels)
It was hard to find a good picture.
I like this one though because of the feeling of serenity and comfort that being in a nice warm tipi in the wilderness, under the full moon, would bring. (I'm assuming that the fire here is well-tended and in an appropriate enclosure - even a ring of stones would suffice.) Even the fire lends to the passionate/restless feeling that the card can mean. So, it ends up being a very relevant image.
Note: Readings are entertainment only (legally). You are in charge of your own destiny.
Order your personal reading at Fiverr.
Previous cards: 1 Rider; 2 Dreamcatcher; 3 Canoe; 4 Tipi; 5 Medicine Wheel; 6 Clouds; 7 Poison Ivy; 8 Burial; 9 Flowers; 10 Tomahawk; 11 Rattlesnake; 12 Hummingbird; 13 Child; 14 Coyote; 15 Bear; 16 Stars; 17 Butterfly; 18 Dog; 19 Pueblo; 20 Pow wow; 21 Cliff; 22 Crow; 23 Mosquito; 24 Swans; 25 Unity; 26 Elder; 27 Talking Stick ; 28 Man ; 29 Woman ; 30 Flute ; 31 Sun ; 32 ; 33 ; 34 ; 35 ; 36 .
Crossposted at Steem, Whaleshares, WeKu

Lori Svensen
author/designer at A'mara Books
photographer/graphic artist for Viking Visual
(Buy my work at RedBubble)
verified author on Goodreads
find me on Twitter
blogging on: Steem, Whaleshares, WeKu


---