This is my entry for week 6 of the Take A Pic and Comment contest organized by @olivia08. SUNSET my favorite subject in photography.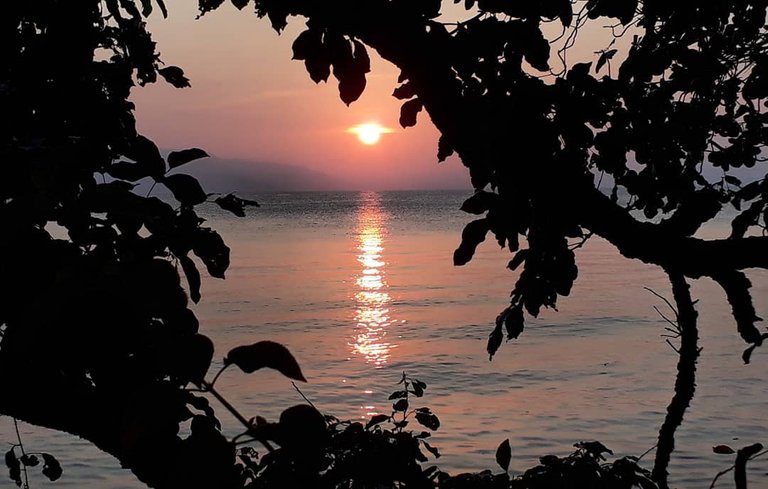 Sunset seems to dance, to weave and frolic with tongues of fire between the blades of grass. The vivid ruby and tangerine streaks that so often caressed the blue brow of the sky were sleeping, hidden behind the heavy mists. The perfect painted picture was about to leave desolate, people were hypnotized: put under a spell. High up in the treetops, the leaves swayed, but on the ground, the grass was silent, limp and unmoving.

The sun peak through the horizon saying a final goodbye. Before it leaves, it gives me a gift of pure peace and serenity. The view that can captivate any onlooker's eyes, like an angel falling out of the heavens to disappear. The sun sets in the beautiful Island Garden City of Samal, Davao del Norte and the earth waited.
---
Taken using my iPhone 6 Plus
Camera Setting: Portrait setting/ HDR
Location: Philippines
---
Thanks for dropping by @diosarich
---

☆・:˜"°•ڰۣڿ♥ڰۣڿ•°"˜・:・゚☆☆・:˜"°•ڰۣڿ♥ڰۣڿ•°"˜・:・゚☆ ☆・:˜"°•ڰۣڿ♥ڰۣڿ•°"˜・:・゚☆

☆・:˜"°•ڰۣڿ♥ڰۣڿ•°"˜・:・゚☆☆・:˜"°•ڰۣڿ♥ڰۣڿ•°"˜・:・゚☆ ☆・:˜"°•ڰۣڿ♥ڰۣڿ•°"˜・:・゚☆

---
#photosteem #phototalent #photocircle #creativecoin #palnet
Note:
This is an Invitation to join #ccc for Guaranteed = Daily Income = and Payout = for Newbies (2.0) = = in #ccc = and Follow = the Honor Code = - the Creed (Conditions and Limits Inside)
AND the latest update <<< please click to read.`