Back in the Saddle Again
I've stepped away from Steem a little because of the fact that I've been busy with my master's program and a number of other things, like writing for the Tabletop Designer's Association.
However, I've also been thinking about making a few short little games, including a somewhat larger game. I haven't really been doing much work on Hammercalled (haven't been able to playtest it reliably, so I don't want to do a lot of revisions on it), and a lot of my creative writing energy has been applied to the thesis for my master's program, which is going to be a novel set in the Bioreaktor universe.
I also went back and did a couple weeks of substitute teaching for a former coworker at the school I used to teach at while he was out for surgery, so that got in the way of this a little. I know there's a nasty disease spreading around, but I'm basically locked inside all the time anyway because I haven't had a regular day job in a long time, so I'm going to just ride this thing out and stay safe. I don't think it'll be terrible, but I've got a couple weeks worth of food stored away just in case.
However, I did a bad thing and got a new piece of software recently. I've been sort of meh about my previous workflow, with its numerous issues and irritations, so I figured I'd start moving toward something a little more user friendly and fast-iterating to reduce the amount of time I spend on doing layouts in Scribus. With that said, I think that you all ought to see what I'm up to.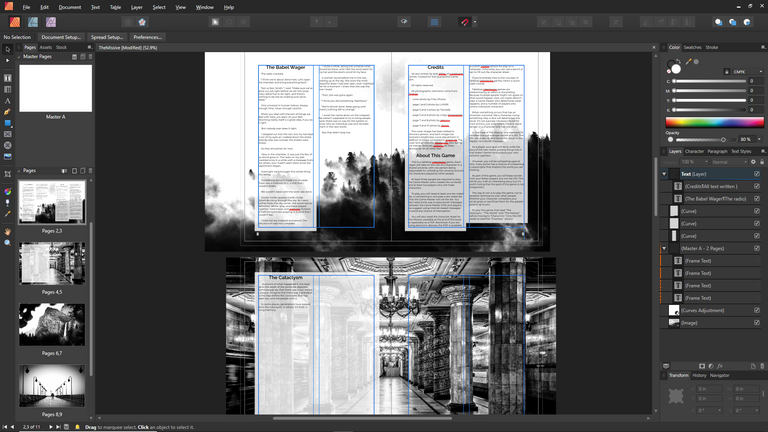 In case anyone's wondering, this is Affinity Publisher.
The new workflow is so much faster in so many ways, plus so much better at creating final output. I'm not entirely sure how well it will work in practice with a couple of export-related things, but the start-to-finish on a project is great and I've just been working directly in Affinity Publisher because its text editing feels more natural instead of having to start in LibreOffice and then port over.
I'm writing this one for the Quarantine Game Jam over on itch.io, because I figure why not? It's pretty far from finished, but I've got the core mechanic more or less figured out. It's more of a storytelling game than my norm, because I'm feeling the vibe.
Plus, I have to finish by fairly early tomorrow, so it's not like I'm going to be stepping into a long-haul commitment with this.
---
At Loreshaper Games, we're dedicated to the pursuit of free, fun, and meaningful storytelling in games and other media. Feel free to join us on Discord or Twitter (@loreshapergames), or follow us here on Steem for updates!
Also check out our products on DriveThruRPG and itch.io!
---
---