Summary
A great diversification allowed me to not suffer from bad news coming from a few companies.
Texas Instruments is facing many headwinds at the same time.
Hasbro has created more noise than most people can handle by crashing more than 15% down on earnings day.
This idea was discussed in more depth with members of my private investing community, Dividend Growth Rocks.
In September 2017, I received slightly over $100K as a result of the commuted value of my pension plan. I decided to invest 100% of this money into dividend growth stocks. Each month, I publish my results. I don't do this to brag, I do this to show you it's possible to build a portfolio during an all-time high market. The market will crash… eventually. In the meantime, I rather cash some juicy dividends!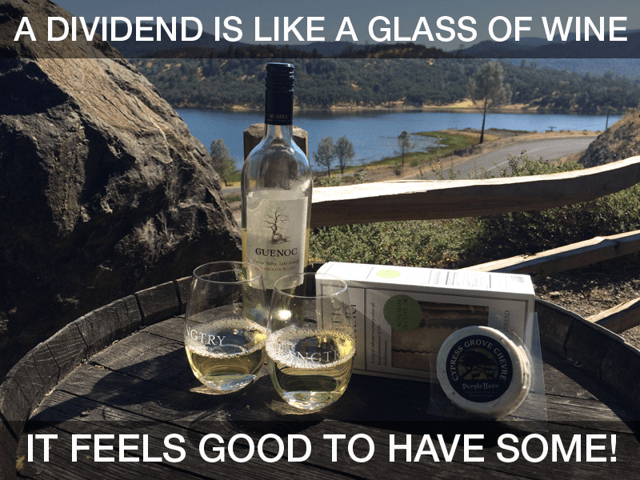 The Importance of Diversification
This has been a very interesting month for my US portion. The last two weeks of October were filled with numerous earnings releases for Q3. For some, it seems the market was desperately waiting for a good reason to sell and cash some profit. This is how two of my holdings lost roughly $1,500 combined (Hasbro (NASDAQ:HAS) -18% and Texas Instruments (NASDAQ:TXN) -8%). This is a steep drop for such a small period. Most of the drop happened on earnings day: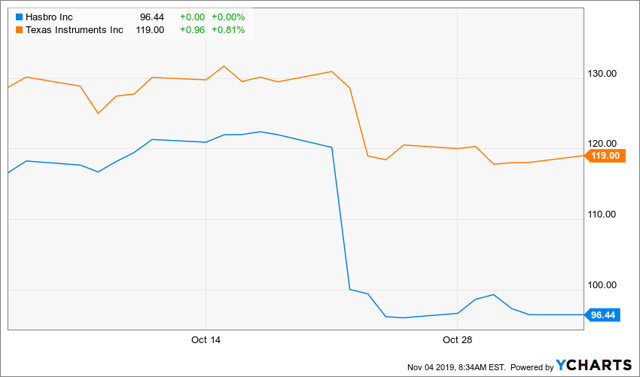 Source: YCharts
The Joy of Diversification
On a ~150K portfolio, a 1.5K drop represents only 1% of the portfolio value. Therefore, while two of my companies are getting killed by the market, I barely felt a breeze on my face. In fact, I didn't even notice I had other companies in other sectors that did the opposite trick (e.g. beating analysts estimates and issuing stronger guidance). Stocks like Apple (NASDAQ:AAPL) +16.28%, BlackRock (NYSE:BLK) + 13.01%, Lazard (NYSE:LAZ) +9.13% and Gentex (NASDAQ:GNTX) +8.54% all had great quarters. Instead of losing $1,500 in October, I show a portfolio value increase of nearly $1,500.
A great diversification allowed me to not suffer from bad news coming from a few companies. This doesn't mean I should ignore what happened to both Hasbro and Texas Instruments. In fact, I review each of my holdings quarterly by reading their latest earnings statement.
Here's what I wrote to my DSR members in our weekly newsletter about these black sheep:
Texas Instruments - A Classic Miscalculation
If you can remember what happened 3 months ago, you would probably smile seeing TXN dropping like a rock this week. The exact opposite happened for both TXN and HAS during their Q2 earnings day: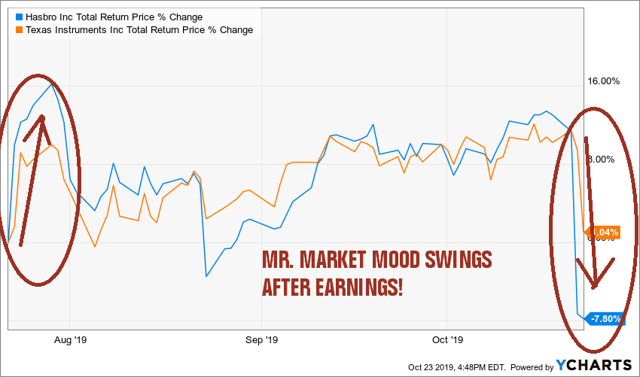 Source: YCharts
When I talk about noise… What really happened?
First, TXN's results have been bad for about a year now. Texas Instruments is facing many headwinds at the same time. We are at the end of an investing cycle in technology, the trade war is affecting business with China (duh!) and the automotive industry is also in a slowdown (hence, less high-tech cars are being sold).
Second, we thought we were done with bad news last quarter… And management slapped investors in the face by decreasing its Q4 forecasts… missing analysts' expectations once again. Q4 forecast sees revenue of $3.07-3.33B (consensus: $3.6B) and EPS of $0.91-1.09 (consensus: $1.28).
Third, we don't see the end of that trade war. Uncertainties are the worst thing (and the best thing) that could happen to a stock. It's the worst for current shareholders as it is hard to price a stock when the future remains unclear. However, it's a great opportunity if you missed the train, and you want to add TXN to your portfolio.
My thought on TXN after this quarter: There are inevitable short-term headwinds happening for the entire semiconductor industry. TXN is not losing market shares or having more problems compared to its peers. It is simply facing a challenging environment. The reasons why I bought TXN in the first place are still valid today. There are no changes in my investment thesis.
Hasbro - Santa Won't Go to China This Christmas
Hasbro has created more noise than most people can handle by crashing more than 15% down on earnings day.
First, the results weren't that bad. EPS was down -4.7% and revenue flat (+0.35%). There is nothing to write home about. Most investors would have been okay with such results. But expectations were greater.
Second, as it is often the case when a stock plummets, HAS missed both EPS and revenue growth expectations. Posting bad numbers is one thing, but when you miss EPS expectations by $0.36 (19.5% miss), that's really bad news.
Third, people are literally trading on fear. The main reason why Hasbro missed its targets is because of potential tariffs. That's right, those are just threats, but retailers have been "destocking" on fear of what is coming up next. As we have no clue when and how the trade war will happen, many fear there will be a major slowdown for the Holiday period.
My thought on HAS after this quarter: Three words: Star Wars, Frozen. Hasbro is about to enjoy a strong tailwind coming from Disney's blockbuster movies. The company just came through the bankruptcy of an important client (Toys"R"Us) and still managed to post reasonable results. The trade war will eventually end, and retailers will increase their order at that point. HAS's stock price has nearly doubled in the past 5 years, so I'll hold on to my shares and cash the dividend in the meantime. It creates a good entry point for those who didn't invest yet.
Read the Full Post on Seeking Alpha
Author Bio:

This article was written by The Dividend Guy. A well-known investment author on Seeking Alpha.
Steem Account: @thedividendguy
Twitter: thedividendguy
Steem Account Status: Unclaimed
Are you The Dividend Guy? If so, you have a Steem account that is unclaimed with pending cryptocurrency rewards sitting in it from your content. Your account was reserved by the Steemleo team and is receiving the rewards of all posts syndicated from your content on other sites.
If you want to claim this account and the rewards that it has been collecting, please contact the Steemleo team via twitter or discord to claim the account. You can also view the rewards currently sitting in the account by visiting the wallet page for this account.
What is Steemleo Content Syndication?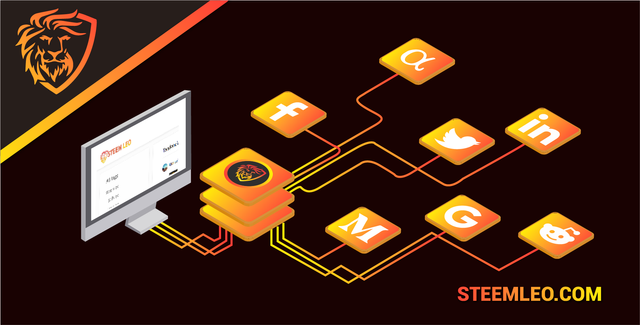 The Steemleo team is syndicating high-quality financial content from across the internet. We're also creating free Steem accounts for the authors of that content who have not yet discovered the Steem blockchain as a means to monetizing their content and we're listing those accounts as the 100% beneficiaries to all the rewards. If you want to learn more about Steemleo's content syndication strategy, click here.