Summary
Flowers Foods has a solid track record of performance and dividend growth. The company's dividend has grown each of the past 18 years.
However, the company suffers from dealing in an industry that lacks pricing power. Outside pressures have hurt its operating metrics.
Due to this, the stock's current valuation is unjustified.
Flowers Foods, Inc. (FLO) is a relatively underfollowed dividend growth stock. The baked goods company has raised its dividend in each of the past 18 years, and offers investors a very solid dividend yield of 3.40%. However, mediocre operating metrics and a vulnerability to outside cost pressures limit the upside available to investors. While the stock can sometimes make sense, the market rewards high-quality stocks over long time frames. Unfortunately, we don't think that Flowers Foods "makes the cut" in this regard.
Strong Brands In A Stable Food Category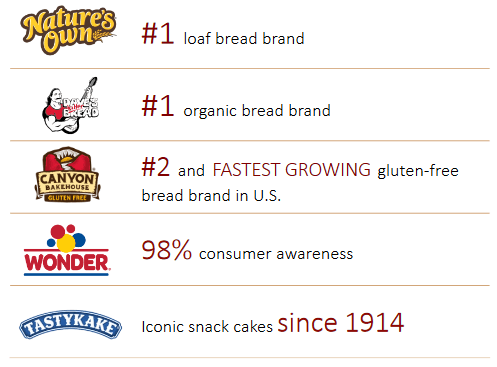 (Source: Flowers Foods, Inc.)
Founded in 1919, Flowers Foods has been a staple in the food industry for a century. The company produces and markets baked goods for a number of leading grocery brands, including Nature's Own, Wonder, and Tastykake.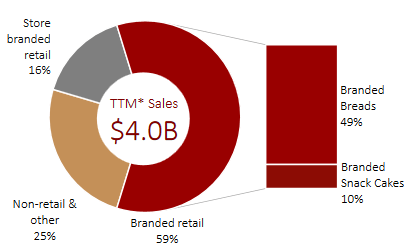 (Source: Flowers Foods, Inc.)
The company generates approximately $4 billion in annual sales. While the company does sell snack cakes and other baked treats, the majority of sales are generated from both brand- and store-label retail bread sales. The company holds strong market share in a number of categories, including loaf bread and organic bread.
A Strong Dividend
With a strong foothold in a traditional consumer staple category, it's not a surprise that a solid, reliable revenue stream has been a shining characteristic of Flowers Foods (yes, people buy a lot of bread during recessions). This has enabled the company to pay (and grow) a dividend that now totals $0.76 annually for shareholders. The dividend yield of 3.40% well exceeds what US treasuries are offering in this low-yield environment (10-year notes currently yield just 1.53%).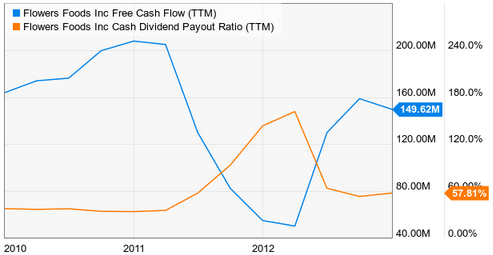 (Source: YCharts)
As we mentioned earlier, Flowers Foods has been an under-the-radar dividend growth stock. The payout has grown in each of the past 18 years, and has grown at a CAGR of 10.8% over the last decade. Even in recent years, dividend growth remains solid at 7.8% over the past three years. The dividend is also well-funded, with a payout of less than 60% of free cash flow.
A Strong Player In A Low-Upside Industry
Typically, a company that holds strong market position and pays a dividend that grows continually would qualify as an excellent investment. And to be honest, Flowers Foods has been strong for investors.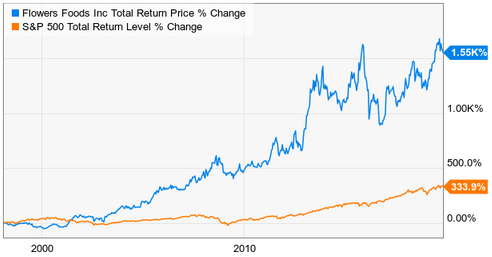 (Source: YCharts)
Over the past two decades, Flowers Foods has vastly outperformed the S&P 500. In fact, a $10,000 investment made at the turn of the millennium would be worth approximately $175K had you reinvested those dividends. However, Flowers Foods has underperformed the market over the past few years. We don't think this is a fluke. We suspect that its most exciting days from an investment perspective are behind it for a couple of reasons.
The first being that the company's operating metrics have declined over time. Various core metrics, including operating margin, FCF conversion rate, and its return on invested capital, have all declined notably.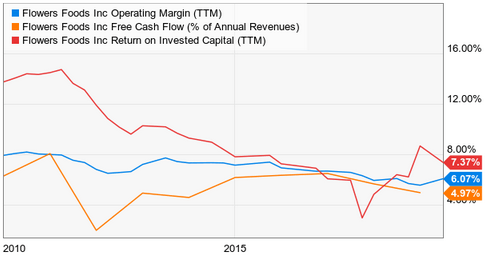 (Source: YCharts)
What has caused this decline? Despite a strong brand portfolio, the bread industry just isn't one where even the best companies can demonstrate meaningful pricing power. As we can see below, the company has experienced cost increases in various categories since the end of 2016.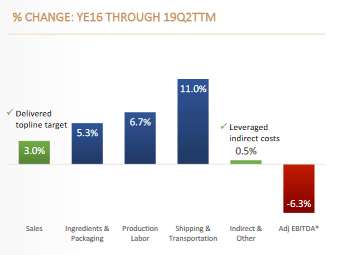 (Source: Flowers Foods, Inc.)
With fierce competition from generic and other name brands, Flowers Foods has had to absorb much of these costs. This has resulted in a substantial drop in EBITDA. And while ingredient costs could fall (very commodity-driven given bread's short ingredients list), labor and shipping are likely to only continue to increase over time.
Author Bio:

This article was written by Wealth Insights. A well-known investment author on Seeking Alpha with over 6,000 followers.
Steem Account: @wealth-insights
Profile on Seeking Alpha
Steem Account Status: Unclaimed
Are you Wealth Insights? If so, you have a Steem account that is unclaimed with pending cryptocurrency rewards sitting in it from your content. Your account was reserved by the Steemleo team and is receiving the rewards of all posts syndicated from your content on other sites.
If you want to claim this account and the rewards that it has been collecting, please contact the Steemleo team via twitter or discord to claim the account. You can also view the rewards currently sitting in the account by visiting the wallet page for this account.
What is Steemleo Content Syndication?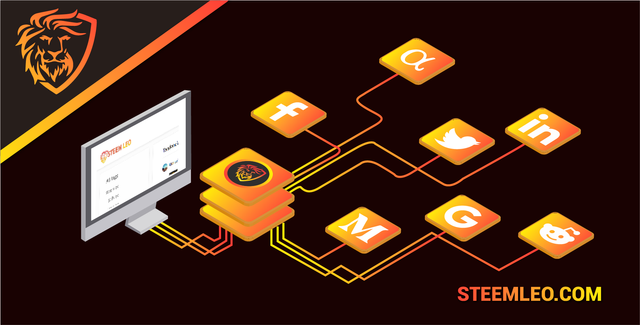 The Steemleo team is syndicating high-quality financial content from across the internet. We're also creating free Steem accounts for the authors of that content who have not yet discovered the Steem blockchain as a means to monetizing their content and we're listing those accounts as the 100% beneficiaries to all the rewards. If you want to learn more about Steemleo's content syndication strategy, click here.