I am Tom Cruise's nose double - True Story!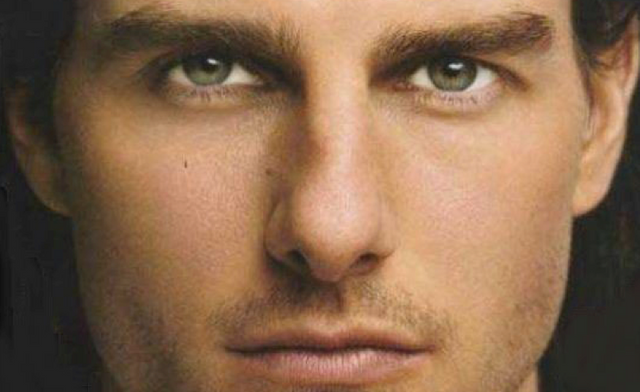 source
You know that scene in Top Gun just after Goose dies (RIP) and young Maverick goes to see his commanding officer to quit but in doing so learns the truth about his father's death? Well just after there is a close-up shot of a pensive Cruise as he considers his future. The camera pans along his smouldering eyes and sculptured jaw and then across his nose which has a tiny but still very perceptible kink in it - that's my nose!
While little Tom probably had to pay millions in plastic surgery to get his designer kink, I earned mine on the cold hard AstroTurf of a hockey field!
The incident happened when I was about 17-years-old. I had just completed my GCSEs and decided that instead of staying in my small rural comprehensive school I would go to a six form college in a nearby town. I wouldn't exactly describe myself as the archetypal country mouse but I certainly felt that leaving school and going to the college represented an opportunity to meet different people and broaden my horizons. As a teenager, it's never easy trying to establish yourself within a new environment but sport has always represented a good way for me to make friends. Therefore, it made sense for me to join the college hockey team during that first Autumn.
Things were going well, they were a good group of lads and laddies (we played with a mixed-sex team) and our results over the first couple of months of the season were solid enough. Then disaster struck!
We were winning a game fairly comfortably and I guess a few of our players decided that they'd abandon their defensive positions and join in with the goal-scoring fun. I, on the other hand, maintained my discipline and hung back in defence. A couple of seconds later and a clearance upfield by the opposition suddenly left me in a one on one situation with an opposition attacker. If I was to be ultra-critical I would say that I got too square on to the guy as he ran towards me. He could have knocked the ball either side of me and would have stood a good chance of beating me in the resulting chase but instead, he decided from about a metre and a half away to try and lift it over me! Now trying to lift a hockey ball while running over someone who is 6ft 1" from that short distance would be some skill and to give the guy credit he very nearly pulled it off. There was that split second before the ball smacked into my face when everything slowed down. I knew the ball was on a collision course with my nose but there was nothing I could do to stop it.


it's illegal in field hockey to lift the ball when an opponent is so near to you source
I've been pretty lucky in sporting terms to avoid any serious injuries but I don't think I've witnessed many occasions where there's been quite so much blood! It was gushing from my nose, down my kit, my stick and all over the AstroTurf. The match didn't have long left to play and given the result was a foregone conclusion the game was finished there and then as I was helped from the pitch. I usually got the bus home but on that afternoon my mum had to come and pick me up. I was sat in the college reception for a good hour as people walked by staring at my blood-soaked clothes and steadily swelling nose - it was not the kind of impression I was hoping to make at my new school!
I went to hospital the next day for them to confirm the obvious - I had broken my nose!. "Back in the old days," said an ageing doctor, "your PE teacher would have broken it straight back into place! That's when it's easiest to move again. Now you'll have to wait for the swelling to go down so we can rebreak it".
So a couple of days later I returned to hospital where they injected my nose with a local anaesthetic. That injection alone was so painful that I genuinely thought that was it! I got up, grabbed my coat and started to head to the exit when the nurse told me to sit down because the doctor would be in to finish the process. The anaesthetic did its job because the only thing I could feel was the pressure of the doctor as he leaned his weight on my nose trying to break it back into place. However, after a couple of minutes of trying, it still hadn't broken back! The nurse came back in and put her hands behind the doctor's so that I was now effectively using my nose to counteract the force of 2 people pushing against it. With one last strain, there was a crunching sound that signalled the cartilage had finally given way and my nose was straight again.
I went back to college the next day with my nose still swollen and 2 massive black eyes. It looked as though I'd been in the ring with Mike Tyson and I think most people assumed that I'd been involved in a fight. Not really the way that I wanted to establish myself in a new school but hey, they say there is no such thing as bad publicity and certainly everyone knew who I was after that plus once the swelling had gone down I discovered I had Tom Cruise's nose!
This blog is my entry to @abh12345.sports contest - details here of how you can win 50,000 SPORTS tokens