I guess I've never told anyone on here how much I love rollerblading. It's a subject not many are talking about, I've only seen one or two steemians to practice this amazing sport. It requires a small investment as you need to buy the roller blades and most of all, you need practice as it can be dangerous. Practice means also getting hurt.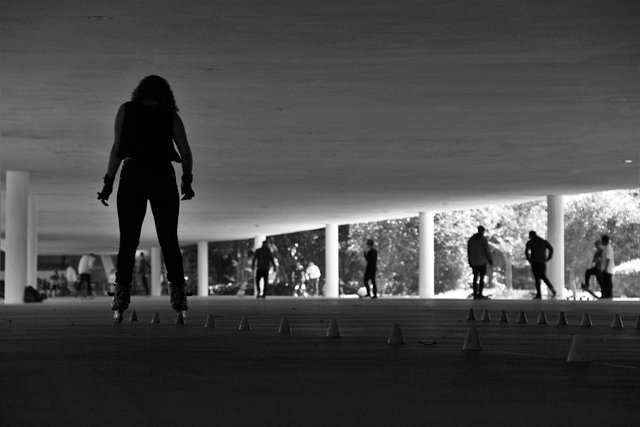 source
As kids we had roller skates but those were for kids, we were using them around the block, skating in the neighborhood but that was all. As an adult I was dying to try out rollerblading, so I bought a par and started practicing. You need to know that in my city there are no bike roads, sidewalks are made of cobble stones mostly, so there's not much place where you can practice, unfortunately. I'm not a spring chicken anymore to rollerblade on the road and get chased by police or risk getting hit by a car.
After a few trainings I got some confidence and I though I was doing ok. One day a friend called inviting me to an old track where we can practice. We got in the car and drove to the track and started practicing. Actually there were two tracks, one was higher, the other one was lower and there was a small slop to connect the two. It wasn't steep but still, I didn't like it as I've been practicing on on straight surfaces but my friend insisted that I can do it and I stupidly agreed to go down that slop.
I guess you already know what's happened. Yes, you're right, I fell on my back side. It didn't seem a big deal, only later I had realized that this was much more than a simple fall. The next day my lower back hurt like hell but thee was little to be done as in two days I was leaving for Paris. I knew if I go to the doctor I can kiss my Paris trip goodbye and no way I wanted to cancel my trip.
I took my usual medication, swallow the pain and went on with my plan. Sitting was pretty painful for a week and carrying things was even more painful. I had to meat my cousin in Paris and she had a company laptop, a bigger one than usual as she needed that for maps and stuff, thus it was heavier than usual. I remember I couldn't pick up the backpack with the laptop from the floor. Another funny moment was in the way to the underground or metro. If you've been to Paris you know how crazy the underground system is. It's an old one and looks like a maze. You need to rush from one end to the other to catch the next one and you can get lost in a second. One day on our way to catch the metro I saw some change on the floor and wanted to pick it up but couldn't because of the pain. There was half an euro in total, not a fortune but you don't leave money on the floor, so I asked my cousin to pick it up because I wasn't able to.
It took me two weeks to heal and every time someone asked me what's wrong I told them it's nothing serious, it was just a wrong move as everyone knew I have back problems.
Was it stupid what I did? No. It was very stupid as I could have hurt my back very badly, but my will to rollerblade was stronger than my fear of getting injured. This was ten years ago, I'm more cautious now but that doesn't mean I won't use my rollerblades ever again.