Hello everyone, For now, and on I'll be sharing some weekly updates bringing the most recent of the Streamies project, everything that was done and the good things that are coming.
Streamies - Project Updates and News #2

New Exchanges
Streamies is growing so much every day, as the development doesn't stop, the team is working to bring even more decentralization to the project, bringing more new exchanges, giving more options to trade streamies, you can even try arbitrage with all the markets that are available for streamies.
We're happily announce that Streamies (STRMS) has been listed on BTCsquare exchange
BTCsquare: https://www.btcsquare.net/exchange/STRMS/BTC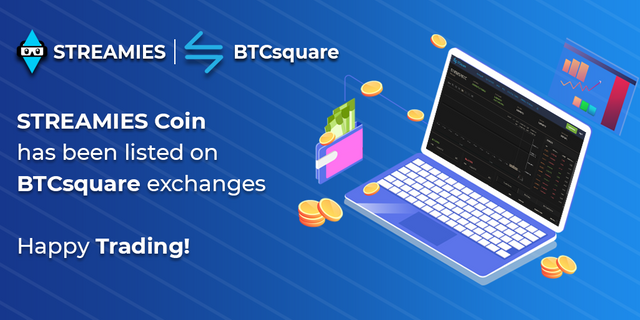 Available markets right now:
FinexBox:
https://www.finexbox.com/market/pair/STRMS-BTC.html
Crex24:
https://crex24.com/exchange/STRMS-BTC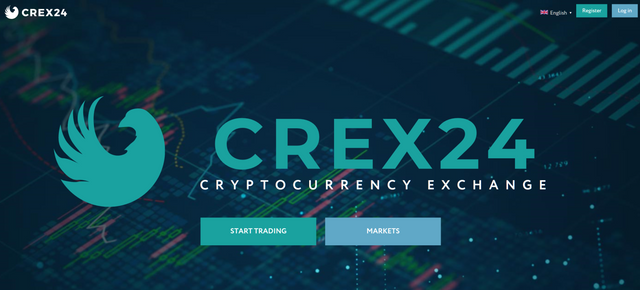 BTCsquare:
https://www.btcsquare.net/exchange/STRMS/BTC
More are Coming
As the team don't stop working we have new and good exchanges coming.
Masternode Pools
Another GReat step to bring descentralization and opportunity to everyone is to have Masternodes, and shared masternodes pools, this ensures that everyone can participate, invest and be part in a good project, Streamies keep to good work, and is coming with Big Shared Masternode services for all the community, stay tuned.
CryptoCurrency Stats Monitoring, Cryptocurrency trackers and Masternode Statistics:
Blockfolio:
https://blockfolio.com/coin/STRMS
Delta:
https://delta.app/en/crypto/strms/streamies
Coincodex:
https://coincodex.com/crypto/streamies/
Masternodes.online:
https://masternodes.online/currencies/STRMS
Coingecko:
https://www.coingecko.com/en/coins/streamies
image.png
Quick Statement from Core team:
Quick Update
POS Phase Live
As discussed announced and updated with the latest wallet v2.1 we are already in the POS phase and POW has stopped. The transaction and update went fine and the network is running smoothly. We are happy to see that everything is working as planned.
POS Staking Guide
To help our investors stake and explain how it works we have create a guide that shows exactly how to stake the streamies you have in your wallet. The min amount of streamies to stake is 0.10 streamies. You can find the guide in pdf format in #📖staking-guide
MNO Live
We are as announced before live on masternodes.online this way we can promote streamies more and gain new interested parties and investors. Link: https://masternodes.online/currencies/STRMS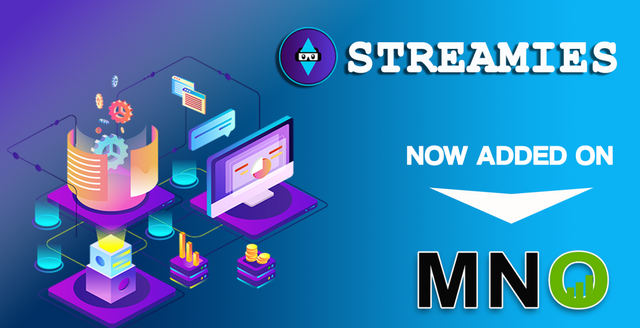 Listed on multiple platforms
We are still working on promoting streamies on different websites and platforms to get more people interested in streamies. If you are missing streamies on of the platforms please let us know and we will try to get listed on there. See #📉portfolio-platforms
Whitepaper Release
Crex24 Volume and Trade
We see some weak hands but overall the volume looks good. We are not using bots or anything of this kind to produce fake volume. All the volume you see and we know of is real. We want to thank everyone for having trust in us, mining staking investing and holding streamies masternodes.
Wallet Update
At the moment we are finishing the new wallet update and are expecting to release it this Sunday or Monday. We will change the block time from 2 minutes to 1 minute. Also, we will add checkpoints and new seed nodes to support our network.
Whitepaper
We are happy to say that our whitepaper is almost finalized and we will release it upcoming week. We hope to attract more investors and also hope that people will better understand our project and goals when reading our whitepaper.
Streaming Finale Wallet Showcase
We are working hard behind the scenes on the NEW wallet that will allow you to watch and stream videos within the wallet itself. We are gonna release some video's screenshots etc within the next 2 weeks to show our community how it works and what it looks like.
Upcoming Mobile Wallets
We are currently working on the mobile wallets and app for streamies as can be seen on our roadmap. We are having some issues but hope to release the mobile wallets and app within the next 3 weeks. More about this will be in the upcoming announcements.
Premine Burn
The upcoming week we will burn another 10.000 streamies and this will be visible in the streamies premine burn adress. The link is here: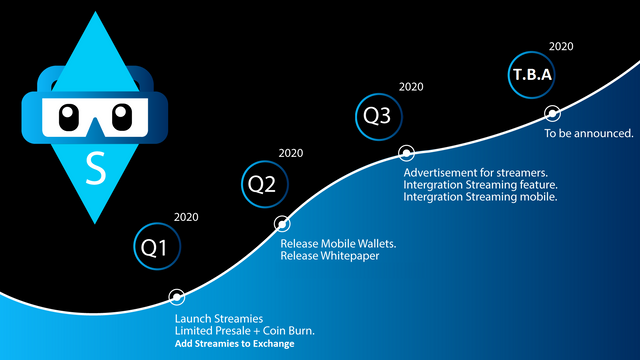 Official Links:
Bitcointalk ann: https://bitcointalk.org/index.php?topic=5216534
Github: https://github.com/Streamies/Streamies/releases/tag/v2.0.0
Bootstrap updated 01-21-2020: https://github.com/Streamies/Streamies/releases/download/v2.0.0/bootstrap_block_12500.zip
Discord: https://discord.gg/nwaNpUv
Twitter: https://twitter.com/streamies
Website: https://streamies.io/
Explorer : http://explorer.streamies.io/
Explorer 2: https://strms.cryptoexplorer.club/
Exchange : https://www.finexbox.com/market/pair/STRMS-BTC.html
https://blockfolio.com/coin/STRMS
https://delta.app/en/crypto/strms/streamies
https://coincodex.com/crypto/streamies/
https://masternodes.online/currencies/STRMS
https://www.coingecko.com/en/coins/streamies
https://www.finexbox.com/market/pair/STRMS-BTC.html