Después de la incertidumbre de si iba a ser posible durante esta semana y de retrasarlo un día más debido a un fallo, finalmente SpaceX ha llevado a cabo una nueva prueba del nuevo motor Raptor, el cuál será el encargado de mover el monumental cohete Starship y su segunda etapa, de la cual Starhopper sirve como modelo.
En julio ya tuvo lugar una primera prueba, consistente en elevar hasta casi los 20 metros de altura la maqueta de lo que será la nave tripulada. Esta maqueta recibe el nombre de Starhopper, reminiscente del Grasshopper, el modelo de pruebas para probar la reusabilidad del Falcon 9. El objetivo del Starhopper es únicamente probar el motor Raptor y el comportamiento estructural del diseño.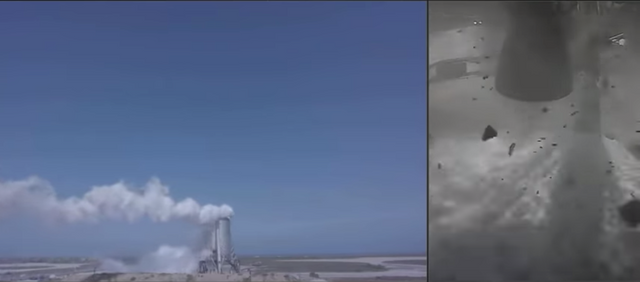 Imagen capturada durante la transmisión en directo
A la izquierda, el Starhopper momentos antes de la prueba; a la derecha el motor Raptor
El objetivo en esta ocasión era los 200 metros, pero finalmente se decidió llegar hasta los 150 en su lugar, al parecer para facilitar su aprobación por la agencia federal de aviación, la FAA de Estados Unidos.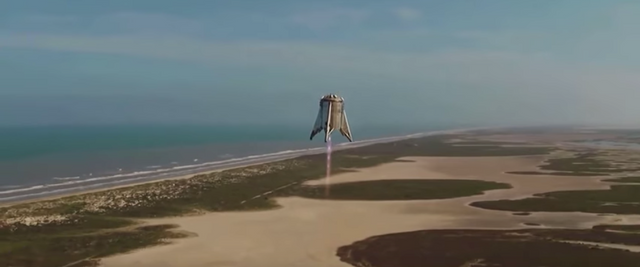 La maqueta en pleno vuelo. El motor Raptor puede inclinarse para modificar la orientación de la propulsión
SpaceX proporcionó un stream en directo del acontecimiento y, por lo que puede verse, todo fue un éxito. La maqueta fue, además. capaz de desplazarse lateralmente unos metros y aterrizar en el centro de otro lugar previamente designado.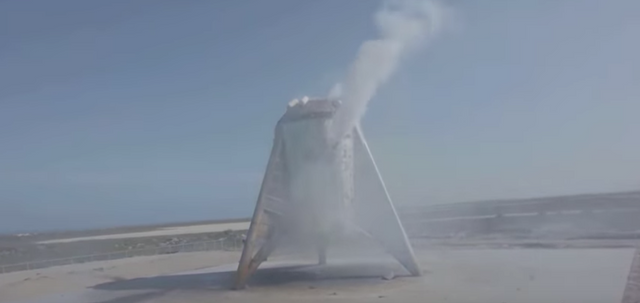 El Starhopper justo después de la prueba, tras haber aterrizado en el centro del lugar asignado
El siguiente importante hito sería durante este otoño, en el que alguno de los dos prototipos del Starhip en construcción sería probado. Para mediados de septiembre está anunciada una conferencia en la que Elon Musk presentará la nueva arquitectura del proyecto.
---
Are you a DTube user? Would you please upvote my node as a leader? If you would like to, then browse to the Leaders section and search for "javirid" -I am currently at position 61, but most users listed there are not real nodes- and click the UPVOTE button.
Thank you.