Die Funktion Followers
The Followers function

Ich möchte Heute ganz kurz berichten wie man sich mit Steemworld Informationen über seine Followers bzw. über diejenigen die man folgt anzeigen lassen kann
Today I would like to tell you very briefly how you can use Steemworld to get information about your followers or about those you follow
Im ersten Fenster können wir gleich sehen wieviele Followers wir haben und wieviele User uns folgen
In the first window we can immediately see how many followers we have and how many users follow us

Im ersten Fenster können wir auch auf Followers klicken und bekommen dann noch eine detaillierte Ansicht
In the first window we can also click on Followers and get a detailed view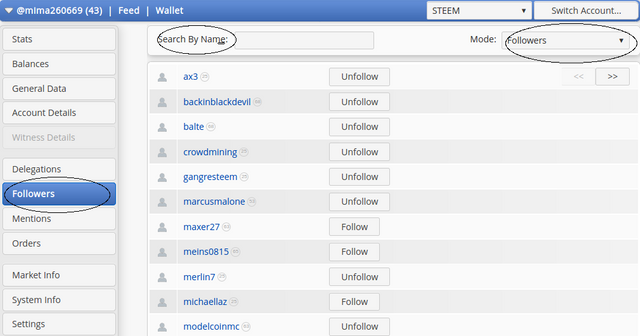 Hier können wir jetzt gezielt nach dem Usernamen suchen.Oben rechts können wir einen Filter einstellen, der wirklich sehr gut ist. Und wir können direkt in dem Fenster User folgen oder das Folgen deaktivieren.
Here we can now search specifically for the username and in the upper right corner we can set a filter that is really very good. And we can follow users directly in the window or disable following.
Das war es auch schon
That's about it
LG Michael
Greetings Michael
Am oberen linken Rand (Steemworld) gibt es
den Donate (Spenden) Buttom

Damit dieses phantastische Werkzeug, Tool, was uns tag täglich die Arbeit um ein vielfaches erleichtert beim Zugriff auf die Blockchain weiter bestehen und entwickelt werden kann nutzt bitte die Funktion. Jeder soviel wie er kann und für Richtig hält. Damit könnten wir Steemworld retten und es weiterhin kostenlos nutzen.
*At the top left (Steemworld) you can find *
the Donate Buttom

So that this fantastic tool can continue to exist and be developed, which makes our daily work much easier when accessing the blockchain, please use the function. Everyone as much as he can and considers right. With this we could save Steemworld and continue to use it for free.