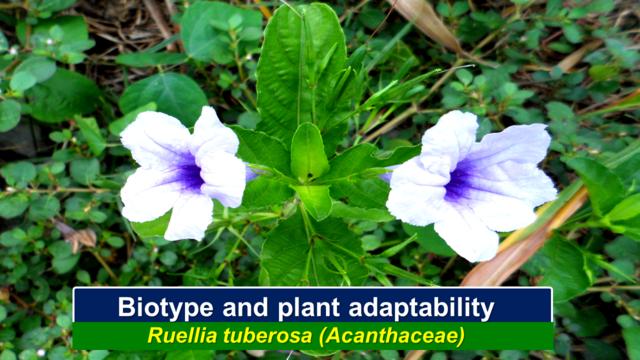 ---
Dear friends, followers and members! of the Steem platform.
In this new post, I will share with you the botanical content on the morphological adaptability of Ruellia tuberosa (Acanthaceae), a specimen whose biotype of herbaceous and evergreen growth is related to responses by photonastia, a key biological mechanism for the agronomic management of this type of plant material with arvens behavior.
Introduction
Within plant diversity, there are plant biotypes whose vegetative and reproductive growth are related to responses by photonasties, in other words, the cell multiplication involved in plant development responds exclusively to light stimuli, hence, the variation in solar radiation biologically determine the morphological changes in these groups of plants [1].
This vegetal capacity, of certain vegetal biotypes to respond by means of photonastia (vegetal organographic movement towards solar radiation stimuli) involves mechanical cells mainly colenquimatics and photoreceptor molecules, that when perceiving the luminous photons of intense conversion, unchain physiological answers like; cellular division and floral opening, this biological process ceases its activity in hours of afternoon when unquestionably a reduction of luminous intensity is generated, arriving at its neutral state in nocturnal hours.
Consequently, and knowing the action by photonastia exhibited by the flowers of Ruellia tuberosa (Acanthaceae), the publication will be describing what concerns this mechanism of plant adaptability.
Biotype and plant adaptability
Among the features, characteristics and adaptive responses, which a large number of species of tropical origin have, is the opening and closing of their flowers to light stimuli, a biological phenomenon associated with reactions by photonastia, where solar radiation determines the onset, decline and metabolic inactivity of each phenological phase in these plant biotypes conditioned eco-physiologically by the light factor [2].
Hence the photonastia, as a biological mechanism is linked to the asymmetric growth in herbaceous and evergreen species such as Ruellia tuberosa (Acanthaceae), whose flowering and fruiting system is continuous, an unfavorable element from the agricultural point of view, this because the growth by photonastia in bio-regions with high light incidence position this plant resource, as a material arvense of excessive vegetative and reproductive development.
Fig. 2 Flower opening of

Ruellia tuberosa

(Acanthaceae). Author:

@lupafilotaxia

.
---
Biological characteristics
Ruellia tuberosa, commonly categorized in Venezuela as minnieroot, is categorized as a species of perennial phenological duration, herbaceous consistency and organographic adaptability of camphyte condition, that is, with vegetative and reproductive buds located all year round within the first 50 cm of the soil.
Morphological adaptations
Ruellia tuberosa, has agromorphological characteristics such as hygroscopic hairs that allow it to develop easily in various soil and climate environments, mainly in humid areas that present megathermal or mesothermal conditions, and although it can adapt to temperate climates, its maximum growth capacity is favored in regions with high temperatures and abundant rainfall [3].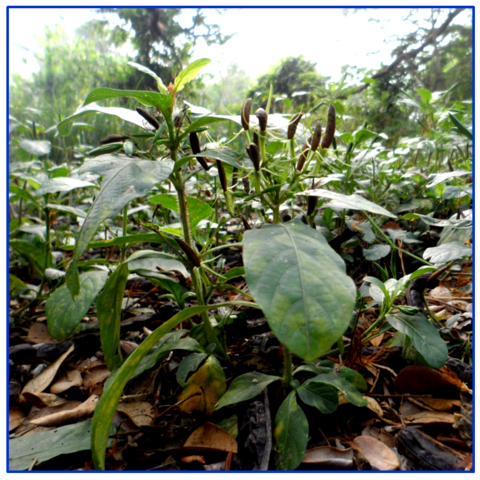 Fig. 3 Caulescent stems of

Ruellia tuberosa

(Acanthaceae). Author:

@lupafilotaxia

.
---
Ecological amplitude
The growth, development and reproduction of the minnieroot Ruellia tuberosa, is optimized in conditions of tropical ecological amplitude located between 0 (zero) and 1,000 (thousand) meters above sea level, with rainfall exceeding 2,000 millimeters per year and temperatures around 35 °C [4].
Agronomic potential and utility
Pharmacological property
The secondary metabolites that the organographic structures of minnieroot Ruellia tuberosa possess, among these aliphatic hydrocarbons, place it as a plant resource of wide pharmacological use of a curative nature, specifically due to the anti-inflammatory and analgesic activity of the aqueous extracts obtained from its tuberous roots [3].
Bio-insecticide activity
The ethanolic extracts of Ruellia tuberosa have biological insecticide activity, a beneficial aspect that makes its use possible as a natural bioactive product, as it causes toxicity in insects that affect crops of food interest [6].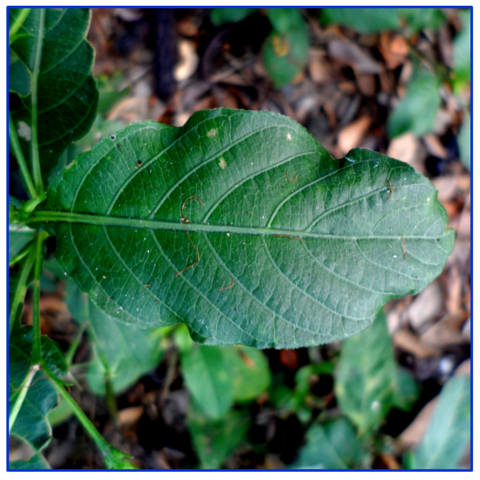 Fig. 4 Photosynthetically active leaf blade of

Ruellia tuberosa

(Acanthaceae). Author:

@lupafilotaxia

.
---
Arvens behaviour
The condition of herbaceous and evergreen development, added to the growth by photonastia in the minnieroot Ruellia tuberosa, makes it a plant material of arvenous behavior (weed), as it is distributed over cultivated areas and decreases exponentially the photosynthetic and reproductive yields of the species subject to cultivation.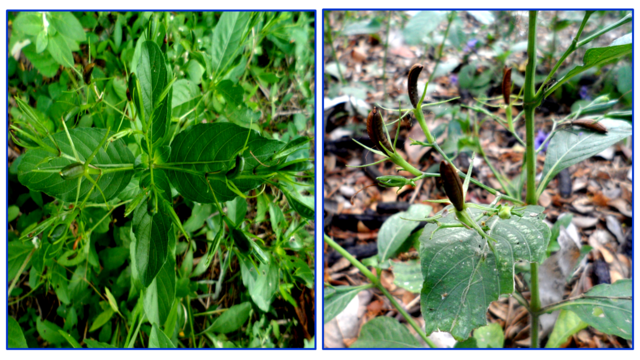 Fig. 5 On the left immature fruits of

Ruellia tuberosa

(Acanthaceae), on the right dried fruits. Author:

@lupafilotaxia

.
---
Agro-morphological field study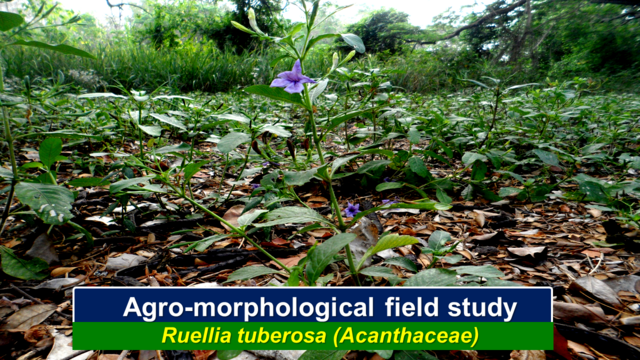 Fig. 6 Background vegetative and reproductive growth

Ruellia tuberosa

(Acanthaceae). Author:

@lupafilotaxia

.
---
Species and area of study
In order to socialize some agro-morphological responses that show the herbaceous and evergreen biotype plant species conditioned by photonastia, I will socialize with all of you a study on the opening and closing floral habit of the minnieroot Ruellia tuberosa (Acanthaceae). The study area corresponds to the perennial crop spaces of the UNESUR Botanical Garden, located in Santa Bárbara de Zulia - Venezuela, a biogeographical zone classified according to [5]. The area is classified according to [5]: tropical rainforest, with an altitude of 5 m, average annual precipitation of 1,800 mm, average maximum temperature of 33°C during the day and 21°C at night, average relative humidity of 82%, average monthly wind speed of 6.6 km/hrs, average solar radiation of 314 cal/cm2 per day, and average cloudiness of 6/8.
Methodological approach
To determine the habit of opening and closing flowers of the minnieroot Ruellia tuberosa (Acanthaceae), we proceeded to make in situ observations that consisted of; characterizing the opening and closing flowers, in addition to estimating the ratio of occupation and coverage.
Morphological results
Flower opening
According to in situ observations, the opening or dehiscence of flower petals in the minnieroot Ruellia tuberosa (Acanthaceae), occurs between 6:30 and 7:00 am, this biological response is associated with photoreceptor molecules that manage to capture the emerging light intensity in the early morning.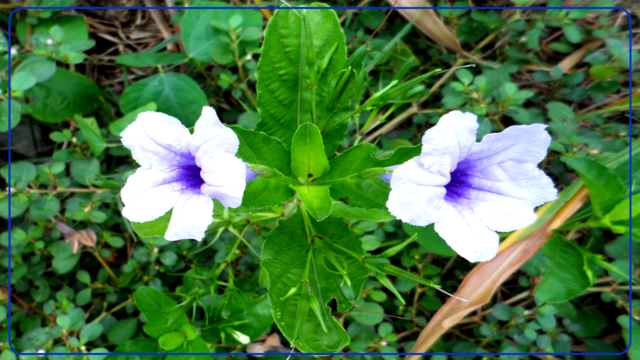 Fig. 7 Opening or dehiscence of flower petals in minnieroot

Ruellia tuberosa

(Acanthaceae). Author:

@lupafilotaxia

.
---
Flower closure
The floral closure in the minnieroot Ruellia tuberosa (Acanthaceae), was recorded from 7:00 pm, action determined by the decrease in light intensity in the area under study.
Occupancy and coverage ratio
The occupation and coverage of specimens of minnieroot Ruellia tuberosa (Acanthaceae), is clearly superior in the area sampled with an average value of 93%, biological behavior determined by its condition of herbaceous growth by photonastia.
---
SCIENTIFIC CONTRIBUTIONS OF THIS PUBLICATION
---
The information provided in this article is of academic use to agricultural professionals and technicians who work on the Steem platform, because the published content includes elements that provide information on the biological behaviour of the reproductive system of the minnieroot Ruellia tuberosa (Acanthaceae) by photonastia. In addition, information on the pharmacological properties, insecticide activity and poisoning behaviour of this plant species is schematised.
---
BIBLIOGRAPHICAL REFERENCES CONSULTED AND CITED:
---
[1] Córdoba C., y Legaz M.
Fotonastias en plantas. Reduca (Biología). Serie Fisiología Vegetal. 2010;3;2: 32-45.
Article: Online access
[2] Briggs W., and Olney M.
Photoreceptorsin plant photomorphogenesis to date: Five phytochromes, two cryptochromes, one phototropin, and one superchrome. Plant Physiology. 2001;125:85-88.
Article: Online access
[3] Kader M., Parvin S., Chowduri M., and Haque M.
Antibacterial, antifungal and insecticidal activities of
Ruellia tuberosa
(L.) root extract. J bio-sci.2012;20:91-97.
Article: Online access
[4] Gómez J., Rojas C., Méndez J., y Corredor J.
Plantas tropicales promisorias para uso forrajero y terapéutico en rumiantes. Colombia: Universidad del Tolima, 2014;223.
Article: Online access
[5] Daya L., and Mishra S.
In vitro anti-oxidant activity of Ruellia tuberosa root extracts. Evaluation of the antioxidant activity of
Ruellia tuberosa
. Free Radicals and Antioxidants. 2012; 2;4: 38-44.
Article: Online access
[6] Romero R., Morales P., Pino O., Cermeli M., y González E.
Actividad insecticida de seis extractos etanólicos de plantas sobre Mosca Blanca. Rev. Protección. 2015;30:11-16.
Article: Online access
---
ATTENTION / Readers and Followers
---
If you want to read more scientific articles of excellent academic quality, do not waste time, and visit the label
#steemSTEM
, is a large community that values and promotes scientific content, mainly in the areas of
Science, Technology, Engineering and Mathematics.
---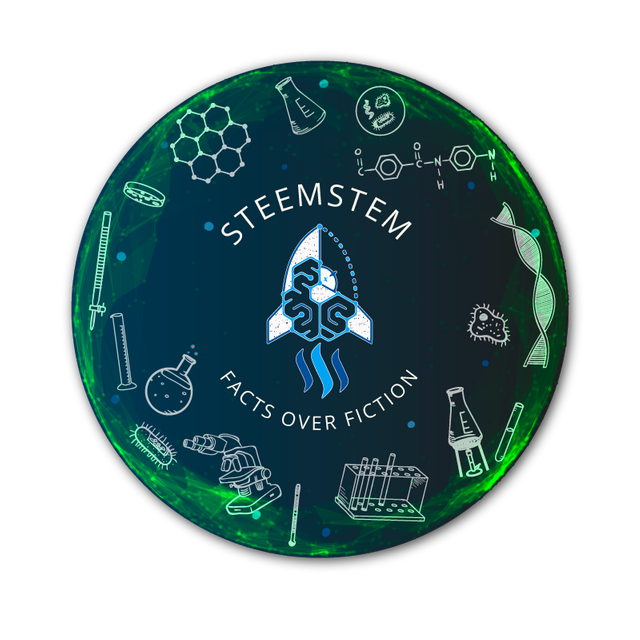 ---
INVITATION
---
Dear reader, if you wish to obtain more information about it, join our server in Discord
---

OBSERVATIONS

---

✔ The POST 📧📨 was uploaded using the official app of https://www.steemstem.io
✔ The videos and photos are the property of the author @lupafilotaxia, and were taken with a digital camera Model Samsung HD 5X Touch Screen.
✔
All the designs of images and graphic figures were made by the author @lupafilotaxia, through the Office Power Point 2017 program.
---
You can visit the official app of our community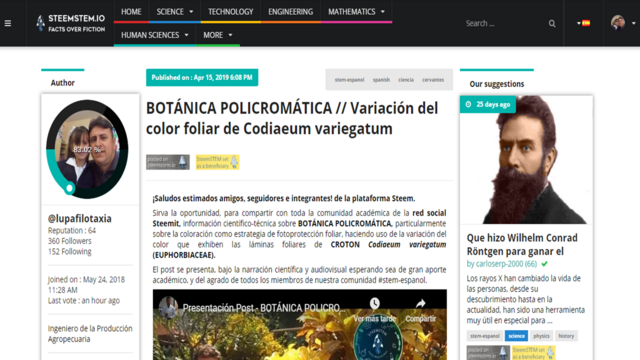 ---

---