Rosamond (the Flight Attendant) is 99.9% silver bouillon round that is part of the "Angels & Demons" Steampunk series from the Osborne Mint. Silver is always a good investment, along with other precious metals because it will always have value, especially when the "fiat" issued by governments lets us down. In fact, four of the precious metals —
gold, silver, palladium, and platinum
 — even have their own "currency code" on the
ISO 4217
list. That makes silver bullion such as this a good
investment
as well as a good collectible!
This Fine Silver round is one of the "proof" items in the collection and had a mintage of only 2,500, although they also produced 1,500 additional rounds in an "antiqued silver" finish. Provident Metals gives the following description of the obverse of the round:
Rosamond, the fourth angel in the Angels and Demons Steampunk series, poses next to a bi-wing airplane. This mechanic angel is fortunate enough to have jointed wings that fold down, allowing her to fit into tight spots in order to perform mid-air repairs. She wears goggles that allow her to safely weld and boost her flying vision. Inscriptions include "ROSAMOND" and "2017."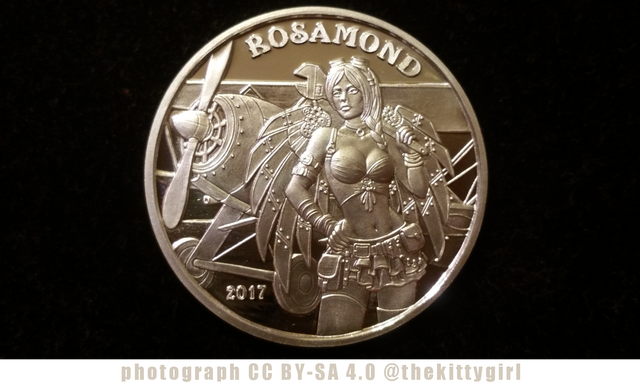 She has a giant wrench hoisted over her shoulder, metallic angel wings, and a full tool belt that almost covers the short skirt she is wearing. I love the female empowerment design of this piece, which is what attracted me to it, of course!
This is a beautiful piece, but difficult to photograph to successfully show all the beautiful details. Below is my best attempt at enhancing a photo I took of my round. Isn't she gorgeous? 😍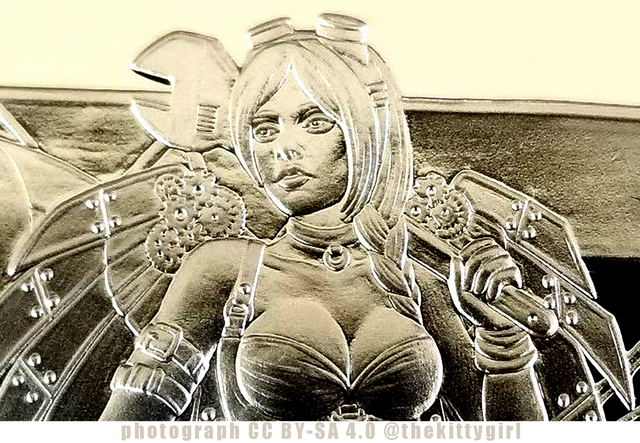 On the reverse is "Steampunk Spirits" across the top, "Angels & Demons" in the center, and ".999 FINE SILVER / 1 OUNCE" at the bottom. Each of the pieces in this collection are numbered on the edge.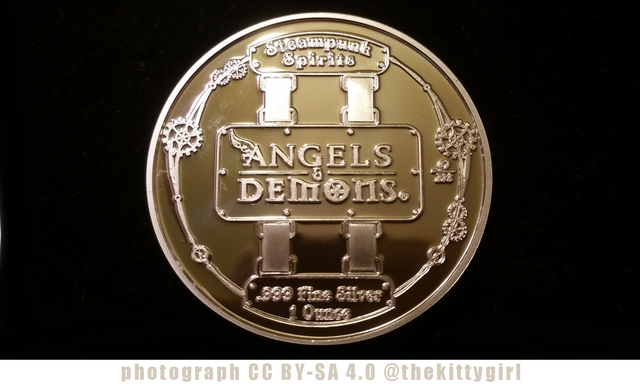 Below is the Certificate of Authenticity (COA) that came with it. Mine is number 943 out of the 2500 minted.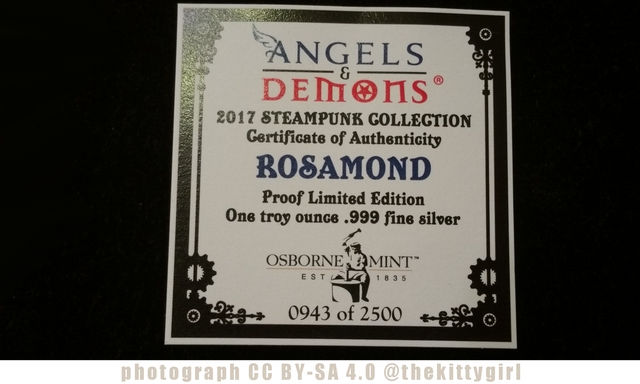 Besides Provident Metals, other places to check for collectible, investment bullion include Golden State Mint, APMEX, JM Bullion, and your LCS (local coin shop) or pawn shop. I bought this particular piece from a seller on eBay, but always research the sellers and check their 'Feedback' before dealing with them, to be sure you are doing business with a reputable vendor!

 😊
SOURCES
   1 Provident Metals: Angels & Demons | Osborne Mint




20-Feb-2019