Beginning in 1878, a new design of the silver dollar was struck at the US Mint by George T. Morgan. Although he was an Assistant Engraver of the Mint at the time, he went on to become Chief Engraver after the death of Charles E. Barber in 1917.
[3]
He worked on the designs of several coins, but this is the one which made him famous.
Although I already had one in my collection, I found another at a good price a year or two ago on eBay. Old coinage such as this are always great for investment purposes, if in good condition!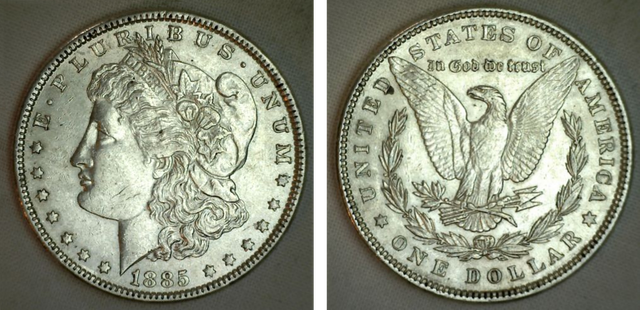 • PHOTOS BY THE SELLER, WINTER COINS •
The Morgan Silver dollars were minted in Philadephia, and are 90% silver. I also learned that these coins are frequently counterfeited. A good video for determining the fakes was found on YouTube and embedded at the bottom of this post. The vlogger stated that a brand new, uncirculated Morgan Dollar should weigh 26.8 (NGC Coins.com gives the weight at 26.7300 grams), and a heavily-circulated coin could weigh 1–1½ grams less because of the silver that has been worn-away over time.
The obverse (front) of this coin features a profile of Lady Liberty. There are thirteen stars representing the original thirteen colonies that comprised the US. Despite the fact that these thirteen stars are separated — seven stars on one side of Lady Liberty, and six on the other side — I still find the design of the coin to be very pleasing and balanced. The rim is beaded, which coordinates nicely with the reeded edge.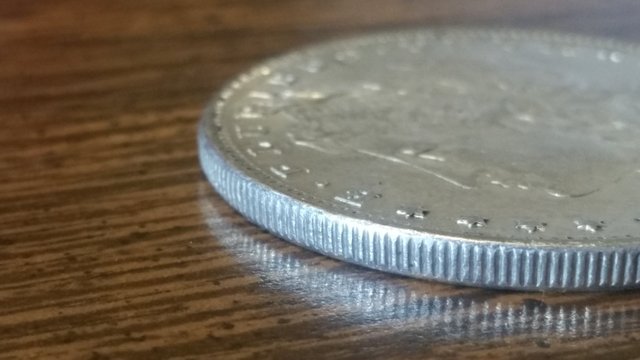 • PHOTO BY ME SHOWING THE REEDED EDGE •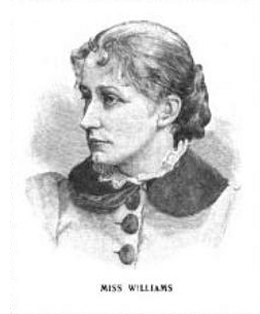 Representations of Lady Liberty on prior US coinage were always rendered in a Greco-Roman style, as Lady Liberty was derived from Libertas, the Roman Goddess. However, George Morgan wanted a more American-looking Lady Liberty on his coin. He took the suggestion of a friend and commissioned Anna Willess Williams, a woman from Philadelphia, to sit for portraits. There were five sessions where she sat with him, and he declared her profile to be
"...the most perfect he had seen."
[3]
Miss Williams wished to remain anonymous, but she was recognized after the release of the dollar. Fans sent her thousands of handwritten letters and even visited her not only at her job as a school teacher, but also at home, much to her dismay. [2]
The reverse of the coin features the iconic eagle, clutching arrows in one talon and an olive branch in the other. A garland of wheat is beneath the eagle.
In 1878, the first year of mintage, the eagle had eight tail feathers and the high-relief of the coins was causing excessive wear on the dies. So, during the second week of production, Mint Director Henry Linderman ordered a new set of dies to be produced with slightly less relief and the tail feathers of the eagle was reduced by one to match the odd-number of tail feathers represented on previous US coins.
285,092,547 of these coins were minted in contiguous years from 1878 to 1904 at mints located in Philadelphia (no mint mark), New Orleans (O), San Francisco (S), and Carson City (CC). My OCD-nature wonders why "CC" was used as a mint mark for Carson City instead of a simple "C" as other mints used. The dies for producing the coins were finally destroyed in 1910.
It was decided to mint the Morgan Silver Dollar again in 1921, so a new set of dies had to be mastered. That year, only the mint in Denver (D), which was established in 1906 after the run of Morgan Silver Dollars ended, participated in the project and minted 20,345,000 coins, bringing the total production of Morgan Silver Dollars to 305,437,547. [3] Historical information of this sort assists coin collectors (numismatists) in determining fakes — for instance, a silver dollar minted in 1878 with a mint mark of "D" is definitely a counterfeit!
I was rather astounded to learn of something else about this coin, as well:
"In the early 1960s, a large quantity of uncirculated Morgan dollars in their original bags were discovered in the Treasury vaults, including issues once thought rare. Individuals began purchasing large quantities of the pieces at face value" [3]
How — and why? — would bags of these coins be stored in a vault for forty or more years without someone's finding them during an inventory and putting them into circulation? But, I am rather grateful it happened, as I might not have been able to obtain the "extra fine" (XF) coin I did, at an affordable price, had history taken a different turn! NGCcoins.com lists the value of an XF-grade, 1885-mintage, Morgan Silver Dollar at USD $33. I paid just under that (but slightly more with shipping), and I thought it was a fabulous price! Of course, part of the reason for the price was that the coin was graded "XF" by the seller, and it is not certified as XF by a professional coin-grading service, which would make it cost more with such a certificate.
The history of this coin, as well as the people and legislation involved in making it possible is fascinating. To anyone who is interested in such, I would highly recommend reading the article about the Morgan Silver Dollar in Wikipedia, as there is much more history and information there than I included here!
Lastly, here is the video I mentioned earlier, about different techniques for spotting counterfeit silver dollars:
https://www.youtube.com/watch?time_continue=220&v=kJrLM7BYYtE
• SPOTTING FAKE MORGAN SILVER DOLLARS, BY SILVER SEEKER •

 😊
SOURCES
   1 NGC.com: Morgan Silver Dollar
   2 Wikipedia: Anna Willess Williams
   3 Wikipedia: Morgan Silver Dollar






to learn more about either of these projects, please visit: @heyhaveyamet or @steemterminal

06-Feb-2020