I was always fascinated by study of ancient Egyptian life and religion, even as a child. Although my collection of silver has been centered more around feminine subjects and Goddess imagery, this lovely depiction of Anubis was a good price had to be added to my collection!
As a precious metal, silver is good for investment purposes, and pieces like this make collecting fun as well as smart! This hand-poured free-form "bar" is one troy ounce of 99.9% pure Fine Silver.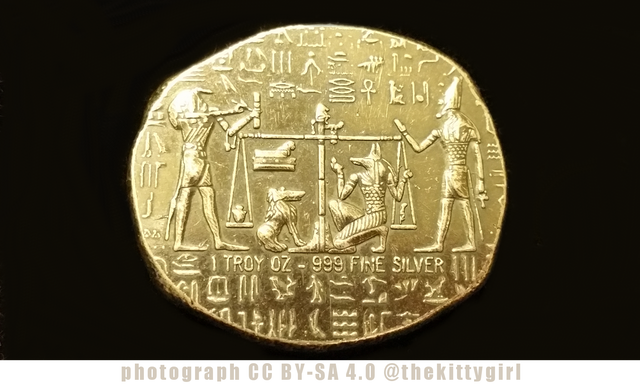 In the Khemetic religion, Anubis is counted as the deity of death and the afterlife, who watches over mummified bodies, cemeteries, and tombs. As shown here, he is often depicted in anthropomorphic form, with a man's body and the head of a jackal.
He is present at the ceremony called the "weighing of the heart" (shown above) that determines whether a soul is worthy of admittance to the afterlife. Anubis is kneeling next to the scale where the heart of the deceased is compared to the weight of a feather representing Ma'at, the Goddess of Truth. If the heart is light, the deceased is allowed to continue to the afterlife. If the heart is heavy with misdeeds, however, the goddess Ammit will eat the heart and the deceased will completely cease to exist. Ammit is pictured with the head of a crocodile, full of sharp teeth, atop a body that resembles that of a lioness on the haunches of a hippo (the crocodile, the lion, and the hippopotamus were the most feared creatures in ancient Egypt, so this mythical creature comprised of all three was greatly feared).
Standing, on each side of the scale, is the god Thoth (on the left), the scribe of the pantheon, who records the results, and Horus (on the right), the god of the sky, who serves as witness. Various hieroglyphs appear around the scene as well as "1 TROY OZ - 999 FINE SILVER" identifying the purity of the bar.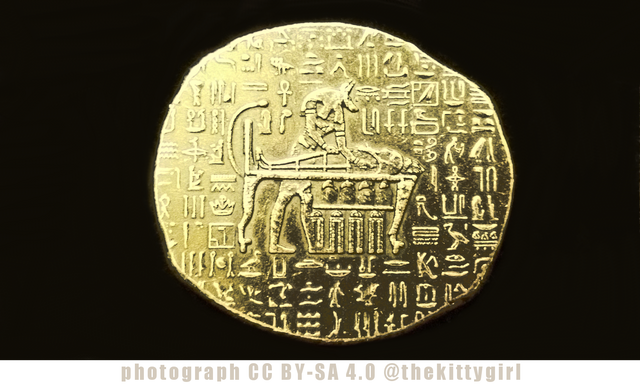 On the reverse is a scene showing Anubis performing one of his duties, attending to a mummified corpse. Many more hieroglyphs abound in this view, but I have not researched them to determine if they say anything or whether they're random embellishments on the bar.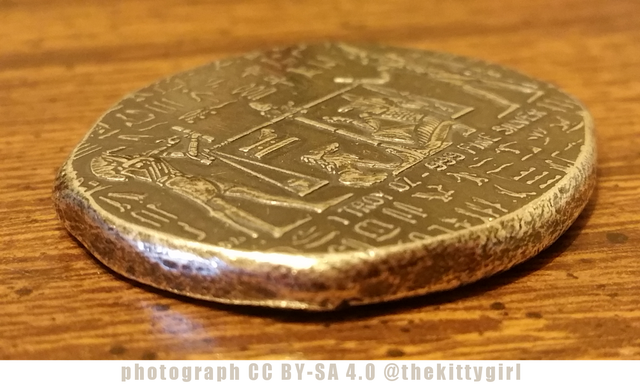 This one-ounce bar is nice and thick, with a great feel to it and a lovely *plink!*  sound when it slipped from my hand and landed on the wooden table. 😁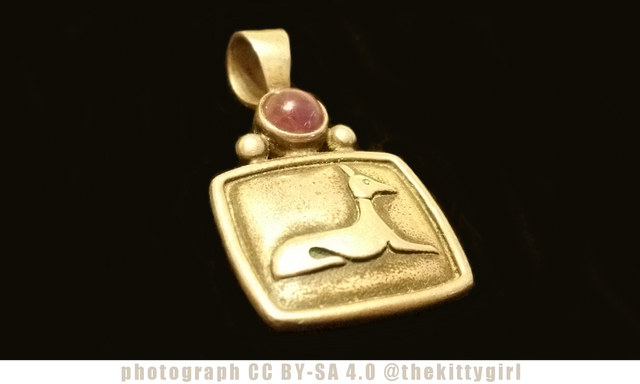 In my jewelry collection, I have a small pendant with Anubis on it. Here, he is in full jackal-form, rather than the usual anthropomorphic half-man/half-jackal form. The pendant is made of .925 sterling silver and has a small amethyst stone in it, and I wear it occasionally. Much of my jewelry is also part of my "stack" of silver, which I began collecting over 20 years ago, long before the silver bullion collection began.

 😊
SOURCES
   1 EgyptianScarabs.co.uk: Weighing of the Heart
   2 Wikipedia: Anubis




to learn more about either of these projects, please visit: @heyhaveyamet or @steemterminal

11-Feb-2020