Stackitis Health Article 3.0 : The 10g Silver Slackenall Caplet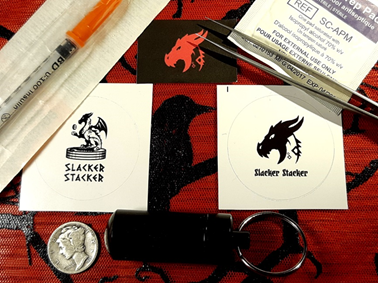 1

P
" Blackbirds tend to like Shiny Things" ~ The Bloody Raven
As a skilled professional health care provider it is incumbent upon me to seek practical and supportive treatments to ease the symptoms and adverse effects if onset and pernicious Stackitis in it's various forms.
One familiar yet new Silver Pourer that I have been in observing on Youtube and Discord had stumbled upon what may be the latest advancement in supportive cutting edge Stackitis therapy. Immediately, 20 other packages are sent out for field tests, 16 are the genuine 0.999 Investment grade Fine silver with the remaining 4 are control placebos.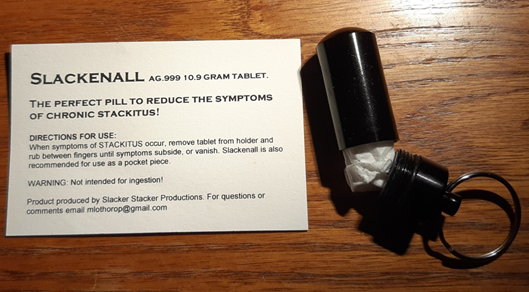 1

The N=20 sample size is considered small by proper Statistical sampling but I've already expected very positive results as long as the control subjects are new patients and are within a strict set of criteria based of pre-asymptomatic condition(s).
The results were indeed promising so I am pleased to announce the newest addition in my Stackitis medical bag.
The Slackenall Caplet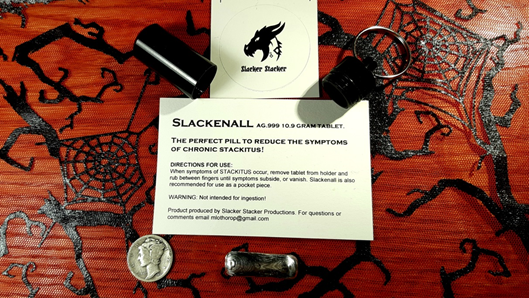 1
WARNING: Not intended for ingestion.
I've added a Mercury Dime here to give you an idea of the size of this discreet silver caplet.
Directions for Use:
When symptoms of Stackitis occur, remove tablet/caplet from holder and rub between fingers until symptoms subside, or vanish. Slackenall is also used as a pocket piece.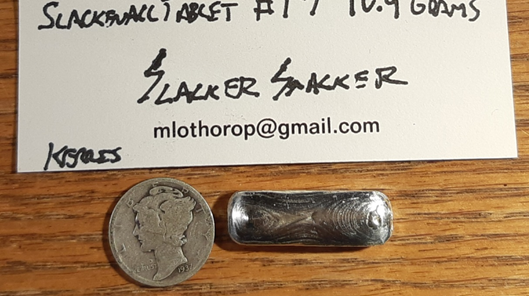 1
WARNING: Not intended for nasal insertion.
In the continuing effort of maintaining Stackitis patient's anonymity each caplet is supplied with a discreet unmarked receptacle/holder. A ring is fixed on the screw-off-top so that this treatment can be fastened on a key chain or necklace within easy reach in the event of symptoms or condition becoming acute.
The form and function of this type receptacle is to be equivalent to a Medic Alert Bracelet comes in a choice of designer colors suited to the patient's taste without that Clinical appearance and can be optionally outfitted with an RFID chip, Optical reader code, or linked to an Emergency service for those with complex conditions requiring very specific interventions if found in an unresponsive or catatonic state. I chose a Black one as it goes nice with my wardrobe and jewelry.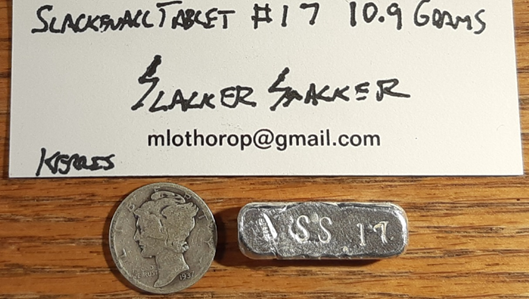 1
WARNING: Not intended for insertion into any body cavity.
As a Stackitis patient myself, The Slackenall Caplet/tablet above is my own personal Stackitis treatment silver that hangs on a 24" chain around my neck. You may note that each Slackenall must have the following three markings; .999FS (fine Silver), SS (for Slacker Stacker), and a number as in my case 17.
Governmental approval and Patents are pending but product is already available as @slacker-stacker can produce these as needed.
He may be contacted directly at [email protected]
I hope you enjoyed this short special feature
Thank you for stopping by my little Blog today.

R
What is Stackitis?
The frequent obsession of collecting precious metals in the form of; coins, bars, and pours as a means of savings that protects the patient's wealth from; High or Hyperinflation, Financial Tail risk, and Economic collapse. (Please see my previous Stackitis article)
Previous Articles of The Stackitis Nurse:
Precious Metal Acquisition Syndrome Stackitis
Silver in my First Aid Kit
If you are having problems dealing in coping with Stacking symptoms, side effects, or negative outcomes my clinic door will be open. My service is totally voluntary under the hashtag #steemsilvergold and #ssg-community,

"Because the loss of a Stacker as a loss to all of us."
😥
Kerris L Ravenhill
Steemit Public Health Intake Studies Division: HCW II, N.P.N, D.T.Dip , Bu.S.H.I.T 😜 PMAS Stackitis Study Group.
🚑 💉 For the Health of the Stacking Community 🚒 💊

R
References
1. My own pictures shot with a Samsung SM-A530W
P. Image under Pixabay
R. Clip art from 123RF
W. Wiki Commons
I work in a Health Unit, I am a Gothic Nurse. - Salutem laboro in Unit, nonne ego sum Antiqua.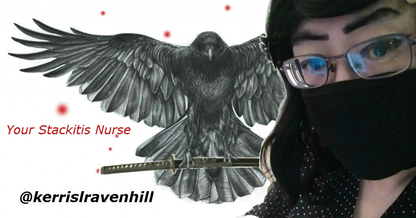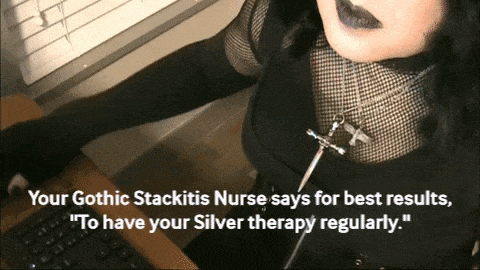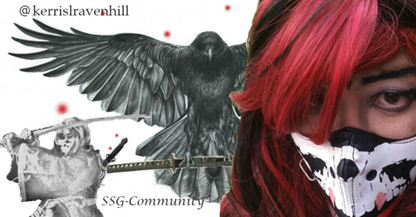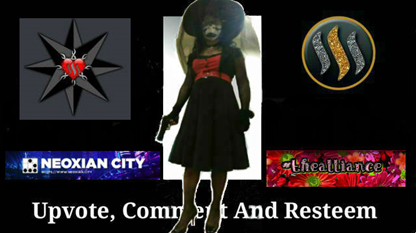 ---
---