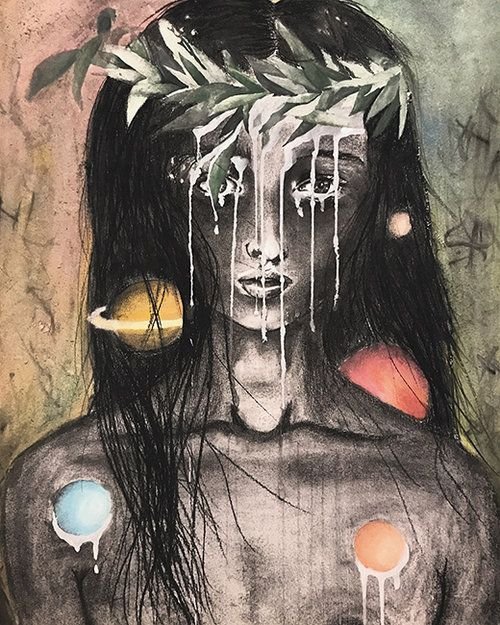 15 objects hidden in the shadows, 15 dreams that lie in the memory. Of these, 15 are the immaculate ones that will have a fortuitous encounter with their destiny.
Beware, mortals, for they will receive in their flesh the chastisement of time. Hecate lies in her glory and from her, this game begins.
In the beginning there was the grail where the saint wet his lips. This cup asleep in memory travels covered with dust, bringing death to those who dare to wet their lips.
Rebecca believed to be just, she walked among the slopes of the river and there, hidden among the stones was a cup, a golden and silver cup, abandoned by the years in the immensity.
Her hands pierced the relief, her eyes were lost in its clamour, and there, in the solitude of that valley her lips tasted its flavour.
Rebecca disappeared forever, leaving in her wake the pain, the image of a dark demon, who continues to cry out for forgiveness.
15 objetos ocultos en las sombras, 15 sueños que yacen en la memoria. De estos, son 15 los inmaculados que tendrán un encuentro fortuito con su destino.
Cuidado mortales, pues recibirán en su carne el escarmiento del tiempo. Hecate yace en su gloria y de ella este juego comienza.
Al principio existió el grial en donde el santo mojo sus labios. Esta copa dormida en la memoria viaja cubierta de polvo, trayendo consigo la muerte a quien ose mojar sus labios.
Rebecca creyó ser justa, caminó entre las laderas del río y allí, oculto entre las piedras estaba, una copa, un vaso de oro y plata, abandonado por los años en la inmensidad.
Sus manos surcaron el relieve, sus ojos se perdieron en su clamor, y allí, en la soledad de aquel valle sus labios probaron su sabor.
Rebecca desapareció por siempre, dejando a su paso el dolor, imagen de oscuro demonio, que sigue gritando por perdón.
---
Image source | Fuente de imagen: link.
---
Posted from my blog with SteemPress : http://zaxan.steemblogs.club/2020/02/13/short-story-historia-corta-fifteen-doors-15-puertas-1-15/
---