After looking around the Wontong-jeon dedicated to Boddhisattva of Compassion, I entered into the building.
There was a sculpture of Boddhisattva of Compassion. The sculpture made me confused. Usually, Boddhisattvas used to be expressed as a female for expressing compassion. But this Boddhisattva was not a female, it was a man.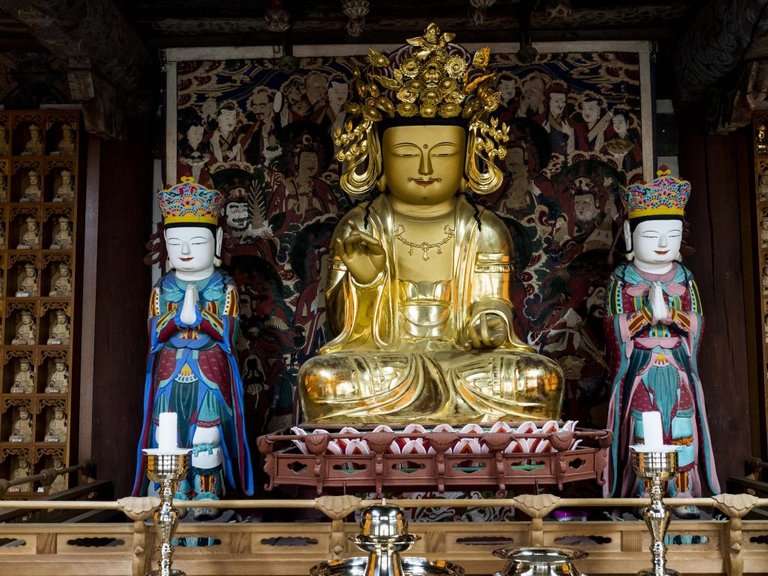 What attracted me in this hall was the paintings hung on the wall. It was common there were some paintings on the wall inside the hall.
But it was not easy to photograph the paintings, there were always people praying in front of the paintings. When I was in the hall, there was nobody. So I could take the photos without any disturbance.
It is said that there was specific religious meaning in each painting, unfortunately, I don't know the meaning. I need more study on those paintings.
---
Posted from my blog with SteemPress : http://koreanculture.dothome.co.kr/boddhisattva-of-compassion-in-wontong-jeon-of-chiljangsa-anseong-city/
---
--- #####
**Sponsored ( Powered by [dclick](https://www.dclick.io) )**
##### [500 Stone Arhats of the Korean Temple](
https://api.dclick.io/v1/c?x=eyJhbGciOiJIUzI1NiIsInR5cCI6IkpXVCJ9.eyJjIjoic2xvd3dhbGtlciIsInMiOiJib2RkaGlzYXR0dmFvZmNvbXBhc3Npb25pbndvbnRvbmctamVvbm9mY2hpbGphbmdzYWFuc2VvbmdjaXR5LTRzM3IzaXo4M2MiLCJhIjpbInQtMjAxOSJdLCJ1cmwiOiJodHRwOi8va29yZWFuY3VsdHVyZS5kb3Rob21lLmNvLmtyLzUwMC1zdG9uZS1hcmhhdHMtb2YtcnVpbmVkLWNoYW5ncnllb25nc2EtdGVtcGxlLXdvbmp1LWNpdHkvIiwiaWF0IjoxNTY0NTY3NjIxLCJleHAiOjE4Nzk5Mjc2MjF9.O8mVa6tKHKgF2Y7FylzjRPIzpja1J6Kc0z_CaLHAWgo
)
500 stone arhats about a thousand years ago were exc...