TOP 20
This morning @proxy.token (Korean community) voted for 6 new block producers and @steempeak was one of those... we joined 5 others as new top 20 witnesses.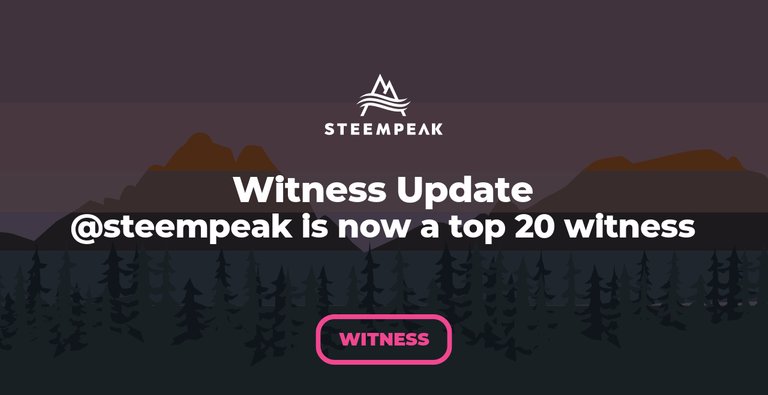 Technically smooth sailing so far
Right now the system we have worked on for our witness server and tweaks we've made over the last 14 months with our monitoring system is working great. However we are gonna use some of that block producer rewards to do some other things to make sure it remains smooth sailing.
SteemPeak has always been financially self-sufficient even without block-producer rewards however we're looking forward to powering up the account at a faster rate.
NEED YOUR VOTES TO STAY
We're right on the edge of 20 and there's no guarantee we stay there...
So we're asking our community, readers and those who love what we've done in the last 18 months to consider voting for our witness.
WHY VOTE?
TECHNICALLY SOUND: We have produced blocks for over a year and have been very successful only missing 19 blocks in that 14 month period and most of that was when everyone missed lots of blocks during the last blockchain halt.
SELF-SUFFICIENT: Our business plan and operations has no dependency on witness rewards... or any delegation either. We run at a net positive after paying bills almost since we started and have powered up consistently.
FEATURE SET: We have added hundreds of features to our STEEM INTERFACE since we started May of 2018. Check out the video below where @jarvie shares dozens of bullet points as to what features and tools we've created on our time on Steem.
OUR PLANS: Our goal is to make the site ready for full time influential content creators to feel comfortable to bring their millions of followers to Steem. So we're preparing the site to be ready for that and preparing strategy to market to them.