Greetings Steemians,
We all like a good bit of fun right?
I sure do. This idea came to me, to make an eth wallet, load it up with some Eth and goodies, then compromise it right here..
I've added 0.006 Eth to the wallet (About $1.00 USD) but that isn't interesting enough... I decided to put 7 Genesis Gods Unchained cards in this wallet. Check on opensea:
https://opensea.io/accounts/0x692f6cb6ba3d9210d7d989acf0e72e9bc5ad45b5
You can also check on Etherscan to verify there is a little bit of Eth in the wallet:
https://etherscan.io/address/0x692f6cb6ba3d9210d7d989acf0e72e9bc5ad45b5
What makes this particularly interesting, is the wallet will need to be imported, and the cards transferred. (It can be done in one batch if you know how..) but if someone gets greedy and drains the Eth, not leaving enough to cover the transfer gas fee, they are basically locked in the wallet. (unless someone is brave enough to put eth in it..)
I'm guessing no one will do that, but you never know, so if you are a Gods Unchained player, and want these free cards, you better hurry...
Enough talk, let's compromise this wallet!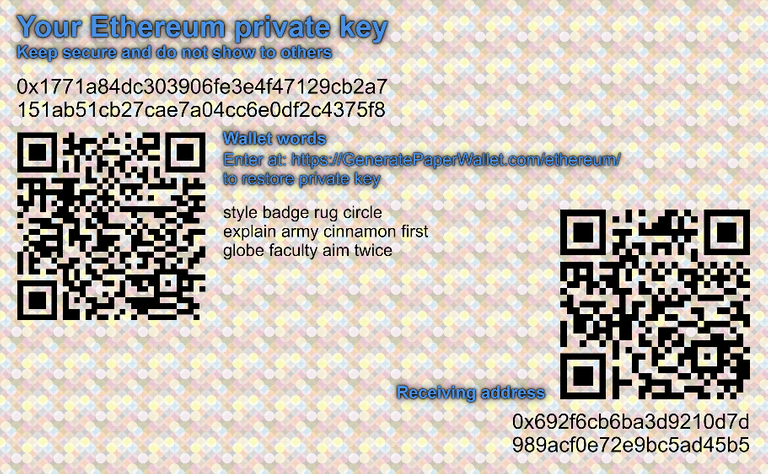 Private key
0x1771a84dc303906fe3e4f47129cb2a7151ab51cb27cae7a04cc6e0df2c4375f8

Public key
0x692f6cb6ba3d9210d7d989acf0e72e9bc5ad45b5

Seed phrase
style badge rug circle explain army cinnamon first globe faculty aim twice

Have fun
😎

25% of the rewards for this post will be set as beneficiary to @teamocd, 25% will also go to @three4australia to help with the Australia 3speak disaster relief fund.

I hope you're all having a wonderful day!


Much love,
@futuremind

Posted with Steempeak