Did you know Steemmonsters' reward cards are capped? And that for some, time is running out? Time to let FOMO kick in. A little DEC giveaway to comfort you.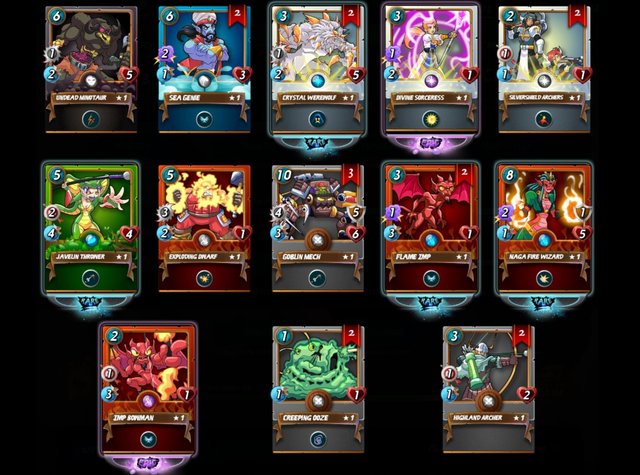 Source
Competition
This is definitely the hardest @steemmonsters season up until now.
Champion 3... it's not the place I pictured myself to be 4 days before the end of the season. Even worse... I'm really struggling not to get pushed back into Diamond 1.
The competition seems to a lot more fierce than in any of the previous seasons. This is caused by a combination of the following:
Booster pack FOMO kicked in and a lot of people bought packs, upgrading their decks.

@herons-unlimited is a big success: several players got the chance to play a higher level deck without having to invest a fortune themselves.

There are slightly more players (I don't know if those are unique players or alts - but that doesn't change the outcome).

There's some shameless cheating going on.

People learned new tricks, and I didn't.
(If i forgot some, please feel free to let me know in the comments)

DQ
I was happy to see I was assigned to complete my Daily Quest using the Water splinter. Ever since I maxed the Mermaid Healer, Water has replaced Earth as my favorite splinter.
I felt pretty confident... until I saw my first opponent of the day...
It's never a good sign if you have to start your day with a battle against @bji1203, lol. And it got even worse: third opponent: @jacekw. What on earth did I do wrong to deserve this?
Anyway, the good news is that I had used up all my un-luck during the first 4 battles and faced a lot of people I could beat from that point forward. In the end, it took me less time than expected to complete my DQ and open the little beauties you can see at the top of this post.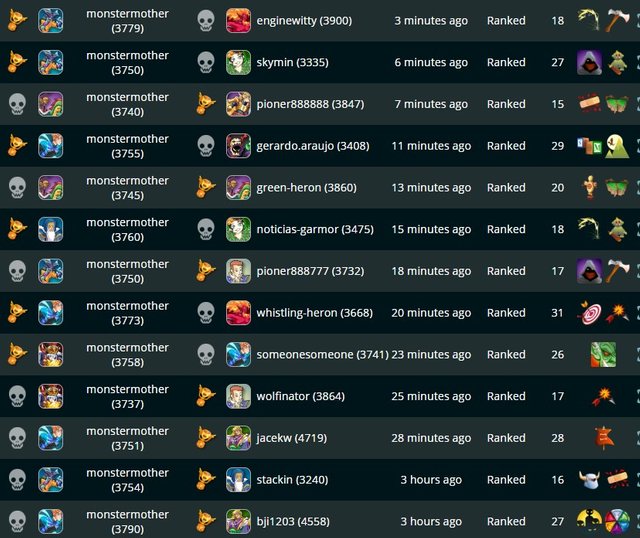 Source

Reward Cards FOMO
open the little beauties you can see at the top of this post
... I would have never thought I would ever say that about common reward cards, but after following the conversation in the Mav's House on Discord, and reading this post @foggybottom published a couple of days ago, my perception has changed.
Of course, like most of you, I knew reward cards were capped. But I had no idea we were so close to running out of some. According to @foggybottom's calculations, all Flame Imps will have been distributed in about a month from now. Hobgoblin and Mushroom Seer will be next.
I hear ya... not a real disaster. Those cards may be important, but they are not a Lord Arianthus, right?
But what if I gave you the full sentence that can be found in @foggybottom's post?
Based on these new numbers, my guess would be that Flame Imp, Hobgoblin, and Mushroom Seer run out in somewhere around 35 days (or less!!). Lord Arianthus won't be far behind.
Starting to feel the FOMO yet???
Source

500 DEC Giveaway
A couple of days ago, I was hanging out in the Steemmonsters Discord server and a couple of us were having quite a lot of fun doing a little Steemmonsters Trivia quiz. @kryptokayden decided to spice it all up a little and started giving out some DEC for the right answers.
I won 250 DEC, and promised to pay it forward, and that's exactly what I'm going to do below.
I decided to double the amount of DEC, so you can win 500 DEC without any real effort.
When this post has reached payout, I will use a random comment picker to pick the lucky winner.
To be eligible to win the prize, you'll need to leave a valid comment.
A valid comment has 3 elements:
1 - What is your favorite REWARD card?
2 - WHY is that your favorite reward card?
3 - a tag to invite a fellow Steemmonsters player to join the giveaway.
---
Example answer:
My favorite reward card is Rusty Android because his magic reflect is the perfect solution against the Water splinter when no legendary cards can be used.
Inviting @simplymike to join in on the fun.
---
💡💡 No Follow, No Upvote, No Resteem Required 💡💡
Don't have a Steemmonsters account yet?
Create one by clicking the banner below:
Source