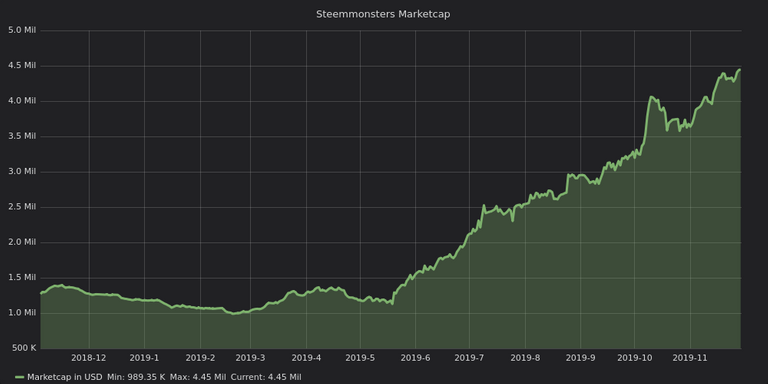 I would normally do a market recap tomorrow or the next day because of the season end, but I was looking at the marketcap ahead of UNTAMED's release and realized we hit a new all time high today. Cards are worth just shy of $4.5M.
Looking at my own collection on smalp I'm sitting pretty there too:

That's the highest that's been, and only going higher tomorrow when UNTAMED hits.
450ish by coinmarketcap
As of today our token would be at 453 or so on coinmarketcap if all the cards were fungible. Obviously that's a flawed way to view it, but I like having something to compare against. Splinterlands keeps creeping up that list.
Number of players- normal season all time high!
So, on the last day od the season we log our highest day of activity. Well, two days ago we hit our all time high for number of accounts playing not at a season end . The season ends about 24hrs from when this post goes out, so I'll put that number into my state of steem series. It's over 3000 accounts playing just yesterday. That remains a giant number for a crypto app and a tiny number for a AAA game. That tells me we have a shit ton of room to grow.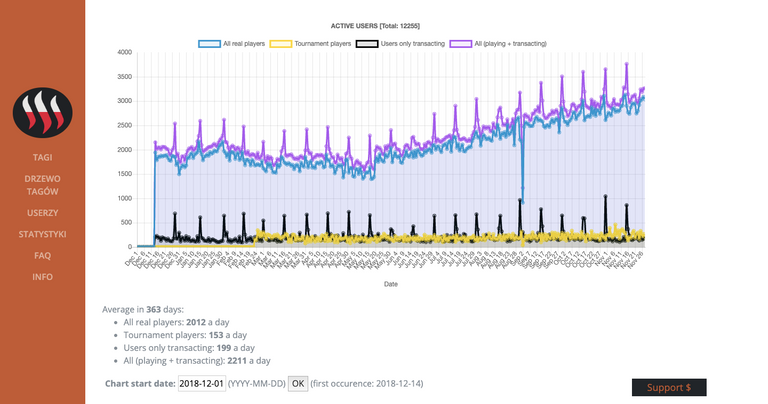 Upwards trend in a bear market
I continue to be floored by the upwards growth we have. I think it's insane given how this altcoin market has gone on for 2 years. We've grown throughout this and we're thriving. Blockchain isn't going anywhere. The technology is too powerful and too useful. So, to me, it's just a matter of patience.
disclaimer
actually, there aren't any claims of what you should do with your money in this post . I'm just reporting on various charts I look at and recording some values for posterity the day before the next edition goes live.
Hope you're well, be blessed, Merry Christmas, and happy holidays!