So, after reading a recent post by @dalz I decided to give epicdice a try. 
I think I spent about the last 20 minutes making small bets, starting from 0.1 or 0.2 steem. If I won, I kept betting the same. If I lost, I just doubled. You know, the good old martin gale system that might work for a while but sooner or later is a recipe for losing your money. I ended up winning around 4 steem in total I think, and now I think it's time to stop and simply power up my earnings :D
All in all, it's a nice up and @epicdice even has their steem-engine token (EPC) paying dividends (see this post by @dalz). 
It's only a pity it isn't getting more love from Steemians, especially considering the house edge is just 1%. I am sure many here like to gamble but probably don't know of it or whatever. I mean, I like to bet only small amounts and do it purely from fun. And just by playing for 20 minutes and wagering a joke amount (just 27 steem, which is like 3 $) I am already in the top-10 wagers and a candidate to win 7k EPC: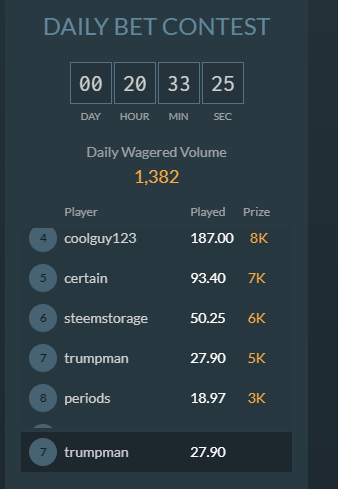 All in all, a very nice and simple Steem app, perfect to attract gamblers! IMO, it's apps like that, that if marketted right can bring lots of fresh blood in the STEEM ecosystem.
Give it a try if you like, just make sure to use my ref  https://epicdice.io/?ref=trumpman  so that I make some free money. HA!
Edit: I just found out that every time you make a bet with steem and win, you also get (albeit with some time delay) some EPC for free! Nice!
Edit2: Played some more, and won 1.1 steem which I used to buy myself about 10k EPC. I'll play some more in the coming days and hopefully become an EPC whale for free if I get lucky and enjoy some passive earnings, lol