How-to buy Bitcoin, Ethereum, and Bitcoin Cash anonymously!
Before Bitcoin became famous, people used to believe that Bitcoin was anonymous. But because everything is recorded on a publicly shared ledger (the blockchain), it is actually not anonymous at all!
If you leave a digital trail (such as buying bitcoins with an ID), then it is only a matter of time and resources to identify transactions on Bitcoin's blockchain that belong to you.
So, you're not a criminal, why should this matter to you anyway? Well, I like to think of it in terms of banks. Would you want to give people access to the information contained in your bank account? How much money you have, where you spend it, etcetera? I doubt it.
And that's why more and more people are finding ways to enhance their anonymity when they interact with the Bitcoin network. Lots of people want to know how they can get Bitcoins without using an ID.
To support such demands, some companies offer anonymous buying/selling of bitcoins. And there also are certain tricks and tips one should follow to stay anonymous.
So to fulfill the needs of such users, today I am going to discuss some of the best ways to buy bitcoins without an ID.
But one needs to keep in mind that nothing is a free lunch, and this extra anonymity comes with a cost. Using these resources will typically increase the cost you pay per Bitcoin 1% to 10%.
So, let's get in to it.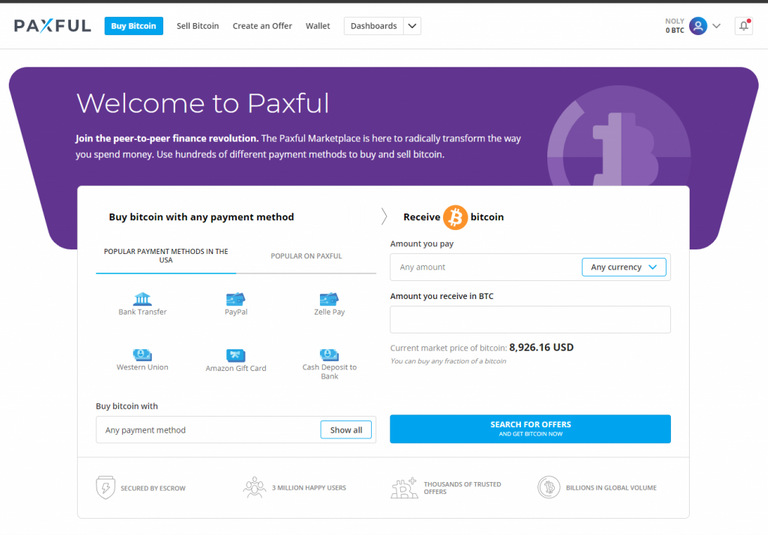 Paxful homepage.
First up on my list is Paxful. Paxful is a peer-to-peer (P2P) marketplace that allows users to buy and sell Bitcoin safely.
Paxful brings users the ability to buy Bitcoins with almost any conceivable payment method from Paypal to iTunes gift cards and more.
Paxful also provides an escrow service for all Bitcoin transactions. Once a buyer finds a seller and the offer is accepted by the seller, the Bitcoin are automatically moved from the vendor's wallet to escrow.
At this point, the seller can't cancel the trade. However, the buyer has a limited time frame to deliver the money to the seller and mark the payment as 'complete. If the buyer fails to do that in the given time frame, the deal will be auto-cancelled and the Bitcoin will be returned to the seller's wallet.
When both the buyer and the seller have verified that the transaction has been confirmed and all the terms have been met, the money will be released to the buyer's wallet and the deal will be concluded.
If at any point there will be a disagreement between the two parties, the process will move along to dispute. Paxful moderators will then investigate all the info, consider all the available details and finally make a decision to whom the bitcoins will be awarded.
Having said that, in most cases transactions go through smoothly thanks to Paxful's intense moderation that clamps down on potential scammers.
local.bitcoin.com homepage.
Bitcoin.com features a P2P system nearly identical to that of Paxful.
However, the main difference here is that instead of a P2P market that allows users to buy and sell Bitcoin (BTC), Bitcoin.com's market is for the exchange of Bitcoin Cash (BCH).
Bitcoin.com Local allows many types of payment methods. These range from in-person to PayPal to Western Union to gift cards. If it involves money, odds are it's on there.
Like Paxful as well, Bitcoin.com Local also features an escrow system to help protect buyers and sellers from potential scams.
I personally have no experience with their P2P market, but I'm sure it's just as good as the rest.
LocalCryptos homepage.
And now, the newer member of this list, LocalCryptos!
LocalCryptos is a newer competitor in the P2P crypto exchange scene. Like Paxful and Bitcoin.com Local, LocalCryptos offers various payment options from paypal, to gift cards, to cash in the mail.
LocalCryptos offers the same escrow security feature that helps protect both buyers and sellers.
But, what makes LocalCryptos different is that you can purchase more than just Bitcoin from them. They also offer P2P trades for Ethereum and are planning to add more coins to this list in the future! This gives them a nice advantage over the other marketplaces mentioned in this article.
Conclusion
If you care about anonymity like I do, these peer-to-peer markets allow the purchasing and selling of Bitcoin (BTC), Bitcoin Cash (BCH), and Ethereum (ETH) in a safe and effective manner.
These markets also allow you to make a little bit of extra money by selling at a premium on the market price.
I have used these services for a few years now and have never been scammed. But, there are definitely scammers out there. Though they are easy to detect, in my opinion.
NEVER make transactions outside of these systems. If a seller asks you to do this, IT IS A SCAM. Always make sure that the sellers funds are in escrow first before sending any payments.
Enjoy!
Be sure to follow me, join the official To The Moon Discord Group, subscribe to our mailing list for notifications (in the right sidebar), and follow/sub us on Twitter & YouTube!

Posted via
Steemleo
. Original post from:
https://tothemoon.blog/cryptocurrency/how-to-buy-crypto-anonymously/
Posted via
Steemleo
---
---