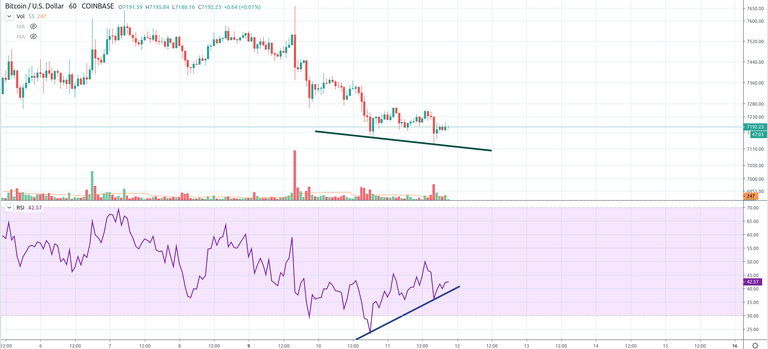 I have been playing the strategy of scalping during the last months. This strategy can be very profitable if you have time to follow the BITCOIN chart in short timeframes.
Also, what you learn as well is to develop your ability to anticipate next price movement by identifying common patterns or behaviors of the market or price.
The goal here, at least on my side strategy, is to not risk so much with entries and exits points, mitigating the possible losses as much as possible and trying to get margin benefits and tiny losses.
On that aim, it is very important to work on a short-term chart.
For instance, what I do is to maintain always open a 15m timechart of my favourite exchange, as, for instance, BTC/USDT but, for this instance I will use COINBASE which has more volume, typically.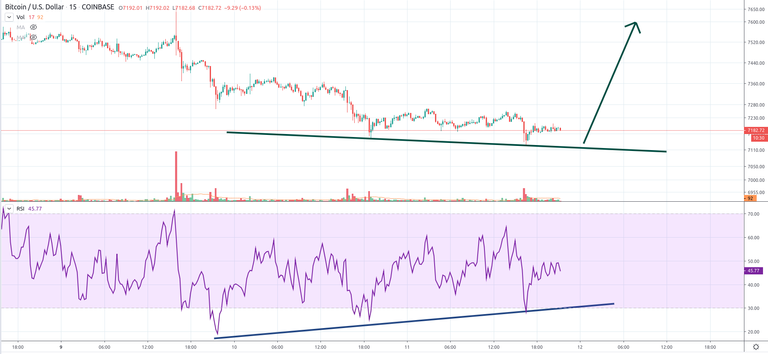 So, what I see now in the chart is a clear Divergence between the price, falling, and the RSI indicator, rising. This is the typical case of Bullish Divergence which is claiming for an entry point.
In this case you can also see the Bullish Divergence as well at the hourly chart (see picture on top).
What I am going to do? Of course I am buying a small quantity with a short term strategy.
Possible projection of the price? towards the 7500 USD I would say...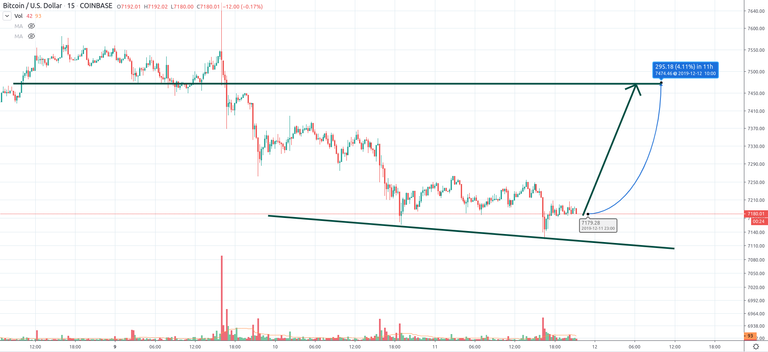 That would be around 5% profit... not too much but by trying to repeat and rinse some of these actions it can be quiet profitable and the risk is minimum if you place a proper stop loss below your entry point, perhaps using the lower green line as a triggering.
As I said, these actions have to be done "playing" with small quantities and in a short timeframe, 15' is a good frame IMO.
Enjoy.
---
*Disclaimer: This is just my personal point of view, please, do your own assessment and act consequently. Neither this post nor myself is responsible of any of your profit/losses obtained as a result of this information.