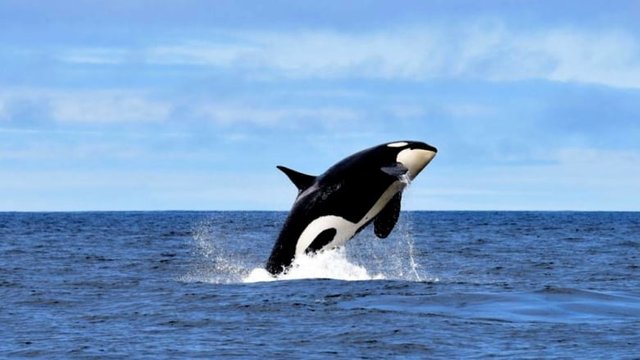 Source
When we look at wealth in the crypto world, our eyes often drift to the Whales. This is natural since we are programmed with the idea of Lambos. Of course, depending upon what is being focused upon, there can be a lot more to Whales than just extravagant wealth.
At the head of the class is probably the Bitcoin Whales. These individuals caught the attention of the media a while back since they epitomized the "get rich quick" idea. We read stories about teenagers who bought a few hundred dollars worth of Bitcoin "suddenly" becoming millionaires. Of course, the word suddenly meant 6 or 7 years but you get the point.
On Steem, we have our own group of select individuals who are in this class. At last check, there were 36 accounts that reached the minimum threshold. The present level needed is slightly over 500K SP. Over the past few years, the number of Whales decreased as some people cashed out and/or left.
Many point to the fact that Steem is going to get harder, over time, to acquire. I agree with this sentiment. As more people join the platform, coupled with a decreasing in the size of the reward pool due to inflation reduction, the amount of STEEM each account earns will diminish. This means those accounts that were created early will benefit the most.
That does not mean all is lost for everyone else. In fact, the opportunities are only expanding. To start, STEEM relative to other currencies could appreciate. This sounds absurd to some in the middle of a bear market but it is reality. With all that is taking place, there will come a time when eyeballs are upon Steem again.
That means someone earning 5 SP in a couple years actually could be worth more than someone with 20 SP today (priced in other currencies).
A more important transition is the creation of wealth on Steem via other mechanisms. STEEM is only one currency on the blockchain. Last look, I think where were over 440 when one considers those created using Steem-Engine. This adds an entirely new facet to wealth generation.
Many will cite the fact that most of those tokens are not worth anything. That is true. It is also likely that a vast percentage will never have great value in financial terms. Nevertheless, we must be careful not to throw the baby out with the bathwater, as they say.
Some will state that STEEM has no value, hence much of the argument can be negated by that viewpoint also.
@holger80 put together a wonderful post a couple weeks back regarding this topic. He looked at some of the better known Steem-Engine token while calculating what it takes to become a Whale, Orca, etc.. There was also a listing of how many accounts, on that date, achieved this.
Here is a quick rundown of the Whales.
PAL 53
SPORTS 89
LEO 68
GG 37
CCC 39
NEOXOG 61
STEM 10
ZZAN 60
INT 53
JAHM 7
SPT 83
SCT 51
Marlians 81
There were a bunch more that can be read in the post.
https://steempeak.com/tribe/@holger80/what-is-the-amount-of-staked-tokens-to-became-a-minnow-dolphin-orca-or-whale-for-a-scot-tribe-2019-08-07
There are 36 Whales on Steem yet here we have over 500 accounts that reach that level in other tokens.
A couple points about this:
Obviously, there is no way to know which is these projects will succeed versus the ones that will not. Many of these could end up completely worthless. Even today, if we look at the value of them in fiat currencies, they do not hold great value.
That could change over time. Some projects are going to succeed making those who are Whales in those projects very happy. Branching outside that category, the same will hold true for the Orcas and Dolphins in those projects.
A second observation is, with so many accounts, there are going to be different people. Could some of the STEEM Whales also be in these projects. Of course it is possible. However, the 36 Whales are not holding the same status in each and every one of these tokens.
The same is true of any of the Whales. The 68 LEO Whales are not all in the SPORTS project. We might see a crossover of 1 or 2 but that would be it.
My point is there are a hundreds of Whales on Steem holding tokens that could have value in the future. These people are very early adopters in those projects. For this reason, they were able to get involved when payouts and distribution was high. Over time, this tends to drop as evidenced by the progression of STEEM.
Another aspect to keep in mind is the process is just getting started. Token creation is not likely to stop on Steem-Engine anytime soon. We are going to see new projects popping up that could hold enormous value over time. Even if we look at the idea of 1 out of 50 actually succeeding, this spread the wealth out greatly.
We also have SMTs slated to roll out. Based upon the timeline dropped, I am guessing we see this sometime in the Spring. It is vital to recall that SMTs will duplicate STEEM. Hence, we are going to see the process repeated there too.
When one looks through the top 100 on coinmarketcap.com, it is easy to see that not all tokens listed are for their own specific blockchain. Many on there were created on the Ethereum blockchain. Hence, it is a mistake to believe that only the base layer (main token) can have value. Application specific tokens have the possibility, in my mind, to even eclipse the base tokens in many instances.
Being an Auger Whale, which is built on Ethereum, is no different than being a PAL Whale. The only variable is what value does the project hold over time. That is the million token question for everything we are looking at.
Many want to laugh off these other tokens as garbage. Here, again, I feel a mistake is being made. It is true not all will moon. However, if we get project specific, there is a grand opportunity for many of them. Developing a community around a specific topic can lead to great appreciation as that expands. It is on this level that Steem-based projects are well situated.
Hopefully, everyone is taking the opportunity to become a bigger fish in a couple of different communities. There still is a lot of the "lottery ticket" idea associated with this. It truly is impossible to know what is going to take off over the next year or two. Thus, having a stake in a few different projects is never a bad idea.
The advantage on Steem is that much of this stake can be accumulated through concentrated activity over a few months. Early adopters are always going to be rewarded. Each new project presents that to everyone on here.
In time, all this adds value to Steem and will help with the distribution of wealth. That is the fantastic part about crypto-economics. Each of us can hold a piece in many different projects, thus increasing the likelihood of success.
For all those gambling types, what is the over/under for number of Whales on Steem in a year?
I will put it at 2,500.
---
If you found this article informative, please give an upvote and resteem.