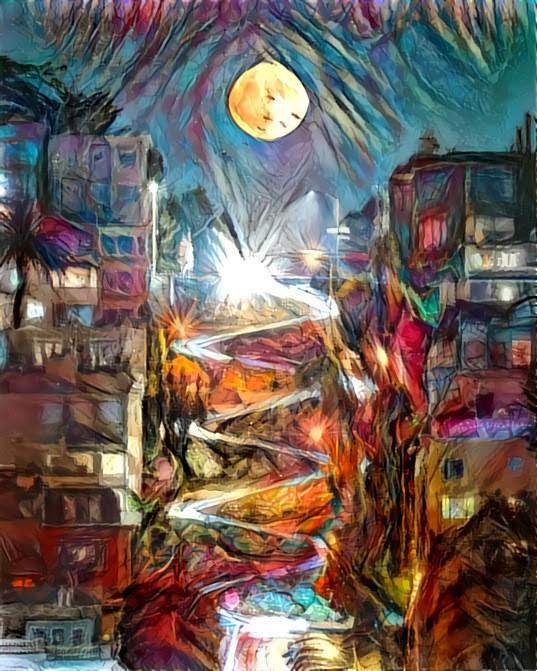 What's up steemiverse? It's 414am in my world and I'm wide awake due to too many late evening coffees, but I was at a fancy 5 star hotel and was seated next to a digital barista so.....
Pictured is my AI rendering of Lombard Street in San Francisco which has nothing to do with this post other than its a city picture that's cool, right? The original is badass too, hence I stole it from the web.
Not to mention i used to live in SF and I was just watching an amazing episode of star trek DS9 where 3 main characters got transported to SF but in the wrong year 2024. As is often the case with Star Trek the fictitious state of 21st century San Francisco was pretty on point. It was a sanctuary city overrun with out of job citizens. They had built a walled off section to deal with the failed economics and provided citizens with digital ID and credit chips that were essentialy crypto that gave citizens access to the infrastructure of the city or the "safe haven" depending on one's affluence. This is not an unlikely scenario and the Bay Area is on the precipice of such a reality.
Enter the link provided. A Singapore based startup has unveiled it's prodigious plans to build an entire smart city that is fueled by blockchain. Just like in the star trek episode the citizens must pass a criminal background check and abide by the regulations that will be set forth. The location is Phnom Penh Cambodia and will house nearly 200,000 citizens that will all be interconnected via the framework of a digital currency that I imagine will be a stable coin. This currency will give citizens access to the goods and services of the city as well as provide the new-found ability to make financial transactions for hundreds of thousands that currently don't even have bank accounts and might not ever need one, nor will they need paper money. This is a huge leap forward for humanity and the company has called itself Limestone in homage to the great civilization built on the banks of the river Nile in ancient Egypt.
We our witnessing the evolution of currency firsthand. Some of us might remember when bank of America first introduced it's diners card in the 1950s. This eventually became visa 💳 and lines of credit soon became commonplace. Many more here will recall the advent of online banking and digital transactions. Of course us crypto kids are keen to the logical progression of digital money into blockchain as fathered by bitcoin just a decade ago. And now we will witness a civilization built on the back of blockchain in a developing nation.
As btc is taking a dive and steem is still shitting the bed at 18 cents the cryptosphere is full steam ahead giving zero forks about monetized social media. I suggest you also look to the future and see that we have only scratched the surface of what this technology is capable of. Just like star trek there are those boldly going where no one has gone before and with that triumph of the human spirit we may someday rid the world of the conniving con game of capitalism that runs on the foundations of scarcity. The reality of abundance is upon us and a golden age of symbiosis awaits our grand reentry. Will you be a part of the solution or will you bitch and moan about some ridiculous bastardization of reddit with money ecosystem? 🤑🖖🙏 That's highly illogical!
https://amp.scmp.com/week-asia/society/article/3021867/forget-bitcoin-singapore-firm-using-blockchain-tech-build-smart
Posted using Partiko Android