We will finish today a small series showing the Proof Eisenhower Dollars.
The info below comes from https://eisenhowerdollarguide.com/
The first legislation to create a new dollar coin was introduced in October 1969. The legislation sought to create a circulating dollar coin which would commemorate Dwight D. Eisenhower who had died earlier that year and the Apollo 11 space flight, which marked man's first steps on the moon. A modified bill was eventually passed on December 31, 1970.
The reverse of the coin was based on the mission insignia from the Apollo 11 space flight. This was deemed particularly appropriate by Congress since the space program began under Eisenhower's administration.
Eisenhower Dollars were struck for circulation using the copper-nickel clad composition, which was also used for circulating dimes, quarters, and half dollars. The composition consisted of an outer layer of 75% copper and 25% nickel, bonded to a core of pure copper. The resulting net composition was 91.67% copper and 8.33% nickel.
Eisenhower Silver Dollars were struck for collectors. These coins had an outer layer of 80% silver and 20% copper and an inner layer of 40% silver and 60% copper. The resulting net composition was 40% silver and 60% copper, with silver content of 0.3161 troy ounces.
The Eisenhower Dollar was issued from 1971 to 1978.
The Proof 1978-S Clad Eisenhower Dollar had a mintage of 3,127,781 units in San Francisco.
From 2,541 1978-S Clad Eisenhower Dollars, NGC graded 1,644 as PF-69 UC, with 14 as PF-70 UC.
I bought this coin in 2013 for $22.50 and today's price is around $50.00.
The Chief Engraver for the United States Mint Frank Gasparro designed both the obverse and the reverse of the coin.
The obverse bore a profile bust of Eisenhower.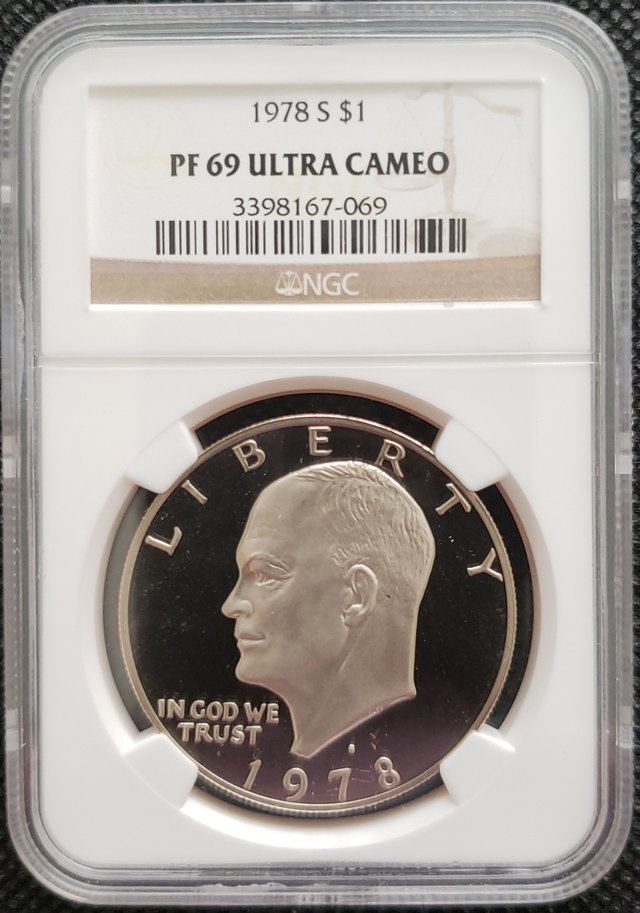 The reverse design featured a bald eagle landing on the surface of the moon, carrying an olive branch, with the Earth visible in the background from space.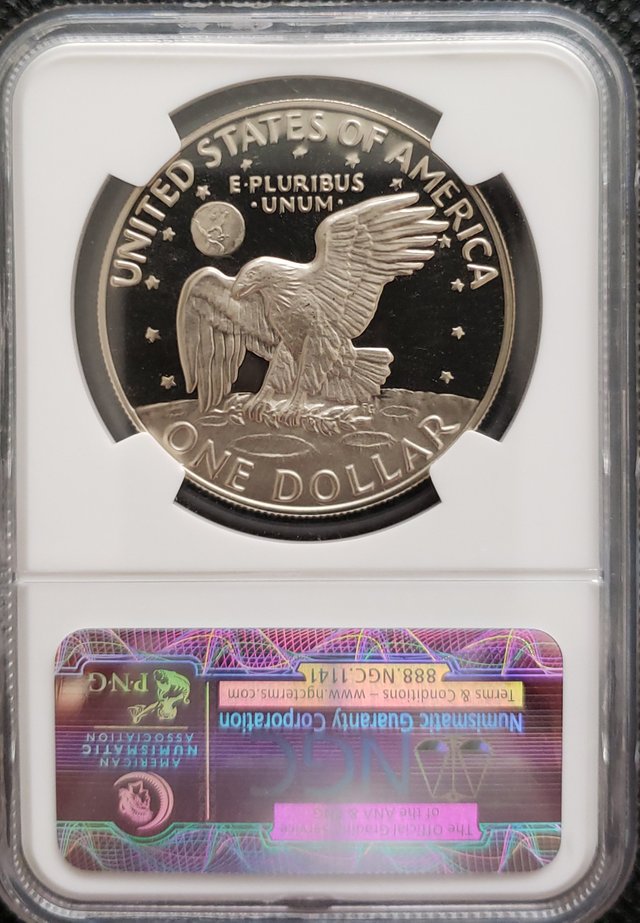 Thank you for reading. Please comment, upvote, resteem and advise me.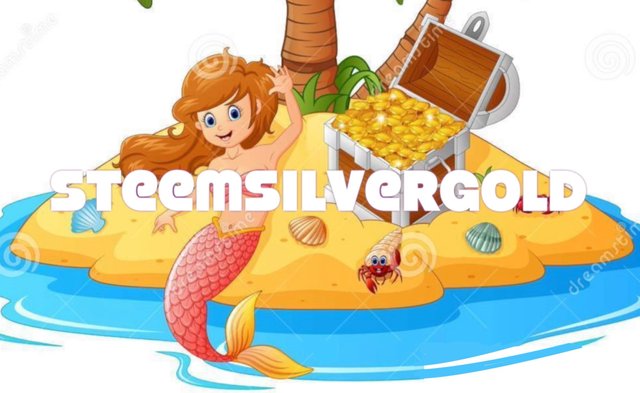 Posted via Steemleo