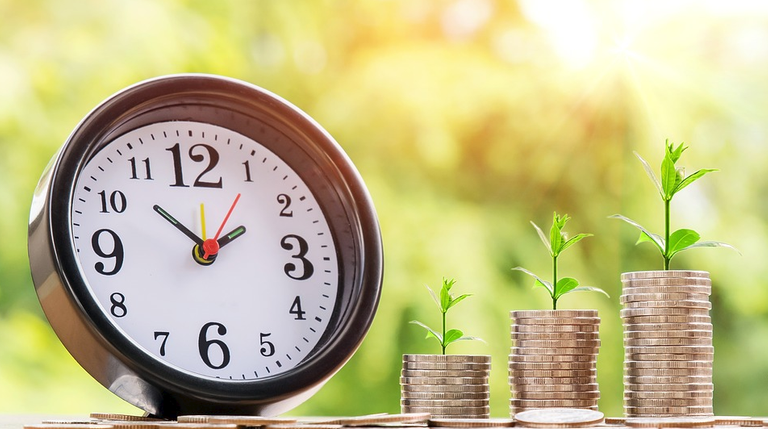 Source
I have been actively searching these days on ways to deploy my capital across the broad landscape of investment assets available as I continue to believe that the world health crisis has made some markets not only irrational but have made material valuation errors. However, this has never been an easy task for the cryptocurrency asset class as the main valuation driver continues to truly be supply and demand economics based on sentiment of investors. However, through fundamental investing techniques, like Dollar Cost Averaging, decision making is made easier; as I have learned with my Steem-related investment.
This has been counter-intuitive for me as I thought that the drama that has occurred around the ecosystem was more of the destructive nature in the short term. While I still think that it is clearly a risk given how liquidity is king in financial markets, I have also come to think something that led me down the rabbit hole with Steem (and now HIVE) since the beginning; there is more than enough room for more than one social Blockchain to survive and potential thrive.
To be clear, this is not me choosing a side, but instead, demonstrate how the events transpired have actually created value for the community which at the end of the day is the main valuation provider in my opinion. Code is forever as long as it is supported so there will probably be paths for both camps in the future which I am inclined to continue to support although most likely in different ways. The social aspect is clearly taking hold on HIVE while the most active Dapp, Splinterlands continues to forge forward on STEEM.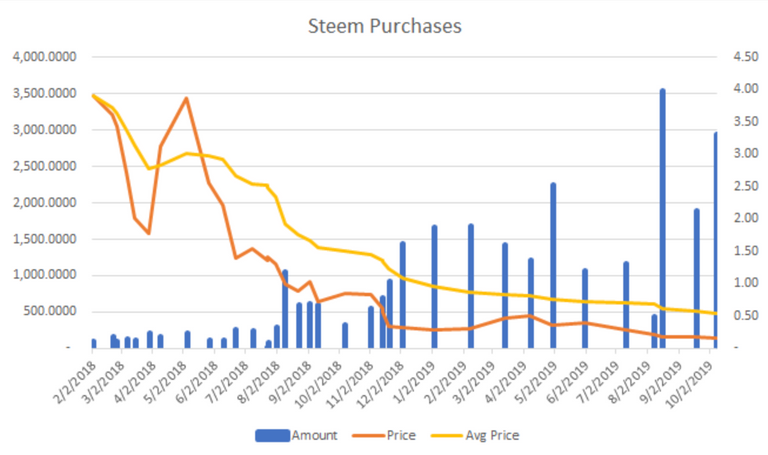 We have seen a pump in prices over the last week which has led me to go back to my records once again. To my surprise, my Dollar Cost Averaging Strategy has paid off on paper as my average cost has remained around $0.54 after my last purchase last year. However, thanks to the Fork and ensuing price changes, the combined value of the assets (without even considering my Splinterlands card Collection) now exceeds the average.
While liquidity continues to build around the multiple markets being made, it is likely that the value is not truly realizable. However, it demonstrates that it is generally moving in the right direction. Volatility will likely continue to persist but the consolidation and moves among the chains have left me motivated once again in this experiment. While I have continued to be challenged on how to allocate my resource of time to this all, it surely remains at something I consider and think about constantly as an opportunity for the future; particularly as I want to focus on creating streams of income for the long term.
While the future remains uncertain, the evolution of the ecosystem makes me consider once again the viability of adding capital to my positions. I know some have done very well by being more active and strategic about this but I am not as smart to be nimble and time it at all. However, long term value creation is still possible and could accrue to the community if done appropriately. Never a dull moment when it comes to Blockchains and Cryptocurrencies!

Discord: @newageinv#3174
Chat with me on Telegram: @NewAgeInv
Follow me on Twitter: @NAICrypto
The following are Affiliate or Referral links to communities that I am a part of and use often. Signing up through them would reward me for my effort in attracting users to them:
Start your collection of Splinterlands today at my referral link
Expand your blogging and engagement and earn in more cryptocurrencies with Publish0x! Sign up here!
The best new browser to protect your privacy while still being faster and safer. Try the Brave Browser today with my affiliate link here: https://brave.com/wdi876
DISCLAIMER: The information discussed here is intended to enable the community to know my opinions and discuss them. It is not intended as and does not constitute investment advice or legal or tax advice or an offer to sell any asset to any person or a solicitation of any person of any offer to purchase any asset. The information here should not be construed as any endorsement, recommendation or sponsorship of any company or asset by me. There are inherent risks in relying on, using or retrieving any information found here, and I urge you to make sure you understand these risks before relying on, using or retrieving any information here. You should evaluate the information made available here, and you should seek the advice of professionals, as appropriate, to evaluate any opinion, advice, product, service or other information; I do not guarantee the suitability or potential value of any particular investment or information source. I may invest or otherwise hold an interest in these assets that may be discussed here.