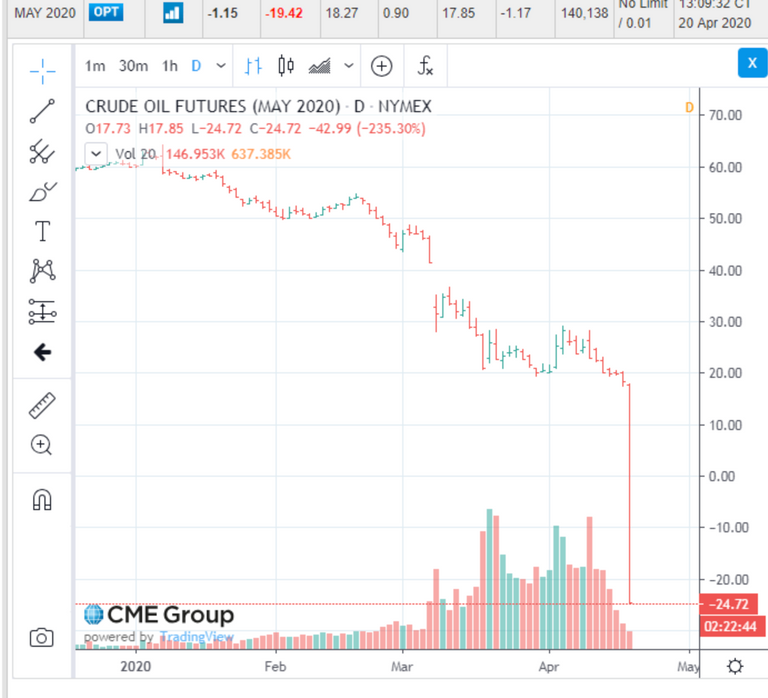 Image from CME Website
What an amazing day it was to watch some of the moves in the financial markets. I have been expecting for cracks in the markets to show similar to what we had already seen in the Silver markets last months as prices plummeted while trying to get any physical Silver was virtually impossible. People were willing to pay double the spot price to get their hands on what continues to be a scarce resource given the real physical demands at these times of uncertainty. Irrational markets persist as seen today with Oil.
Not sure how we frame the moves that the oil futures contract market had today but not only did the May contract quote the lowest price for Oil ever recorded, but it actually went negative! That implies that the Oil for delivery in May is not only worthless but actually costs money. This makes sense somewhat as we have heard the issues with storing oil and the potential costs it may have if lucky to find somewhere to store it. In addition, there are stories that oil producers rather lose on every barrel than shut the oil wells which could destroy their ability to produce in the future.
While investors seek the rationality of these prices, many consequences are still yet to be seen. When price changes occur this way, many holders are exposed on the wrong side of the trades as these markets of options and futures (derivatives) are a zero sum game. Someone is being left with this not only worthless asset but the costs to deliver (nor not). This must have led to some margin calls which just impact liquidity concerns even more. Most investors would normally think that their assets are only exposed to being reduced to zero but to go negative is unprecedented. This contract was down 300% today which could make many holders insolvent almost immediately on paper if the risk was not mitigated.
This also brings the concern of counterparty risks all over again. Like the days of the financial crisis, many derivatives were at risk of not being settled as the counterparty or the person on the other side of the trade did not have the financial capacity to do so. This is what brought giants down to their knees and in immediate need of bailouts in the financial crisis. While I think that the government has already showed their hands of not allowing this to happen; can you imagine the outrage at another bailout in the commodity trading side? Many are already under fire because of hedge funds and private equity receiving government funds to remain solvent.
Time will tell and with another day of trading left before the May contract expires, I am sure we will soon hear the unforeseen consequences of these market moves. However, markets remain irrational as not only this price demonstrates but also the fact that equity prices did not collapse relative to the changes in oil prices. While many have shifted to look at the next month's contract, there continues to be millions of dollar worth of oil exposure in this contract. Watch for more bailouts to continue...

Discord: @newageinv#3174
Chat with me on Telegram: @NewAgeInv
Follow me on Twitter: @NAICrypto
The following are Affiliate or Referral links to communities that I am a part of and use often. Signing up through them would reward me for my effort in attracting users to them:
Start your collection of Splinterlands today at my referral link
Expand your blogging and engagement and earn in more cryptocurrencies with Publish0x! Sign up here!
The best new browser to protect your privacy while still being faster and safer. Try the Brave Browser today with my affiliate link here: https://brave.com/wdi876
DISCLAIMER: The information discussed here is intended to enable the community to know my opinions and discuss them. It is not intended as and does not constitute investment advice or legal or tax advice or an offer to sell any asset to any person or a solicitation of any person of any offer to purchase any asset. The information here should not be construed as any endorsement, recommendation or sponsorship of any company or asset by me. There are inherent risks in relying on, using or retrieving any information found here, and I urge you to make sure you understand these risks before relying on, using or retrieving any information here. You should evaluate the information made available here, and you should seek the advice of professionals, as appropriate, to evaluate any opinion, advice, product, service or other information; I do not guarantee the suitability or potential value of any particular investment or information source. I may invest or otherwise hold an interest in these assets that may be discussed here.