I'm taking the time to document some of the precious metals I have collected. Among these are junk silver coins.
These particular coins are Washington Quarters, of which I have 45. These coins were minted between 1932 and 1964. The obverse side has has had the same bust of Washington since 1932 until present day. The reverse side had the eagle design until it was replaced by the state commemorative designs in 1999. Like the Walking Liberty Half Dollar, they are also 90% silver, and 10% copper. Each one has about 6.25 grams of silver. Given their condition, they are considered for their melt value alone, which is currently about $3.27[src]. Altogether, this small hoard is worth $147.15 at today's prices.
Given how worn these coins are, I can only imagine some of the pockets they were in while in circulation. If and when they are ever melted down for their silver content, it will be a bittersweet day. These coins were minted during the time of World War II, the Korean War, and saw the first half of the Vietnam War. Even in 1964, they had the same purchasing power as $2.09 in today's money[src].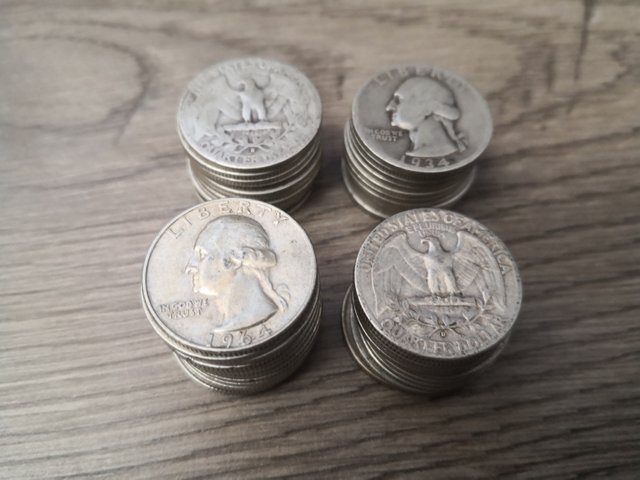 Ref: https://en.wikipedia.org/wiki/Washington_quarter
Portions Adapted From The Previous Post