Investing for Growth - what I look for.
A major part of my investment strategy is to look for high growth investments. This article will look at two examples and ideas of what I specifically look for to find the hidden gems and future stock market darlings. None of this is financial advice, just sharing my personal approach to investment selection. The examples I use are Australian companies, but the principles are relevant anywhere.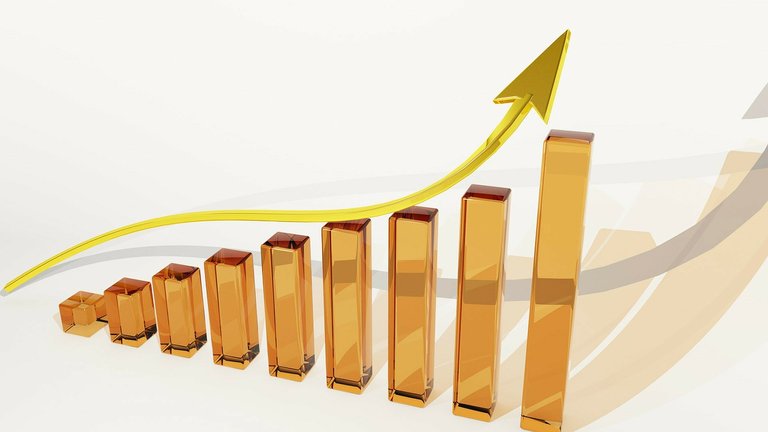 Source: Pixabay
---
Growing company in a growing market.
This is one of the first things I look for in selecting a growth focused investment. Is the company growing, and is it in a growing market. Preferable is a company growing faster than its peers in the market. A business that has momentum can be a spectacular investment, provided they can continue to scale and capture new business.
Case Study 1: Tassal Group (ASX code TGR)
This is an Australian company that sustainably farms mainly Salmon in farms around Tasmania. Salmon is a premium seafood product, with noted health benefits, and is growing in popularity and sales. Tassal has multiple distribution channels and markets it is selling into, including targeting high growth opportunities in Asian markets. Globally, Atlantic Salmon is the most popular breed, and its production has shifted significantly from Wild caught to farmed.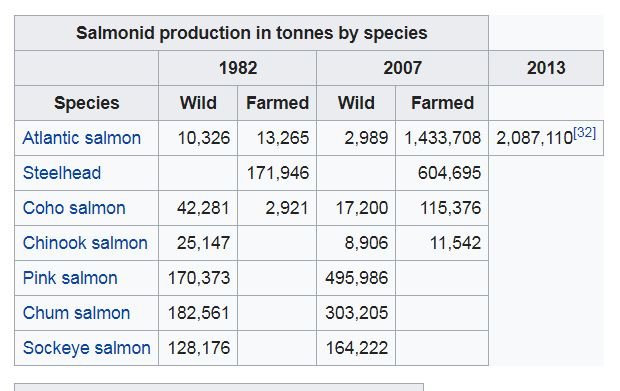 Source: Wikipedia
So from this, we can see that the market for farmed salmon has grow consistantly over a long period of time. In it's most recent report, Tassal announced revenue growth for the year over 15% and expansion in to Prawns to grow and make further use of their experience.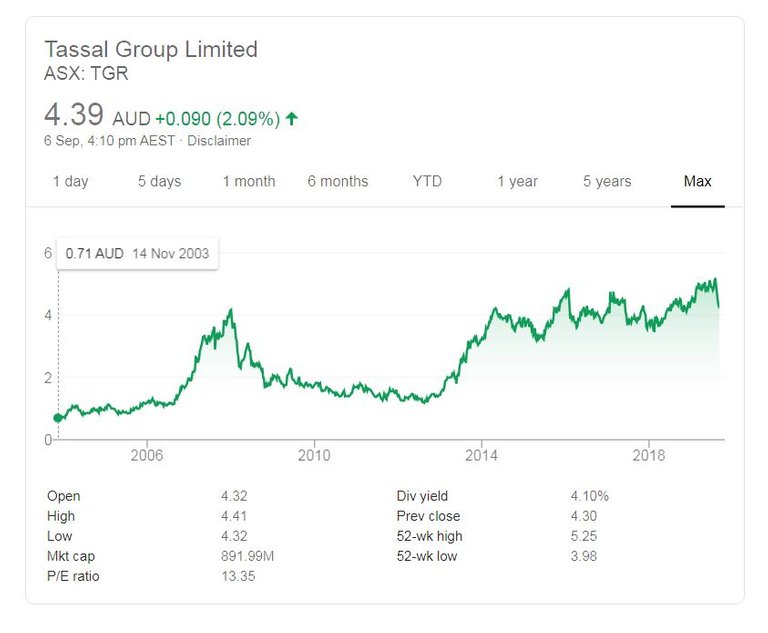 Source: Google
At first glance, this doesn't look like the chart of a high growth company. However, my investment is based on steady growth and has a 5 to 10 year horizon. The company ticks my boxes for long term, sustainable growth.
---
Disruptors.
These are my favorite investments, companies that reinvent a product, service or industry and quickly turn it on its head. The best example of this currently is Afterpay Ltd.
Case Study 2: Afterpay (ASX code APT)
Afterpay has been my best ever investment. In my superannuation fund, I purchased the shares at just over $5 each, less than 2 years ago. Their share price is currently just over $33 each. During that run, I have sold some along the way, diversifying the gains into other stocks. The rise of Afterpay is a great Australian success story that is now spreading internationally.
Afterpay entered into the payments industry in Australia with a unique offer, that has turned online retailing on its head, and given the mainstream banks and credit card industry a shake up. It's offer was exceedingly simple to understand. Select a product from a participating retailer, checkout through an payment portal linked to Afterpay, and the order is done. They pay the retailer the funds (minus a 4% fee) and then the consumer pays the original amount (no interest) over 4 fortnightly payments. This offer resonated with the marketplace, and retailers that added Afterpay to their site started to experience rapid, overnight increases in their online sales. Consumers loved the service, helping spread the cost of purchases over a period, without paying any fees or interest. The 4% fee for retailers was a small price to pay to see their sales boom - with many early retailers experiencing phenomenal growth in online sales.
As the service took off, consumers were demanding retailers add Afterpay, and the network effect changed the landscape for online retailing in Australia. Within a few years, Afterpay went from start-up, to a must have service, now expanding internationally, having spent virtually nothing on advertising. As a case study in how to build a hugely successful business in a short period of time, it is one of the best examples I have seen.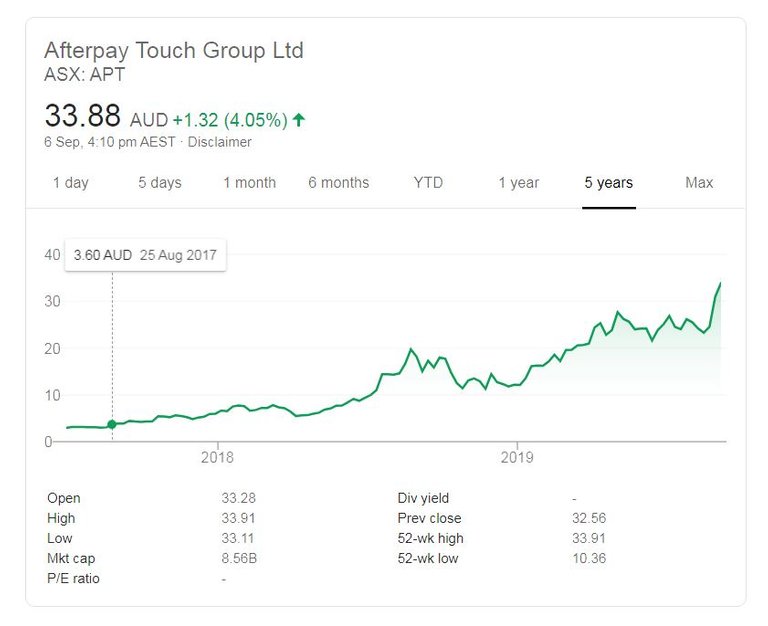 Source: Google
Currently holding a market-cap at over $8 Billion AUD, the company has certainly been a standout on the ASX. Can that continue? Well their US and UK expansion is performing as well or better than the initial launch in AUS, and they are much much bigger markets. Add to that the Australian business doubled in the last financial year, showing no signs of slowing down as they expanded into rolling out their in-store offer, and spread to more industries and sectors. The price currently has a huge amount of growth already factored in, so its risky to enter now. But, this could continue to grow internationally, and justify even higher valuations.
Anyway, I got a bit carried away there, but it is an exciting company to study. Redefining a service, creating such a compelling offer that their consumers did all the advertising for them, disrupting and charging rapidly into a corner of the market that needed a shake up, and now successfully growing around the world.
---
There are other companies and criteria I will look at in future posts. Remember, none of what I post is financial advice, DYOR.
Have a great day,
John.
---
---