Steem has an exchange issue period.
Recently, Poloniex has put a notice on delisting Steem. Though Steem has decent volume compared to other listed coins, it has been chosen for deslisting. We did not know whether any action from STINC has taken or not in this regard. Poloniex has always issues with Steem. It has disabled Steem transfers for months. Interestingly, it used to be the largest exchange for Steem. It is shame that once the largest exchange for Steem is desisting it.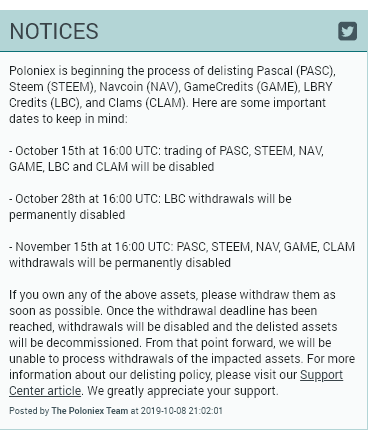 Steem is disabled for deposit and withdrawal for more than a year in HitBTC. Astonishingly, HitBTC's Steem's price still follows the right price range. I don't know who is buying Steem there since nobody should able to withdraw their Steem. Usually, price of Steem should be lower since everybody would like to exit Steem in HitBTC as they can't get to withdraw their Steem.
Recently, Steem volume has peaked at $17M which is strange since it is mostly coming from Bithumb. The best of my understanding, Steem transfer is disabled in Bithumb. Moreover, price is 2 cents higher in BitHumb.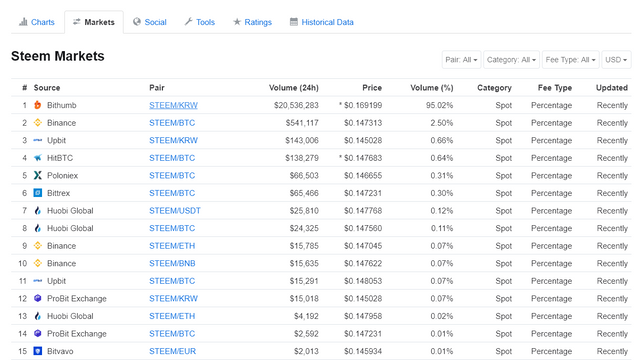 My best guess is that most in-house investors buy Steem through @blocktrades. Though fees are little bit higher, but one can easily buy Steem with any other cryptos from @blocktrades.
I used to buy USDC from Coinbase and then sell it for BTC in @binance. I used that BTC to buy Steem. By this way I pay lowest fee for purchasing Steem. Since @binance has blocked US based investors, now I have to buy through @blocktrades and pay more fees.
Moreover, it take five days in Coinbase to send my coin to @binance or @blocktrades. Coinbase hold crypto for five days, which they say, for security reason.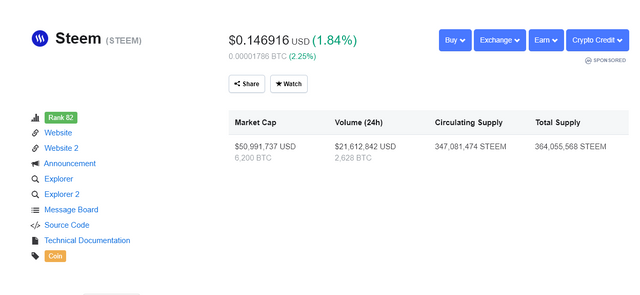 It means that a person in US has to literally wait five days and pay high fees since @binance has blocked US residents.
Moreover, volumes and price from @blocktrades and Steemit's internal exchange are not reported to CoinMarketCap.
Overall, even in developed country like US, Steem cannot be purchased instantly with low fees. I wish Coinbase would have Steem so that I could buy Steem immediately even with 1.5% fee.
Steem has exchange problem in big ways. Only, die-hard Steemians are taking extra steps to buy Steem (since they may use @blocktrades exclusively). But it is quite hard for new investors to get into Steem.
I hope STINC and community leaders will think about this problem extensively.
After SMT release, Steem's challenge would be to become pervasive as ethereum so that popular SMTs can be listed on those exchanges.
If STINC and Steem community cannot solve this exchange issue than SMT will never see wide success that everybody is waiting for. Without Steem being added in many exchanges like TRON or EOS, SMT will never see a success any close to ERC20 token.
Ironically, if Steem were a recent ICO and ERC20 token, due to its tremendous use cases it would have been tradable on hundreds of exchanges and could easily be valued at $300M to $1B marketcap. Looking at Cardano's volumes in large number of exchanges for being a popular ERC20 token which does not have main blockchain yet, it can easily be assumed that to be a successful crypto, it should have easily accessible through exchanges. Right now, Steem is not.
Disclaimer: This opinion is not a financial advice, it my personal perspective and opinion. Please seek professionals for financial decisions.
Image sources: Most images are open sourced (e.g. Pixabay, Wikimedia etc.) with Creative common license. Some images are used with due courtesy to respected owners.
Thanks for reading.
@dtrade
Cryptominer , occasional trader and tech blogger since 2013