LEO and PAL is a story of two polar opposite coins. LEO is a token for niche that serves the investing community. On the other hand, PAL token serves all kinds of content creators. PAL along with NEOXAG, MARILIANS are vying for Steem's criteria, jack of all trades which is hard to compete.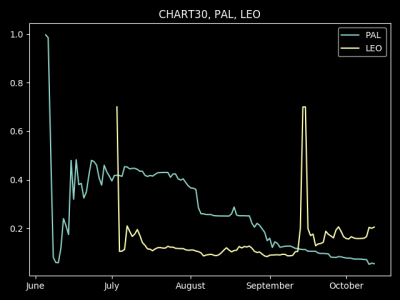 Earlier, Palnet.io had a serge on optimism due to having better trending page without the influence of BidBots.
Since EIP in HF21 and HF22, Steemit's trending page got better and better. It may have dampen the demand for common interface like Palnet or Marilians.
Among the common interfaces, Neoxian.city arguably performing better due to better economics compared to Palent and others Nitrous instants.
PAL went as high as 0.78 Steem in its heydays and had a support at 0.45 Steem for a long time.
Yesterday it went down 93% to mere 0.03 Steem from its peak. Then PAL bounced from the low of 0.03 to 0.042 Steem. There is a huge support around 0.03 to 0.04 Steem level. Order of 100K PAL buy wall have spurred a strong support around 0.04. However, current economics and sell pressure do not bode well for PAL's future.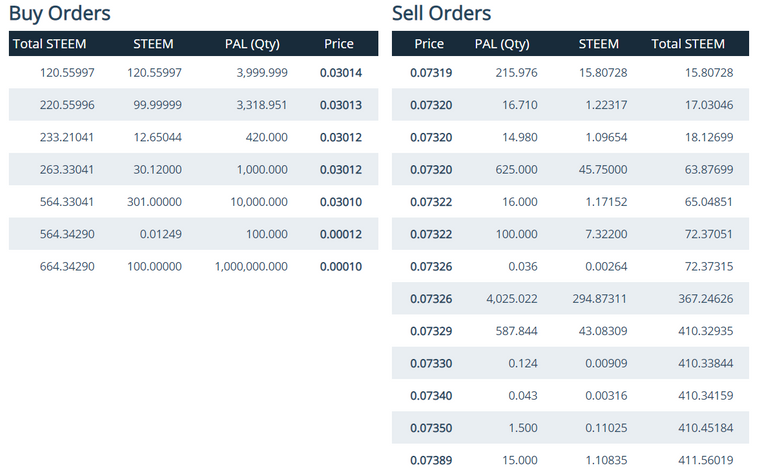 Any bounce can be sold off due to fall of confidence.
On its crash to 0.03 Steem, PAL's marketcap crashed from $1M to mere $62K which is almost half of CreativeCoin and LEO.
However, long term appreciation does not look bright for PAL. It could be that nobody wants to hold PAL since its price is ever declining. It could be also that large number of content creators are treating PAL as just another free lunch.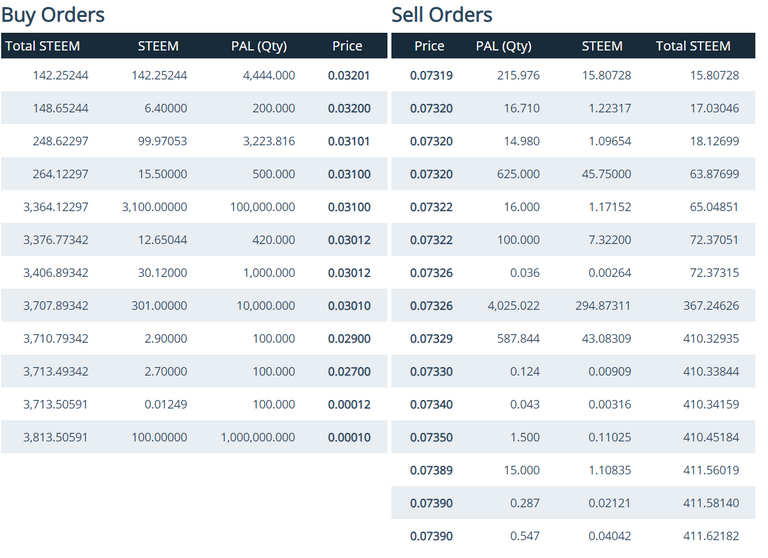 Moreover, there is no incentive for big fish to stake in PAL, considering PAL curators are rewarded handsomely which may dilute their stake.
Rewarding the curators is misaligned since they already have large stake and could have earned large curation reward. Moreover, the PAL curators already got large airdrops of LEO, and other other tokens, which should compensate their windfalls.
Moreover, PalNet updates are scarce and sinks like Ad Profit are not large enough to hold PAL from decline. PAL held at 0.25 and 0.11 Steem for some time with the help of buy walls from a PAL whale. However, economics caused the enough sell pressure to ensure eventual decline of PAL to a lower level.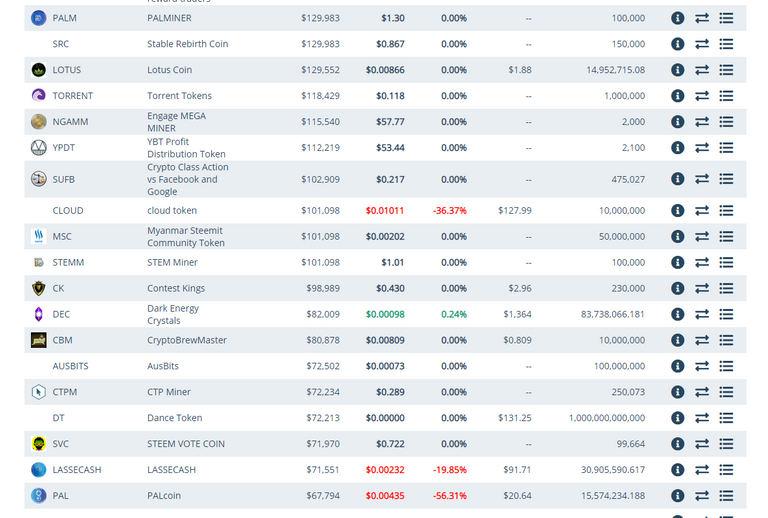 On the other hand, LEO has 55% upswing yesterday. It went from 0.16 to 0.248 Steem. LEO's markecap has been doubled that of PAL. It could be due to the recent upgrades. However, LEO already has highest number of sinks that inspire investors to take more stakes. It looks like LEO's economy is working. Moreover, LEO is really feel like deflationary due to all the sinks.
Moreover, there are few whales who are in a big race to buy up LEO at any cost as high as 0.25 to 2 Steem. It also make sense to have a specific niche to discover proper contents for the consumers.


However, looking into the pending unstake, it looks like LEO is going to have HUGE sell pressure. in near future
Most beneficiaries of airdrops have been already exited. But there are still few LEO holders who may see this LEO uptrend as opportunity to dump their tokens which is quite healthy for the trading volume.
It has to be seen whether LEO can survive this upcoming sell pressure.
However, at this moment journey for both PAL and LEO looks polar opposite. However, things may change in future due to the future actions of founders, curators and stakeholders. In Cryptos, nothing is certain!
Disclaimer: This opinion is not a financial advice, it my personal perspective and opinion. Please seek professionals for financial decisions.
Image sources: Most images are open sourced (e.g. Pixabay, Wikimedia etc.) with Creative common license. Some images are used with due courtesy to respected owners.
Thanks for reading.
@dtrade
Cryptominer , occasional trader and tech blogger since 2013