Hello dear Steemians!
---
Let me share once again my view on Bitcoin's current situation, according to the Technical & Candlestick & Fundamental analysis that I have developed and used for the last 13+ years working as a trader and a portfolio manager.
And sorry for my English, but I hope you will be able to understand my logic that I have set out below.
---
Recently the price of Bitcoin has been under significant pressure. Just a few day ago when I wrote my previous analysis Bitcoin was trading at the level of $ 10'029 on the crypto exchange Bitfinex. If we have a look, at the moment, at BTC/USD pair on 1-day time fame we will see that on Bitfinex Bitcoin is trading at the level $7'949: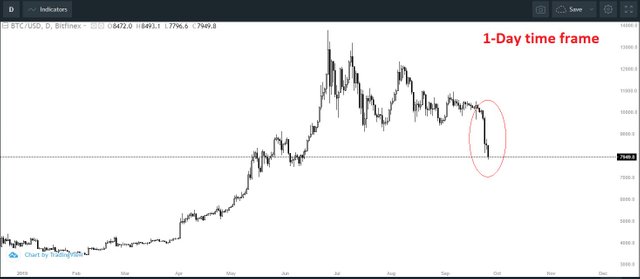 So, the price is down more than 20% since I wrote my previous analysis.
---
And, now I want to mention that a few people have asked me today if I would buy BTC at current levels (around $7900-$8000 per one digital coin). And my answer is very simple: "I will not try to catch a falling knife!"
Now let me explain you why I will abstain from buying BTC at the moment (although during the current ongoing nosediving of the price of Bitcoin we may see some good price rebounds).
First of all fundamentally=technically the ecosystem of Bitcoin has improved just slightly for the last 2 years, in my view. The Lighting Network was launched in January 2018. That's it!
Actually, I haven't seen any other significant fundamental changes since then. And, unfortunately, the development of the Lightning Network(LN) of Bitcoin so far is quite small in order to trigger another sustainable bull run of price of Bitcoin. Btw, in addition, I am not pretty sure that the LN is the potential solution to the scalability problem of Bitcoin ... That's why it may turn out, that for the last 2 years technically the ecosystem in Bitcoin has been in a solid stagnation and has not done any progress. Because of all I just mentioned I think that Bitcoin is overbought. I still cannot figure out where the exact fundamental price of Bitcoin is ... but I will be very cautious if I buy Bitcoin at levels over $3000 per one digital coin if the scalability issue remains unsolved. Of course, if Bitcoin community solves the scalability issue, than the highway will open, and the price of Bitcoin will skyrocket to levels such as $ 100'000, $200'000 or even $1 million ...but once again I will reiterate that the scalability issue is not solved, and I personally haven't seen some solid progress in this direction so far. That's why (once again) levels over $3000 per one digital coin seem to me to be very high for Bitcoin. (I have shared my logic many many times since December 2017).
Ah, in addition, in the summer when the dominance rate of Bitcoin rebounded and hit almost 70% in September I expressed many times my worry about it, saying that this is a bad signal for the crypto market: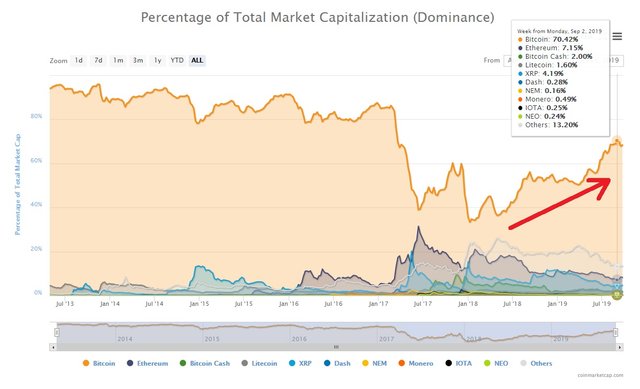 Why the dominance rate of Bitcoin has increased recently? My answer is very simple: The smart money sold most of their alctoins and transferred their money into Bitcoin (and into a few other reliable cryptocurrencies as well, but the lion share was for Bitcoin). That's why the price of Bitcoin increased significantly in the spring and in the summer. Also some other cryptos followed to some extent the trajectory of BTC. For example: Ethereum, Litecoin, Bitcoin Cash, etc. But most of the other alternative coins recorded just slight upticks and then their prices nosedived. Because I said just mentiond the smart money left the altcoins and moved to Bitcoin. Why it happened? My answer to the question is very simple: Because the smart money have realized that the Blockchain technology is still not mature enough, the technical scalability problem of Bitcoin will be very difficult to solve ... So to put it in a nutshell the smart money have realized that at the moment the crypto market is not strong enough and has not the capability necessary to challenge and to start to compete with the current centralized financial system. That's why the smart money sold the altcoins (the risky projects) and have bought the most reliable crypto such as Bitcoin. This is the right hedge or step during a crises in the cryptocurrency market.
To be honest I have seen many similar situations on the financial markets for my 13,5 years as a trader and portfolio manager. For example, at the very beginning of a crisis on the stock market the smart money sell their risky stocks and move to gold, bonds, blue chips, etc. So during a crisis the blue chips suffer less than the risky stocks. The same happened on the crypto market: money went from risky shares (alternative coins) into blue chips (Bitcoin, Litecoin, Bitcoin Cash, Ethereum, etc.). So, seems that the smart money are preparing for a long continuation of the Bear Market. So, fellows, it seems that it is a time to fasten our seat-belts!
Ah, last year I talked about this situation in an hour-long video ... In that video I even said a few times that the Bear Market is not over and will be quite long, although we could see sometimes rebounds. And I even said at the end of 2018 that I expected in 2019 some rebound and many people would start buying again crypto, not realizing what is going on. But ... usually people don't like to watch very long videos. That's why probably almost no one watched my video.
---
---
Now let's move to a Technical & Candlestick analysis of price chart of Bitcoin and try to see how the foreseeable future looks like:
Recently the price chart of BTC/USD has formed a Double Top on 1-Week time frame in the range between approximately $12'000 and $14'000 (Chartists consider this technical formation as a reversal pattern/ a solid bearish signal):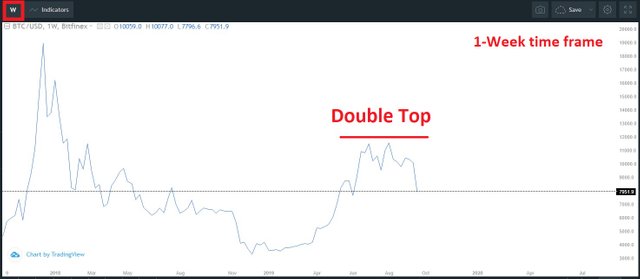 Btw, I talked about the Double Top almost in most of my Cryptocurrency Market Overviews (videos) on my DTube channel when I conducted BTC/USD price chart analysis.
So we have a solid bearish signal (a Double Top) on a quite solid time frame (1-Week time frame). And just to remind you, the Technical Analysis theory says: The heavier the time frame is, the more reliable the signal is!
Now let's move to the candlesticks. On 1-Week time frame the Double Top switches into two Bearish Engulfings (Chartists consider this technical formation as a reversal pattern/ a solid bearish signal):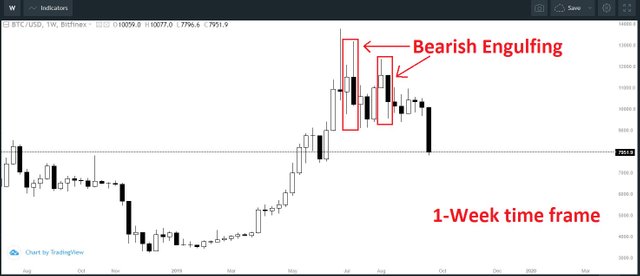 So, it means that this is not just some Double Top, this Double Top is nailed by two Bearish Engulfing. That's quite bearish for me!
---
So, to sum up: Keeping in mind all I wrote about the fundamentals of Bitcoin and the Technical and Candlestick analysis I've done, at the moment I will definitely not try to catch that falling knife ...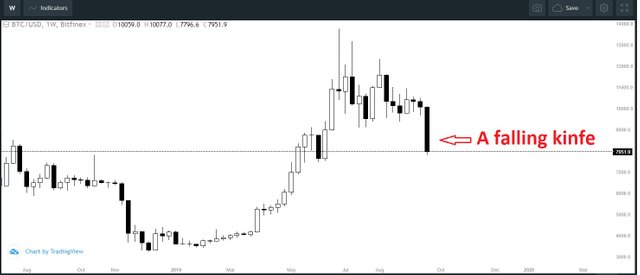 Yeah! During the nosediving of BTC there will be some price rebounds, but I will not risk ... I will wait for some time, and when I see some more reliable positive signal I may enter the market and conduct some trades (speculations).
---
p.s. I just want to add that I am a big cryptocurrency enthusiasts and I do believe that one day the scalability issue in the cryptcurrency world will be solved and then the crypto will skyrocket! This market will reach a market cap of trillions of dollars! But at the moment the technical scalability problem of crypto is still not solved, so we will have to wait a lot! So, dear Steemian, be careful!
---
---
A few words about me:
Just to let you know: I've been working professionally as a currency analyst for the last over 13 years, and as a cryptocurrency analyst for the last 2,5 years.
---
Important!
Keep in mind, that thoughts expressed here are my own, and they should not be regarded as recommendations for any cryptocurrency trades, investments and etc.
---



Learn How To Earn PRE Tokens By Using Presearch Decentralized Search Engine
---

---