Good morning people and welcome to Ups and Downs daily chart!
A Green day! Today's market looks very strong and brought back the smiles into crypto community, BTC recovering very well and gains 5.5%, ETH and LTC as well with gains 3.86% and 3.63%. As for Steem that i wasn't so confident gains 11.19% and jumped 3 places (84) with price right now at $0.140442 !
Top 10 coins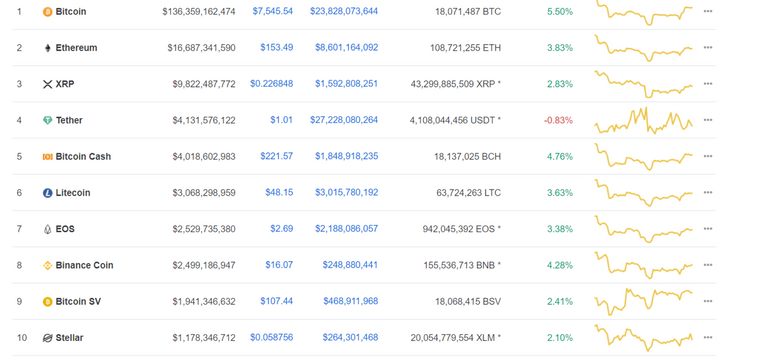 Steem daily chart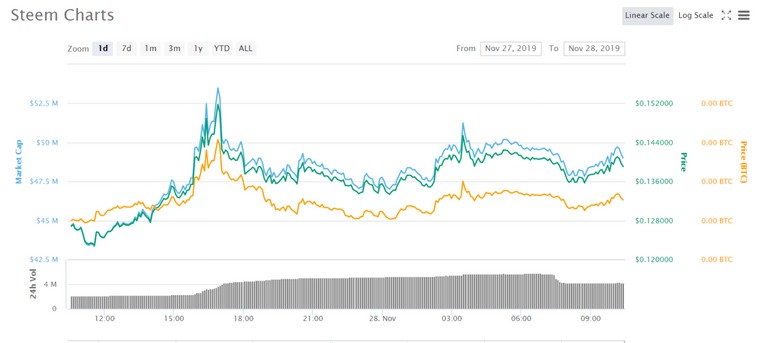 ---
Today's Top Gainers


Today's first place goes to a token that operates on Ethereum Blockchain and skyrocket it's price, ROMToken (ROM) ranks 2017 and gains the amazing 🚀🚀 1,989.59% and have a price at $0.000178, well yeah it make sense.. With a small research i found some details about it here: https://bitcoinexchangeguide.com/rom-ico-rom-token/ , visit the link if you want to learn more about it.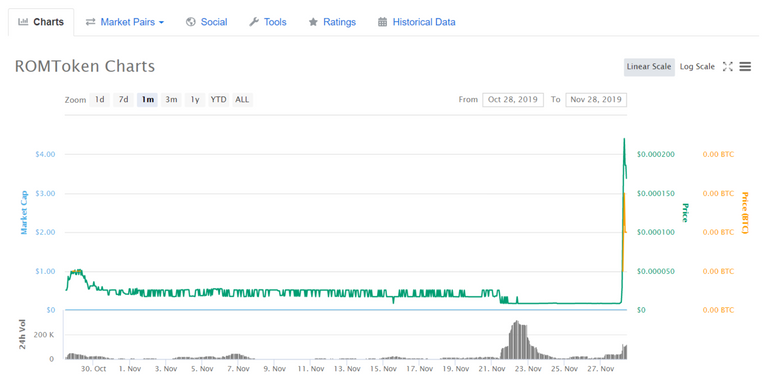 ---
Second place goes to DMarket (DMT), DMT is a token that operates on Ethereum Blockchain and is a Digital Items Exchange and Game Monetization Platform. Gamers can buy, sell & exchange in-game items, while developers gain revenue from every transaction fee. You can read about it on their announcing post on Medium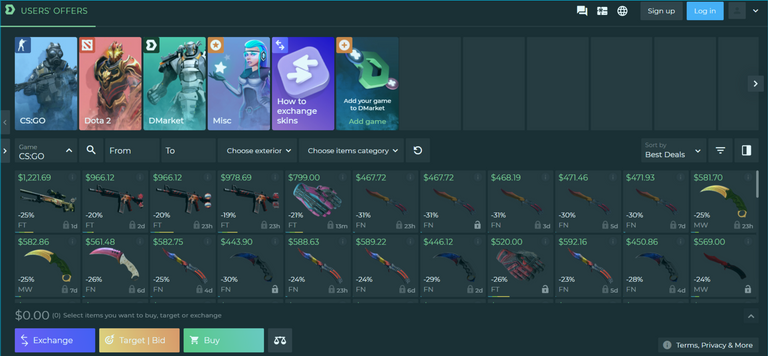 Dmarket ranks 153 and today gains ⏫242.94% with price at $0.337308, it seems that the gaming industry is the crypto vehicle to mass adoption. Visit their site here.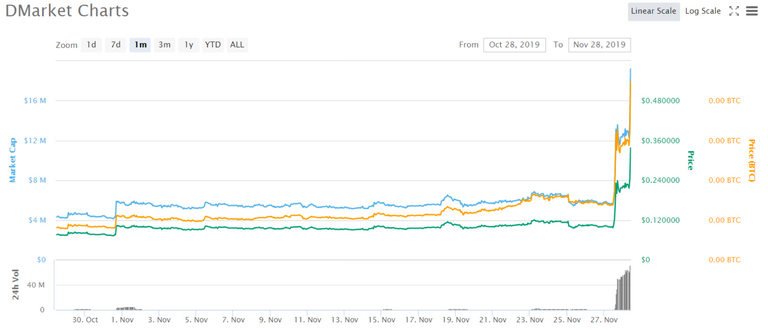 ---
The third place goes to Boltt Coin (BOLTT), i found quite interesting their project two days ago when i give them the Bronze crap award, well still do and it's not because they have gains ⏫131.82% and price $0.023651. So third place to Boltt coin that ranks 2049, visit their site to get informed here.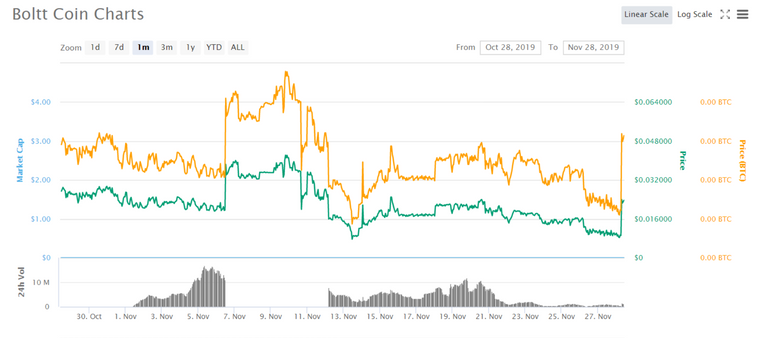 ---
Today's Top Losers and the Crap awards


Today the Golden crap goes to a decentralized platform and it's token, that enables issuance, trading, and settlement of tokenized digital derivatives, DUO Network Token (DUO) ranks 2075 and has loses ⏬-55.06% with price at $0.032275, here is their site : https://duo.network/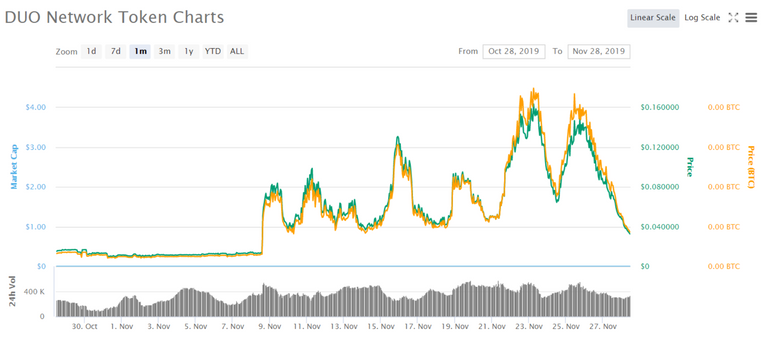 ---
The Silver crap goes to suterusu (SUTER), it ranks 2054 and loses ⏬-53.43% with price right now at $0.028489. According to their site
We intend to implement an anonymous cryptocurrency that is based on the setup-free ZK-ConSNARK cryptographic function. Our cryptocurrency at first will have a Mimblewimble-like structure albeit based on groups of unknown order. We will then extend our implementation to privacy-preserving smart contracts.
No interest here.


---
The last place and the Bronze crap goes for second time to adToken (ADT), the same award for second time in few days for ADT it's a sign, the bottom it's all yours! it ranks 499 and losing ⏬-52.99% with a price at $0.004468.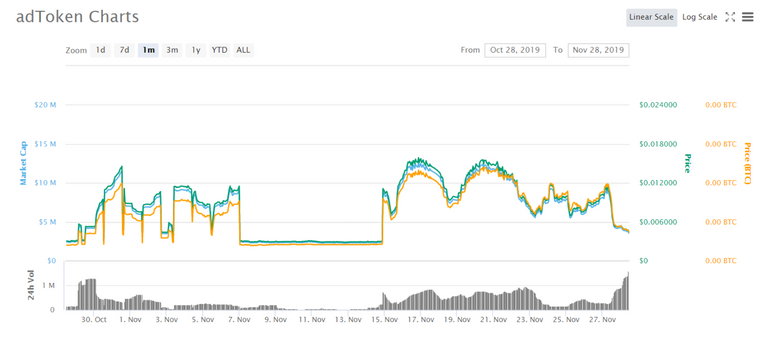 All the coins has Volume (24h) at least $50,000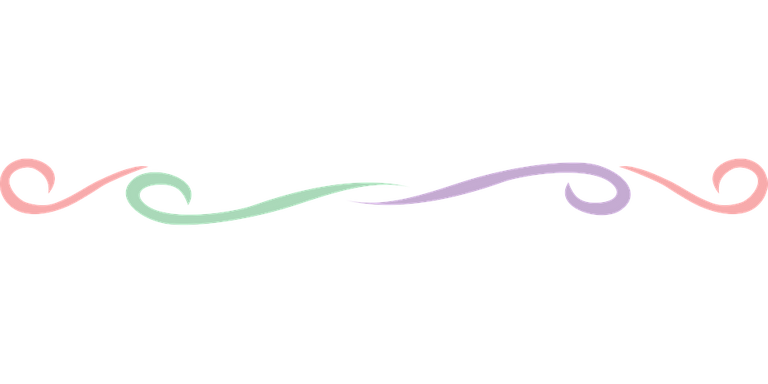 That's all for today, thanks for reading!!