No, you are not going to earn with this tip.
But it is something you should consider.
Each of us, so you too, can vote for 30 witnesses maximum.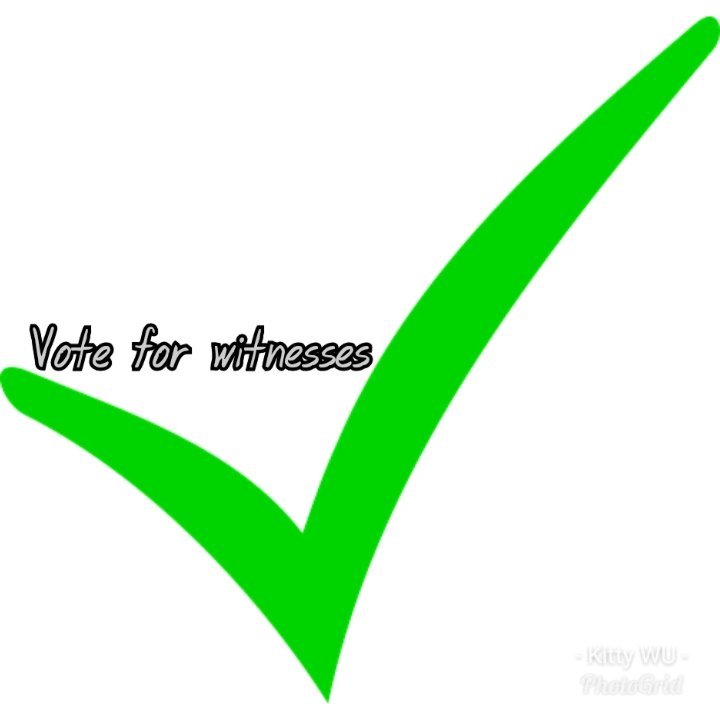 "Witnesses are guardians of the blockchain!
Witnesses are responsible for finding blocks, seeding the blockchain and setting pricing feeds and interest rates.  They are for the most part silent and you never really hear much about them.  But they represent a major investment in the steem economy in terms of money and manpower." @williambanks wrote 2 years ago. Things have changed in the past 2 years.
We do hear from witnesses if we know who they are.
They have/had a voice in every change on Steemit. The HF20 for example that came to fight scam but also made it hard for newbies to post and comment. They also had a voice in the next/latest fork that gives writers less income over their content.
The witnesses you frequently find are named underneath certain posts.
They have a purpose (read the article above) but to my honest opinion they also should stand up for you and they are give something back to the community. They invest in Steemit.
Each witness should explain/write down what he stands for. Find it out before you vote (most information is old).
Before you vote.
Find out if the witness is active!
See HERE.
How to vote?
Click at the link underneath a post if you believe this person is the right one to represent you.
or
Go to your steemit wallet and vote witnesses in the menu.
(You can also use this link:
https://steemitwallet.com/~witnesses).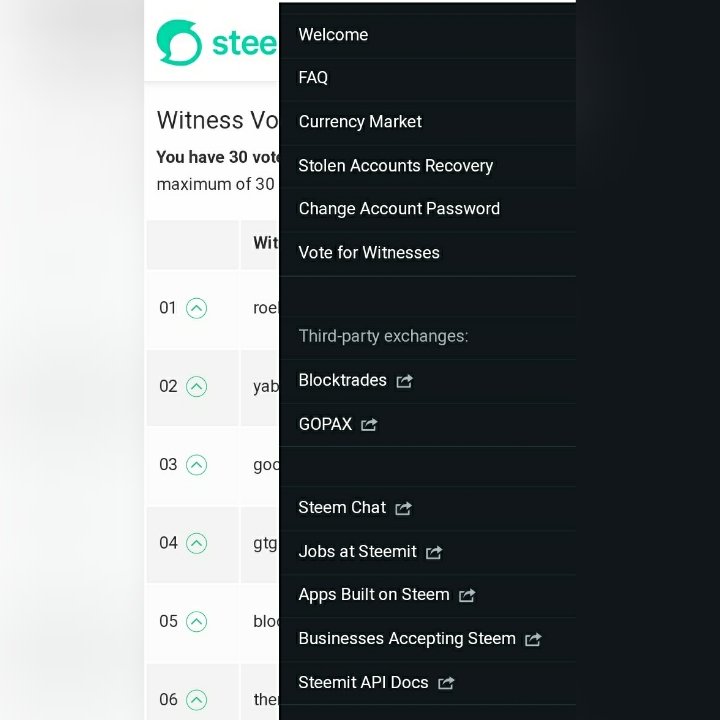 Note: How come 7 disabled witnesses are still in this list and taking place in the top 100 and are not replaced by other witnesses I can not explain.
After you signed in to your wallet you see a list of 100 witnesses.
You can vote for them or someone else.
HERE is a complete list of witnesses plus if they are active!
There is an option to fill out a name underneath the list use it!
It does not cost you SP to vote for a witness.
✔ There are hundreds of witnesses but not all of them are active. Check it out before you vote.
Once voted you can undo it if you change your mind!
Note: Individuals, communities are witnesses just like for example dpoll.xyz, steem-bounty and actifit.
Ready for a new addiction?
Use Partiko and collect Partiko points.
Posting, commenting = points = steem!
Try it. There is nothing to lose
Steem is about earning. You need to earn to power up/stake. Without Steem Power (SP) you are not able to post, comment and upvote. Make yourself visible. Use your SP in the most efficient way.
Tips I wrote to help you
Tip: Introduce yourself!
Use the tag #introduceyourself if you did not do it yet.
(You might meet nice people or get interesting tips.)
https://steem-bounty.com/services/forever/@wakeupkitty.pal/who-am-i-and-why-this-account-gc4hlwvv
Tip 1: How to grow? Use dpoll.xyz!
(Go for the giveaways. Free SBI, upvotes, pal, monster cards).
https://steem-bounty.com/services/forever/@wakeupkitty.pal/tip-how-to-grow-use-dpoll-xyz
Tip 2: Join the engagement league.
Be visible, upvote your neighbours like they do with you).
https://steem-bounty.com/services/forever/@wakeupkitty.pal/tip-2-join-the-engagement-league
Tip 3: Join #ccc contests if you like to earn!
(Use the tag #ccc for every post with 200+ words)
https://steem-bounty.com/services/forever/@wakeupkitty.pal/tip-3-join-ccc-contests-if-you-like-to-earn
Tip 4: Share your photos (dapp Appics)
https://steem-bounty.com/services/forever/@wakeupkitty.pal/tip-5-share-your-photos
Tip 5: Steem-bounty.com
(Be a bounty hunter, get upvotes and earn forever on your posts!)
https://steem-bounty.com/services/forever/@wakeupkitty.pal/tip-5-steem-bounty-com
Tip 6: Improve your writing skills.
(Read, use Grammarly, practice free writing)
https://steem-bounty.com/services/forever/@wakeupkitty.pal/tip-6-improve-your-writing-skills
Tip 7: Steembasicincome (SBI)
(Help other and earn yourself too)
https://steem-bounty.com/services/forever/@wakeupkitty.pal/tip-7-steembasicincome-sbi
Tip 8: Join Actifit.
https://steem-bounty.com/services/forever/@wakeupkitty.pal/actifit-wakeupkitty-pal-20190804t202954803z
Tip 9: How to get your upvotes? Bot or not?
https://steem-bounty.com/services/forever/@wakeupkitty.pal/tip-9-how-to-get-upvotes-bot-or-not
Tip 10: Use the right tags!
https://steem-bounty.com/services/forever/@wakeupkitty.pal/tip-10-use-the-right-tags-tppza9rc
Tip 11: Giveaway and Thank you.
https://steem-bounty.com/services/forever/@wakeupkitty.pal/actifit-wakeupkitty-pal-20190814t194435899z