Diesmal haben wir wieder "Full Table" bei unserem Steemit-Stammtisch in Wien gehabt und @siamcat hat uns alle auf Getränke anlässlich ihres 1-Jahre-Stammtisch-Jubiläums eingeladen, was super nett war und hier nochmal gefeiert werden muss.
Wir haben wieder viele unterschiedliche sowohl Steemit als auch nicht-Steemit-bezogene Themen diskutiert, zum Beispiel was Kunst ist, ob Kunst frei sein muss und ob kommerzielle Kunst überhaupt Kunst ist etc.
Oder ob wir in STEEM investieren würden, wenn wir Steemit noch nicht kennen würden. Naja, ist sicher schwierig und ehrlicherweise wahrscheinlich eher nicht, da es einen Hype braucht, um auf das Projekt aufmerksam zu werden. Trotzdem hoffe ich natürlich, dass es mit dem nächsten Altcoin-Zyklus auch für Steem wieder besser aussehen wird, da Steem fundamental schon einiges zu bieten hat und sich auch positiv weiterentwickelt.
Ein großes Thema waren auch die Auswirkungen von Downvotes und dem letzten Hardfork, was naturgemäß etwas zwiespältig gesehen wird. Niemand möchte Downvotes bekommen, auf der anderen Seite sind sie für die Balance des Ökosystems wichtig.
So das waren ein paar Gedanken, die mir so spontan zum Stammtisch eingefallen sind. Die nächsten Stammtisch-Termine findet ihr bei @mundharomonika (Danke für die dezentrale Org aus der Ferne).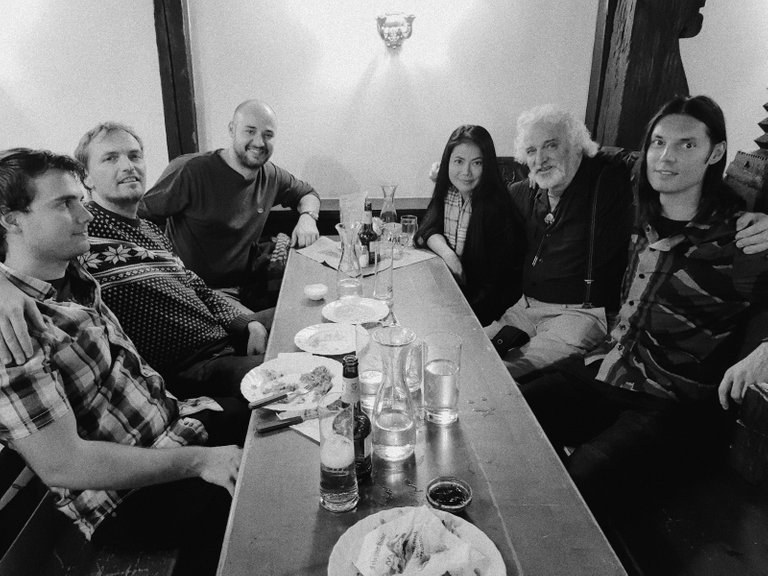 @lezphilennd, @mattgroening, @manncpt, @siamcat, @thermoplastic, and @vikisecrets (me)
English
This time we had "full table" at our Vienna Steemit Meetup and @siamcat invited all of us for drinks on the occasion of her 1 year meetup anniversary, which was super nice and has to be celebrated again.
We discussed many different topics, both Steemit and non-Steemit related, for example what is art, whether art has to be free and whether commercial art is art in the first place.
Or if you would invest in STEEM if you didn't know Steem yet. Well, it's certainly difficult and honestly probably not, because it needs a hype to get noticed. Nevertheless, I hope that with the next Altcoin cycle it will look better for Steem as well, because Steem already has a lot to offer fundamentally and is developing in the right direction.
Another big topic was the effects of Downvotes and the last Hardfork, which is naturally seen a bit ambivalent. Nobody wants to get downvotes, on the other hand they are important for the balance of the ecosystem.
So these were a few thoughts that came spontaneously to my mind. For future meetups check @mundharmonika 's blog.
Live your Secrets and Steem Prosper 🔥
xx Viki @vikisecrets