Blog as the default shows everything except Community posts, and Posts shows everything except resteems, but neither has a Show All option?
Under Posts there's a Payouts tab that sorts one's posts and comments by payout. The purpose of the little green and red dots to the right of each of them wasn't obvious at first, but after a cup of coffee to jumpstart my brain I realized the were related to upvotes and downvotes. But even after coffee, the meaning of the dots somewhat eluded me. My posts had at most five dots but one of them had two greens and three reds but still had a (small) potential payout showing. I looked at a few other wallets and found accounts that had up to eight dots. @tarazkp for instance had a post with four green and four red but a pending payout larger than any of my posts (as they rightfully always do). So green and red appear to not have equal weighting, greens appear to have more strength than red for the algorithm.
Notifications are handy but the "Mark as Read" links seemed to have no effect other than clearing the red number, the long list of notifications remains. Meh. It's a feature, not a bug?
At the top of our profile page, SP is shown and it's effective SP (net after delegations are factored in) rather than owned SP. There's a number to the right of that (in my case 1,583), the meaning of which isn't completely obvious but is probably our rank by effective SP. We're all used to the sorted by owned SP list at places like SteemitBoard.com (in my case, 910) but a sorting by effective SP is useful.
Hmmmm....When I'm on my profile page, there's no obvious link back to "Friends". I can go to the URL and get to it by adding feed but that's a bit of a kludge.
There's still a "We're beginning to roll out communities" notice up so perhaps more tweaks and features are forthcoming.
One really big change is that the old generic Steemit.com landing page for those not logged in is gone, replaced by a Community-centric Trending page: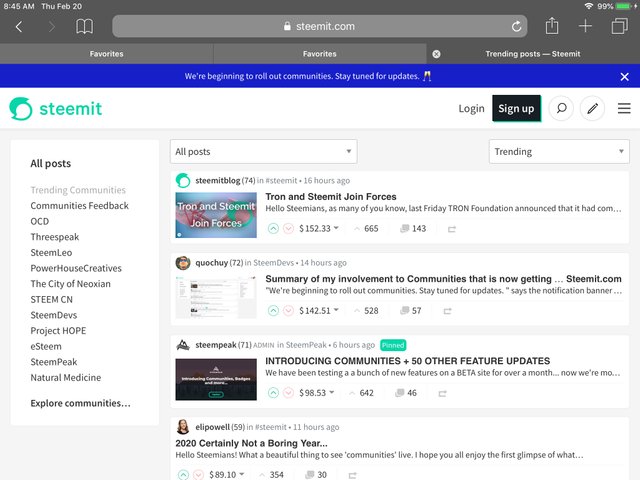 The old landing page was incredibly lame; the new one immediately gives visiting noobs a better feel for the site.
Post Beneficiaries:
5% - @schoolforsdg4
5% - @steemchiller