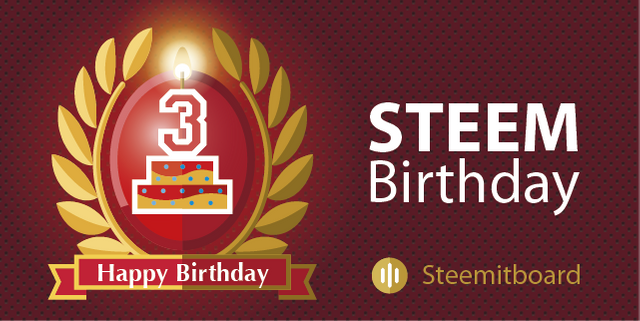 Three years ago, I remember being in a random crypto group, and somebody made mention about some new social media platform built on a blockchain. I knew as soon as I heard about it I had to check it out!
I've met a lot of really cool people from all over the place, and don't have any plans on going anywhere. This is, by far, my favorite place on the internet, and it's only gonna get better. I've seen it grow from a complicated, plain, basic looking website with a great idea and the color scheme of my great grandma's bathroom to a beautiful, multifaceted, community with UI's and tools to suit everyone's taste and needs. I look forward to seeing it in another 3 years.
Thanks for the support everybody, and all the great content you make! ...And thanks @steemitboard for the cool badge!
God bless!

Thanks for checking out this post!
If you haven't already, click a banner to check out some of my personal favorite blockchain games, apps, and tools!