Who Do I Follow On Steem & Why? by @theycallmedan
When I saw this title a couple of times on my feed, I thought I would check out what it's all about and here I am, joining the topic. It fits perfectly with my reminiscing on old times on Steemit these past few days, hence the challenge I made with some questions as I remembered the fun we had thanks to different kinds of challenges/contests.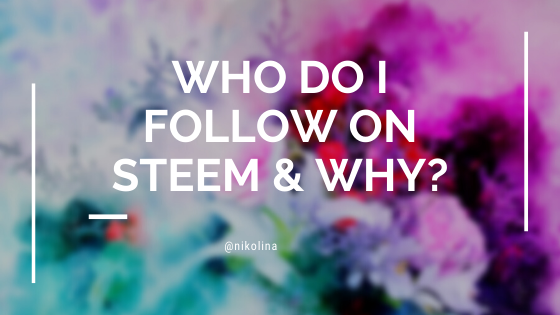 It was through those challenges and consistent interaction that we got to know each other better here on Steemit and then when Discord became a thing, it felt like communication and connection between Steemians got an extention. This month it will be my 3rd Steemit anniversary and during this time I had an opportunity to meet all kinds of people but I have to say, majority of them are amazing, fun, inspiring individuals from all over the world. Different age, race, religion, background, upbringing, culture, language - but somehow we all found something in common, something that brought us together and made us bond in groups of friends and some might even say, family.

It's not easy to pin-point only a few people but I'll do my best to present to you some of my friends here on Steemit:
Of course, who else it would be? :D Very honest, fun and smart guy. When I wrote my first poem ever, I sent it to him first before posting it on Steemit - I guess I trust him that much, lol. He helped me out so many times with all kinds of different things. He also sent me some cool songs I still listen to.


One more thing I want to mention is that I am happy to still be able to meet new people here. Some of them joined this platform recently, some have been here for a while but our paths never crossed before. I am also trying to be active as much as I can now that I finally feel my inspiration is back. It's like I've been away and finally came home! :)

Original "Who Do I Follow On Steem & Why?" Post by @theycallmedan

Some of my previous posts:
Loneliness
10 Silly Questions - Just For Fun
Hozier - More Than A Musician
Practicing Guitar On A Rainy Day
Focus Of The Month VS Goals/Resolutions
Bullet Journal - February 2020

---
---