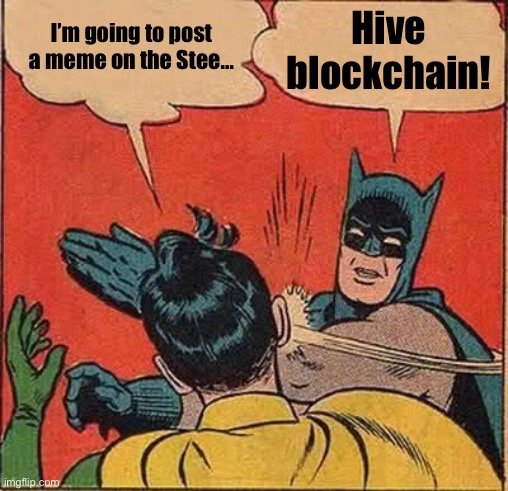 There's a good chance that this will be my last post to the Steem blockchain. I'm not one of The Old Ones who's had an account since 2016, but I signed up on April Fools Day of 2017, so I've been around longer than most.
Not sure what the URL of my blog will be once the Hive blockchain is up and running. Perhaps it will be https://hive.blog/@preparedwombat but as of posting this a few minutes before the fork, that's not currently a valid URL. But there will likely end up being multiple front ends. Meh, I'll be somewhere in the Hiveverse.
But who knows? Will some dApps (like Actifit for example) cross-post to both blockchains? If so, I guess some of my posts might still be appearing on the Steem blockchain, at least for a while.
Will there be Hive analogs for SteemD, SteemConnect, SteemitBoard, SteemWorld, and other services?
I have had a blast on the Steem blockchain. It's gotten me writing again, something I'd dilly-dallied (and even shilly-shallied!*) about for far too long. I've made a lot of friends, many of whom I've not yet met "in real life" but also some who I've met in person In Minneapolis and at SteemFest4 in Bangkok.
I've long been averse to the idea of powering down. And mentioned more than once in posts and comments that I had no intention of ever doing so. But the world has turned upside down and I started a power down last night after I saw that even @theycalledmedan had given up on his "save Steem" quest.
There's a good chance for a flash crash for the price of STEEM once some of the big accounts start dumping. I've long used https://blocktrades.us/trade to convert BTC or LTC into STEEM; will it have trading pairs to exchange STEEM for HIVE? I'm likely to sell off most (all?) of whatever STEEM I have left and convert it to HIVE or perhaps other crypto(s) for diversification.
I could certainly be wrong, but there's every indication that much of the Steem community will be migrating to the Hive blockchain. Sure, some will be actively cross-posting to both chains but many of us may likely bask in a bit of schadenfreude if Justin Sun's centralization and censorship doom the rotting carcass of Steemit. It couldn't happen to a more deserving guy.

* Yeah, that's an "in" joke.