Just give me a round-table and giant men/women and we will adjust the world. It is impossible to change the world but we can adjust it.
There is more use for that round-table than 'just a means to appease the belly' and that showed once again at Steemfest-4. I had one such round-table a few days ago and in that one short session, we covered subjects that can 'move and displace mount Kilimanjaro by 10km at 10km/hr' and revealed 'rare intel''contained only in the no-books. 
These are look-alike pictures that i will not forget: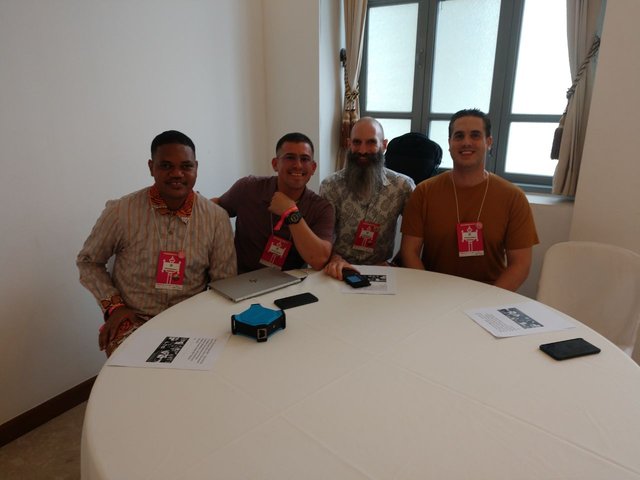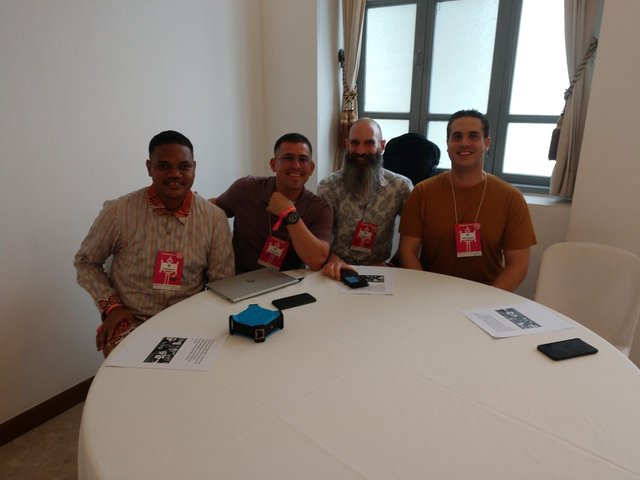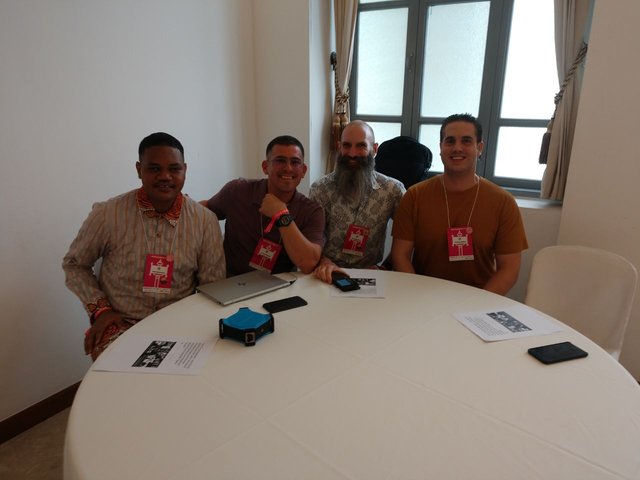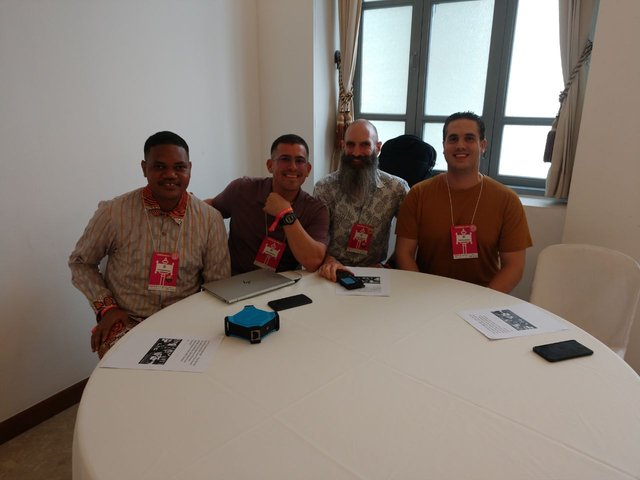 Thank you to these 4 giant men and to the taker of the shots!
The pictures will remind me constantly of what i want and when there is a vindication, these men would have been in its histories and stories. 
I am blabbing? Think thrice!
I was only able to be present for '1 & 1/2 days' of the 5-days that make up steemfest-4 and on that round-table i spent a little more than an hour altogether. Besides, my own talks, we brainstormed and discussed steem matters in another session using that same table. 
Nobody took shots for those!
Some other giant men joined to fill up 'the round of the table' to discussed 'proof of brain' and it became all the more obvious as i sat there what a round-table in the right hands can do. Those 'missing pieces of the puzzle' that we spend ages and lives seeking, may be mineable in single round-table session, find-able even as redundant information in the head of a fellow giant man/woman. Just the right level of mining and these things pop out and hey, ''there is your fixing''.
''Round-table'' is among what i would love to 'setup a Macrohard in the Philippines'. 
This is 'your boy terry' and at this stage, i am turning to each human and steemian as it has become very pertinent to do so. I have grown very ill and i cater to my dad who is ill. If i continue like this, i may deteriorate beyond repair. I need to heal and i need your help. I need your support to 'setup a Macrohard in the Philippines'.
Lately, i was in Steemfest-4 to discuss all my projects. I was there with my last ounce of energy. 
At this stage, all my projects (ulogs.org, steemgigs.org, teardrops.network, marlians.com) are set, each model of each one but it is also in these times that my battles have skyrocketed and my health has deteriorated. To be more effective thus, i desire to setup a hub called 'macrohard' in the Philippines, near my house, to enable me gather 'programmers/entrepreneurs' to hasten the development of each of my projects prior to SMT, allowing me to have room for a health-rehabilitation and to cater to my dad still. This is very possible but i need your support.
With a 'Macrohard hub' setup, we can emanate 'brothers' and together help many others build their noble dreams.
I have written a fundition post 'https://fundition.io/#!/@surpassinggoogle/jfnt9dxs7' and i am now coming out heartfeltly to implore you to support my kickstarter, however small. (Please also share this to others confidently.)
Fundition allows you donate using steem, other cryptocurrency or even FIAT. (I also have paypal: comsilbronze4@gmail.com)
Where you have donated something, feel free to send me an email on 'comsilbronze4@gmail.com' containing your steem-username. I may be able to help you with something in return; just tell me what it is openly. I would also like to give you some MARLIANS stake to appreciate you. (Note MARLIANS is very related to the TEARDROPS SMT)
I have explained all my projects in a 70-min read here: 'https://www.gofundme.com/f/i-am-in-rubble-arm-outstretched-take-my-hand', just incase you want to read more about the histories and stories constituting 'surpassinggoogle'.
Your boy Terry, whether bulls or bears.
**PS:** You can also help me translate this and share!!!