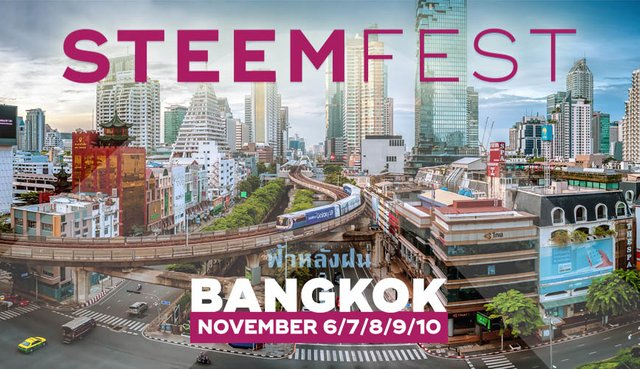 The liquid rewards of this post will go to the @t-r-f (Travel Reimbursement Fund). Since it will be the first time that I will sign up and use it myself, I might as well contribute a little to it.
The other day I saw a message from @steemitboard about the change of the Steemfest Badge.
That brought me to a few things that are worth a mention and, to be honest, are quite important to know. Especially if it's your first time traveling to Thailand.
Thailand Arrival Card
Or the customs/immigration card. Usually, they will hand these out on the plane and you will have to fill them in for everyone who's traveling with you. It is important to know that you should NOT fill out that you will be attending a conference. Attending a conference requires a BUSINESS VISA, and unless you have one, immigration in Thailand might refuse entry to the country. You wouldn't want to have come this far and be sent back on the first plane out...
So be sure to fill out TOURISM for the question PURPOSE of VISIT.
Of course, if you have a business visa, then you're safe, but I doubt that most will have this as they are quite costly.
More information on how to fill out your Arrival Card can be found here.
Onward travel/return ticket
On those arrival cards, you will have to fill out the place where you will be staying.
It is also required to provide proof of onward travel back out of the country within the allowed stay, or a return ticket.
If you have no plans yet when you will return, you can always book a cheap flight or bus ticket to any of the neighboring countries as proof.
It's also possible (through expedia, and sometimes others) to book a flight and cancel it for free. You can then use the itinerary as proof of onwards travel.
As another option, there is the possibility to 'rent' a ticket. Yes, you heard me right. Rent. There are companies where you can buy an itinerary for around $12 and it will be legit. They then cancel the flight, but you have proof of onward travel. The best I heard about is https://www.bestonwardticket.com, it has good reviews. However, I have never used them, so please do your own research. I'm not an affiliate or anything.
Cash money
Thai immigration requires that those who enter Thailand under the Tourist Visa Exemption category must provide proof of adequate finances for the duration of their stay in Thailand (i.e traveler's cheque or cash equivalent to 20,000 Baht per person and 40,000 Baht per family). source
This is roughly EUR 600,- and EUR 1,200 for families!!! I'm afraid that two friends traveling together don't count as a family...
You will have to have this money with you in CASH. Other currencies are allowed, as long as it's the equivalent of the above amounts. I believe for people with a tourist Visa or Visa on Arrival, the amount is half of that. But please don't pin me on that, do your research. This is the reason why I didn't get my SF ticket yet...I am traveling with my family and don't want to take any chances... Read this horror story if you don't believe me. The article only mentions half the money I mentioned, but it's what I said... Now, they don't have the time to single out everyone waiting to get through customs, but it's better to be safe than sorry in my opinion. Especially people who look like backpackers will be singled out, be aware of that. Personally, I will not be traveling to Thailand with suitcases, so I'm making sure we have the money available just in case...
Here's the full info on the cash matter:
https://www.thaiconsulateireland.com/types-of-visa/
On the bright side: getting money from an ATM in Thailand can be quite costly, so if you have the cash with you, you will not have to worry about that. Don't exchange your money at the airport, they will always charge more than in the city.
I hope this was helpful...
See you in Bangkok!!!
Thank you for reading!